Churchill Birth Room Reopens at Blenheim Palace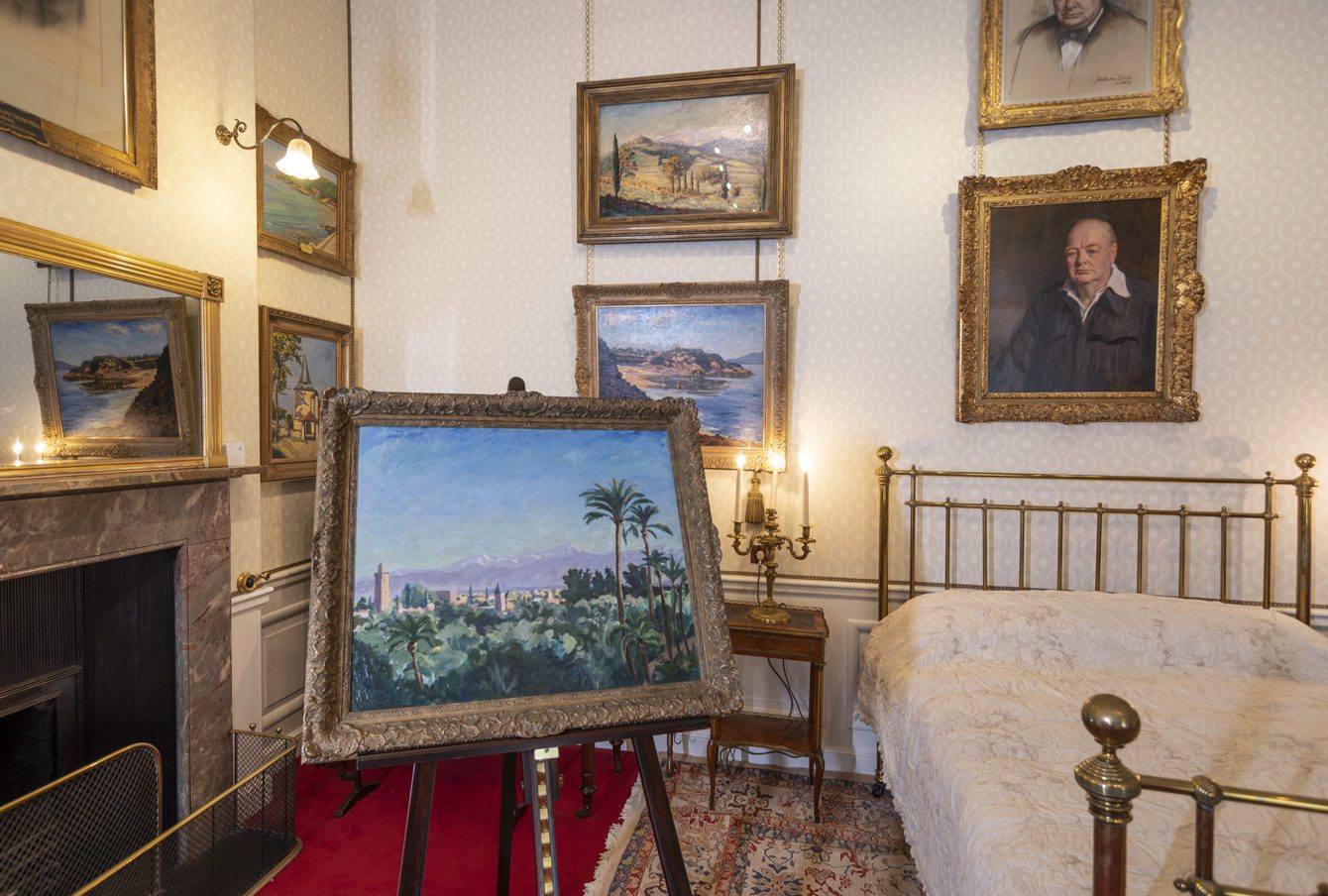 The tiny bedroom where Sir Winston Churchill was born has re-opened at Blenheim Palace, after being closed to visitors for more than a year due to the pandemic.
The future Prime Minister and wartime leader was born on 30th November 1874 at the Oxfordshire UNESCO World Heritage Site.
His mother, Lady Randolph Churchill, was at the Palace with her husband attending a St Andrew's Day ball when she unexpectedly went into labour.
The small room, which was part of the former apartments of Dean Jones, the 1st Duke's chaplain, had to be shut to the public due to Covid-19 restrictions.
To mark the re-opening, a painting by Churchill entitled 'The Atlas Mountains from Marrakesh', which is on loan to Blenheim Palace has also gone on display in the bedroom for the first time.
It is understood Churchill gave the painting to the man who supplied his trademark Cuban cigars as a token of friendship.
"We're delighted to be able to finally re-open the birth room, it's hugely popular with visitors and clearly played a major, if unintentional, role in modern world history," said Kate Ballenger, Keeper of the Palace and Collections.
"Blenheim was hugely important to Churchill throughout his long life, as well as being where he was born, he spent much of his early childhood here and even proposed to his wife here.
"It was also one of his favourite places to relax and paint, and its rich military history provided huge inspiration for his own political career," she added.
He is quoted as saying: 'At Blenheim I took two very important decisions: to be born and to marry. I am content with the decision I took on both occasions.'
As well as being his birthplace, Blenheim is where he proposed to his beloved wife Clementine.
He returned to Blenheim often throughout his long life; attending parties, painting and spending time with his cousin and close friend 'Sunny', 9th Duke of Marlborough.
Churchill is buried, alongside Clementine, in Bladon churchyard on the edge of the estate.
Earlier this year the Oxfordshire UNESCO World Heritage Site opened a major new exhibition dedicated to Churchill's lifelong association with the Palace.
ENDS
Issued on behalf of Blenheim Palace. For more information please contact Samantha Vaughan on 07469 129743 or SVaughan@blenheimpalace.com
About Blenheim Palace
Home to the Dukes of Marlborough since 1705, Blenheim Palace was designated a UNESCO World Heritage Site in 1987.
Set in over 2,000 acres of 'Capability' Brown landscaped parkland and designed by
Vanbrugh in the Baroque style, it was financed by Queen Anne, on behalf of a grateful nation, following the first Duke of Marlborough's triumph over the French in the War of the Spanish Succession.