High Sheriff of Oxfordshire and Carole Souter CBE discuss the interplay between heritage and the visitor economy at the Experience Oxfordshire Cultural Platform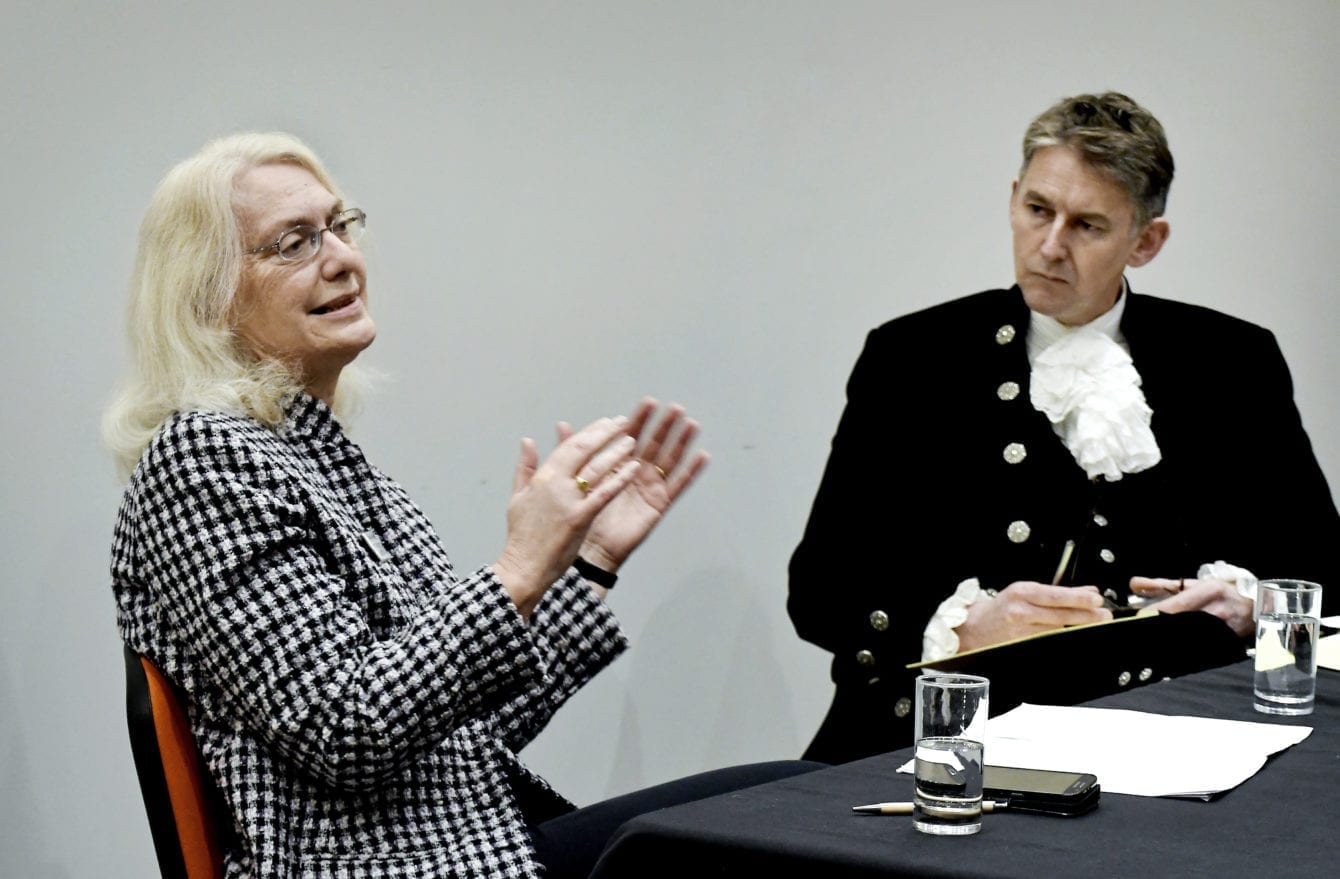 The High Sheriff of Oxfordshire, Richard Venables and Carole Souter CBE appeared at St. Cross College, Oxford yesterday, 14th March, as guest speakers at the Experience Oxfordshire Cultural Platform.
Carole Souter CBE, former Chief Executive of the National Heritage Memorial Fund and Heritage Lottery Fund, and the current Master of St. Cross College in conversation with the High Sheriff of Oxfordshire Richard Venables; discussed topics ranging from public access to University buildings of note, to the evolving concept of what heritage means, and whether a tourist levy is a solution to funding issues.
The event was introduced by Debbie Dance, Board Member of Experience Oxfordshire and Director of Oxford Preservation Trust, and attracted leading figures from Experience Oxfordshire's Partner network, Oxford's arts and culture sector and the local business community. The event is part of Experience Oxfordshire's commitment to promoting culture across Oxfordshire and was sponsored by VSL & Partners and Richardsons Chartered Accountants – Oxfordshire based companies who share a passion for promoting and supporting the cultural sector in the County.
Commenting on the event, Hayley Beer-Gamage, Chief Executive of Experience Oxfordshire said:
"The annual Experience Oxfordshire Cultural Platform is part of our continuing commitment to promoting culture in Oxfordshire. It's a great opportunity to celebrate the County's cultural heritage, as well as its thriving arts scene, but we must also ensure that we continue to invest in and promote this vitally important part of the visitor economy. It was a privilege to host the event in the stunning environs of St. Cross College, and our thanks go to our guest speakers for their insight and our sponsors for supporting the event – an exclusive session that was enjoyed by all".
Speaking about the Cultural Platform, Carole Souter CBE said:
"It was a pleasure to speak at the Experience Oxfordshire Cultural Platform, to welcome so many representatives of Oxfordshire's business community to St. Cross College and to participate in such a positive exchange of ideas. I do hope our guests enjoyed the afternoon, and found the event as enlightening and stimulating as I did".
Richard Venables, High Sheriff of Oxfordshire added:
"This was a unique opportunity to investigate the dynamics at play between heritage, tourism and the residents of Oxfordshire, and the architectural and cultural environment that we all share."
Andrew King, Director of Richardsons Chartered Accountants, added:
"Richardsons were delighted to sponsor this event.  It provided a great opportunity to learn more about the history of the Heritage Lottery Fund, and the importance of using our heritage to tell stories – for visitors and locals alike."
ENDS
Carole Souter CBE is the current Master of St. Cross College, Oxford and former Chief Executive of the National Heritage Memorial Fund and Heritage Lottery Fund. Carole's career has spanned over 30 years of policy development and operational management in the public sector, and she is a trustee of Historic Royal Palaces, as well as a Fellow of the Royal Society of Arts. She was made a Commander of the Order of the British Empire (CBE) in the 2011 New Year Honours list for services to conservation.
Richard Venables, High Sheriff of Oxfordshire is an Oxford-based businessman who is also a keen participant in Oxfordshire's economic development, sporting and cultural life. He is a Board Member of Experience Oxfordshire and of Oxfordshire Sport and Physical Activity, a member of the Ashmolean Corporate Council, Chairman of the Oxfordshire business network Reciprocate and until recently a Board Member of the Oxfordshire Local Enterprise Partnership. He is also a member of the Oxford Youth Partnership.
VSL & Partners was formed in 2002 and comprises six leading commercial property experts as a niche commercial property firm in the Oxfordshire area. We aim to provide our clients with unrivalled local and regional advice. Our clients benefit from a very personal service mainly dealt with at director level.
www.vslandp.com
Richardsons Chartered Accountants is a team of forty, dedicated to building trustful relationships with our clients, so we grow together. We work within a variety of business sectors including technology, solicitors, estate agents, farms and estates and pension schemes. Richardsons has a strong reputation in dealing with technology start-ups.  Much of our business in this sector consists of spin-outs from Oxford University and the science parks around Oxfordshire, such as Harwell and Culham. We specialise in assisting companies setting up in the UK.  About 10% of our audit clients are subsidiaries of holding companies based in USA, Australia, Germany, France, Denmark and Holland.
www.richardsons-group.co.uk
Experience Oxfordshire is the official Destination Management Organisation (DMO) for Oxfordshire and is the trading arm of the parent charity, the Experience Oxfordshire Charitable Trust. We are a not for profit public and private sector partnership organisation that is committed to the promotion, management and development of Oxfordshire as a great destination to live, work, visit and do business.
We have a growing partnership network of businesses spanning all parts of the visitor economy, and through effective collaboration we are all working to ensure Oxfordshire becomes a leading destination for tourism, culture and business.
www.experienceoxfordshire.org/partner
Photo Credits: Courtesy of Experience Oxfordshire
To request high-res versions of the photos please contact:
Antonio Ferrara | Marketing Manager
t +44(0)1865 686433
e antonio.ferrara@experienceoxfordshire.org