Latest Figures show Severe Impact of Covid-19 on Oxfordshire's Visitor Economy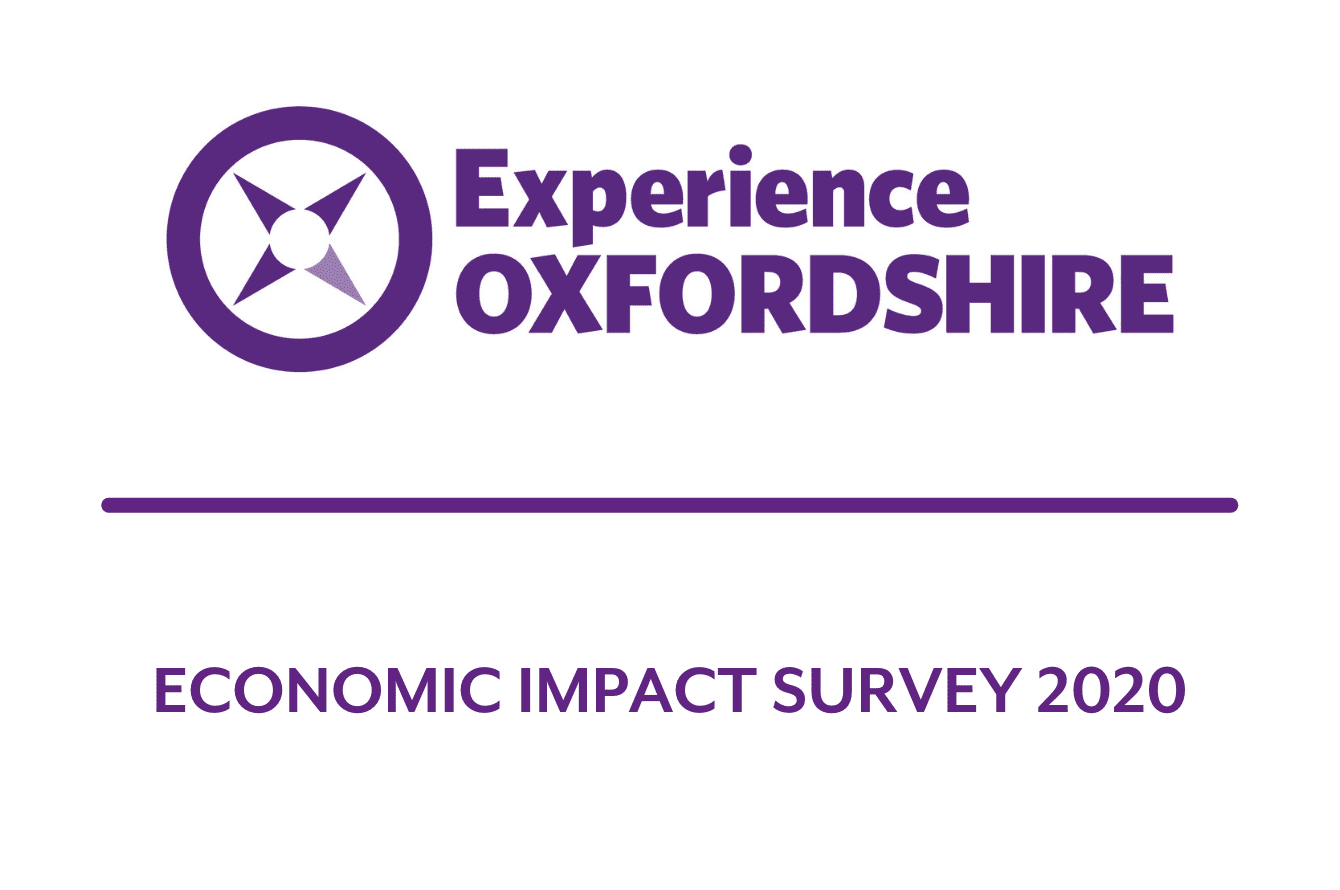 Experience Oxfordshire, the Destination Management Organisation (DMO) for the county, has released new data on the economic impact of tourism for 2020 which shows the severe impact the pandemic has had on Oxfordshire's visitor economy.
The Economic Impact Report for Tourism in Oxfordshire, a report commissioned by Experience Oxfordshire, shows a staggering 59% decline in the value of tourism (from £2.5billion to £1billion) and a substantial decline of 39% in jobs supported by sector (from 42,000 to 25,000). These figures reinforce both the importance and the vulnerability of the visitor economy throughout Oxfordshire and raise concern for post pandemic recovery at a time when the pandemic continues to impact tourism and hospitality businesses.
Overall, there was a 51% decline in trip volume from 30million in 2019 to 14.5million in 2020. Cherwell received the most visits during 2020 (27%) closely followed by Oxford city (24%) with the highest visitor spend continuing to take place in the city at 33% of all spend across the county.
According to VisitBritain estimates, spending by domestic tourism in Britain in 2020 was down 63% compared to 2019 with inbound visitor spend down by 73%. Domestic tourism spend in Oxfordshire was down by 61% in Oxfordshire and inbound down by 77% across the county.
Oxford city was impacted the most severely with a decline in visitor spend of 66% and 51% decline in jobs in the sector.
In contrast, in 2019 the county had a record year for the visitor economy and these figures show the severity of the impact Covid-19 and the challenge of returning to pre pandemic levels of employment and investment. The report also highlights the importance of overnight stays and inbound visitors to the county.
The main reason for visiting Oxfordshire was for a holiday (62%) which was an increase on 45% the previous year. Business visits were significantly impacted with just 9% of visitors coming for a business visit in 2020 compared to 29% in 2019.
The findings of the report clearly demonstrate just how important the visitor economy is to Oxfordshire and the impact that the pandemic had on the county in 2020. As the DMO, Experience Oxfordshire has been lobbying hard for support for the sector and providing advice on how to access funding and support. Experience Oxfordshire has dealt with over 10,000 Covid-19 enquiries from businesses in the sector across Oxfordshire since the start of the pandemic. Experience Oxfordshire also continues to support its partners and the wider sector through a range of promotional initiatives which have included the Oxfordshire Hospitality Guide and Escape the Everyday in Oxfordshire campaigns.
Chief Executive of Experience Oxfordshire, Hayley Beer-Gamage, commenting on the report said:
"We knew that the impact of the pandemic on Oxfordshire's visitor economy would be significant, but these figures show just how severe the impact was in 2020 and this of course continued throughout 2021 and now into 2022. The range of support for the sector from government throughout the pandemic has been welcomed but more is needed to ensure that businesses remain viable for the future and the county can prosper again. The figures show just how far we have to go to return to pre pandemic value and volume levels. During summer 2021 there were signs of the beginnings of a recovery, with some attractions and hotels reporting booking increases from the domestic market, evidence of Oxfordshire's continuing desirability as a destination, and we hope to build on this throughout 2022, (pending further variants and government restrictions).
Experience Oxfordshire has worked hard to support its partners and the wider sector throughout the pandemic and was recognised in the government's de Bois DMO Review as a case study of best practice in providing business support during this time. We hope that local and national government will continue to support the work of Experience Oxfordshire in assisting our partners and the wider sector going forward as we work closely with local stakeholders on recovery plans. The sector needs to be ready to welcome visitors back again and be recognised as a national and international destination of choice. We hope to see the return of inbound tourism this year as international visitors account for nearly 50% of all visitor spend across Oxfordshire in 'normal' times and is vital for recovery and growth."
Councillor Liz Leffman, Leader of Oxfordshire County Council, said:
"The pandemic continues to affect Oxfordshire and impact our businesses. We are working closely with Experience Oxfordshire on the county recovery plan as we recognise the visitor economy as being extremely important to the county. We need to be able to welcome visitors back safely when possible and ensure we are supporting locals by maintaining businesses and jobs. We would encourage all visitor economy businesses to get in touch with Experience Oxfordshire to find out about the range of grant support and promotional opportunities available."
Commenting on the report, Councillor Susan Brown, Leader of Oxford City Council and Economic Development and Partnerships portfolio holder, said:
"The report clearly shows how important tourism is to our city and the loss of over £665million to our local economy with a consequent 66% reduction in jobs is clearly of great concern to us all. The City Council has supported businesses impacted specifically in the visitor economy sector with a range of grants and continues to prioritise those most impacted through our funding. We have worked with Experience Oxfordshire on a range of promotional campaigns such as 'Rediscover Oxford' to encourage visitors back to the city when it was safe to do so and will continue to work with them on making Oxford a destination of choice as we work through recovery.
The City Council had also identified the need to expand hotel accommodation in the city and created local planning policies that have seen the development of a number of reasonably priced hotels in Oxford over the last few years, encouraging tourists to stay overnight and spend more money in the city rather than just make a fleeting visit."
Councillor Barry Wood, Leader of Cherwell District Council, said:
"The pandemic is impacting tourism everywhere and these figures show that Oxfordshire is no exception. We remain committed to doing as much as we can to support local businesses whilst continuing our work to attract new investment and give the local economy the support it needs to bounce back.
With council investment bringing an exciting new leisure destination to Banbury's Castle Quay Waterfront and the ongoing draw of venues such as Bicester Village and Bicester Heritage, we feel that Cherwell district has much to offer visitors and is well positioned to make a strong recovery in the months and years ahead."
Experience Oxfordshire will continue to champion the sector and help provide leadership and guidance to businesses and stakeholders to support and enable recovery. We welcome the opportunity to work with more partners and stakeholders and can be contacted at partnership@experienceoxfordshire.org
*********ENDS**********
For more information contact:
Press at Experience Oxfordshire
Phone: 01865 686434
Email: press@experienceoxfordshire.org
Notes to Editor
Experience Oxfordshire is the official Destination Management Organisation (DMO) for Oxfordshire. We are the trading arm of the parent charity, Experience Oxfordshire Charitable Trust, and are a not-for-profit partnership organisation that is committed to the promotion, management and development of Oxfordshire as a great destination to live, work, visit and do business. We work to improve growth and productivity across the visitor economy and offer a range of valuable partnership services including marketing, PR and events, alongside providing a variety of business support services.
www.experienceoxfordshire.org/partner
The Economic Impact Study commissioned by Experience Oxfordshire examines the volume and value of tourism to the local economy, with further regard for employment generated because of this tourism. It assesses these factors using the Cambridge Economic Impact Model, which utilises information from regional data, and national tourism surveys. More details can be found here:
http://www.experienceoxfordshire.org/partner/partner-benefits/research-and-insights/