Experience Oxfordshire Celebrates English Tourism Week with Extensive Programme of Promotion and Business Support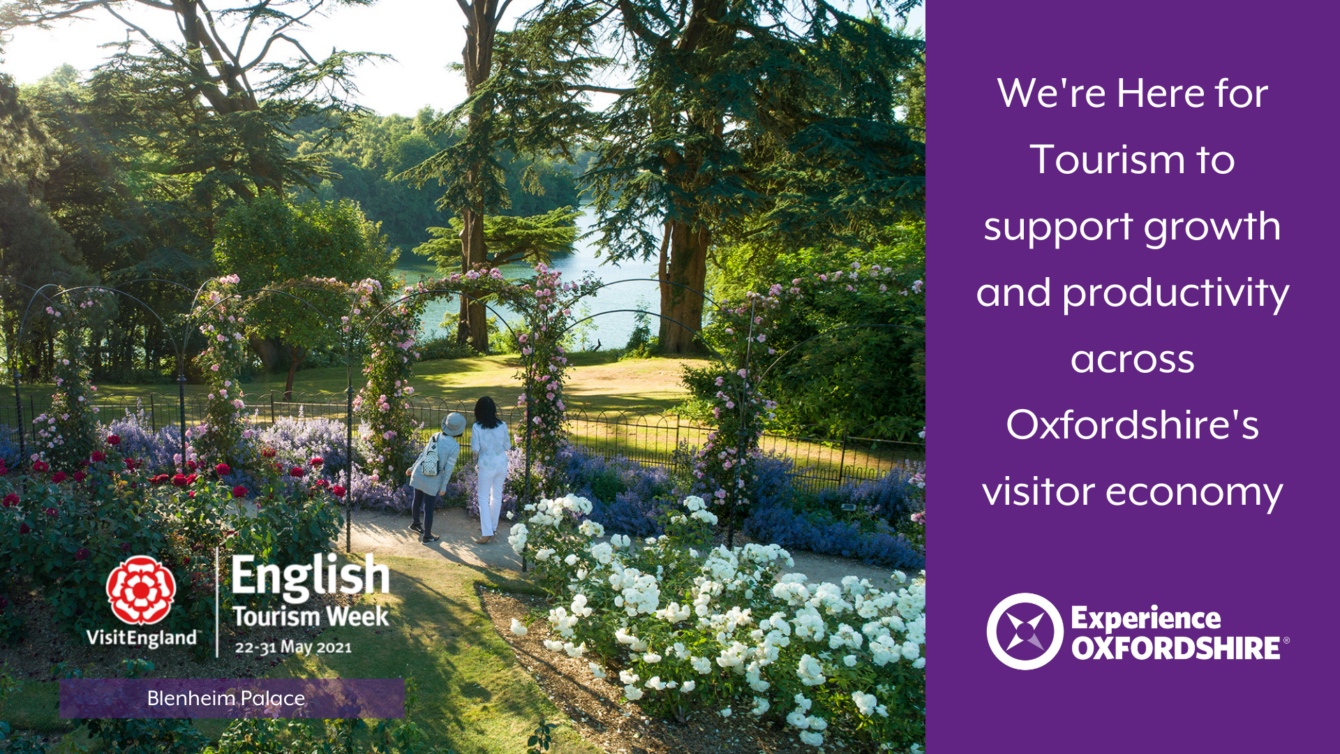 English Tourism Week this year is dedicated to showing support for tourism businesses and destinations across the sector as they reopen and start to rebuild.
Coordinated by VisitEngland and taking place from 22 to 31 May, English Tourism Week is an annual celebration of the tourism industry, highlighting its economic importance to local economies and promoting the innovation, quality and range of products and services on offer to encourage more domestic breaks.
It comes as the tourism agency's latest forecasts show that domestic tourism spending is estimated this year of £51.4 billion, just over half of the £91.6 billion in 2019.
Last year alone saw about two-thirds of the value wiped off the domestic tourism industry, a £58 billion loss to the economy.
Experience Oxfordshire, the Destination Management Organisation for the County are asking people to get involved to raise the profile of Oxfordshire with a weeklong 'Why I Love Oxfordshire' campaign; encouraging locals and visitors to Oxford and Oxfordshire to share their images and join the conversation #WhyILoveOx.
Throughout the week Experience Oxfordshire are also offering 15% off all their award-winning Oxfordshire Official Walking Tours, which are a great way to explore the city of Oxford.
During the week, the DMO will be hosting an exclusive cross party round table with MPs and businesses to discuss the visitor economy, how it has been impacted by the pandemic and support needed for recovery.  In addition, there will be a range of hosted MP visits taking place on constituency day across the county to raise the profile of the importance of the industry to the local economy.
Hayley Beer-Gamage, Chief Executive of Experience Oxfordshire said:
"It has been a challenging time for the travel and tourism sector and we encourage everyone to get in involved and support local businesses during English Tourism Week. Prior to the pandemic Oxfordshire's visitor economy accounted for £2.5 billion spend annually across the county and supported  over 42,000 jobs locally which is 12% of all employment in the county. It is a vitally important sector. Oxfordshire has a fantastic wealth of products and services and we are delighted to see them opening up again and to be able to support them in their recovery."
Tourism Minister Nigel Huddleston said:
"The tourism sector has undoubtedly faced enormous challenges over the past year. This is why we have provided over £25 billion in support to date, including the unprecedented VAT cut.
"Tourism and hospitality businesses across the country have continually impressed me with their ability to adapt over the past year and I know they're all ready to welcome us back.
"English tourism has so much to offer, from rural retreats to city breaks. I can't wait to get out there exploring and I urge everyone to join me in supporting our fantastic tourism sector by taking a domestic holiday over the coming months."
VisitEngland Director Andrew Stokes said:
"Our annual event to celebrate and champion English tourism has never been more important, providing a timely opportunity to show the outstanding offer here on our doorstep as we head in to the critical summer season and to support local businesses and visitor attractions, who have lost months of vital trading, as they reopen and rebuild."
In the lead-up to English Tourism Week and throughout VisitEngland is encouraging people to share photos and social media posts to show support for the sector using #EnglishTourismWeek21. VisitEngland has also produced toolkits and a series of posters for tourism businesses and destinations to download and get involved in the week, promoting their local products and services, attractions and experiences.
VisitEngland's latest consumer sentiment research has shown slow but steady gains in consumer confidence in taking domestic trips from late spring and rising through summer. Twenty per cent of people surveyed were confident in the ability to take a domestic overnight trip in May, rising to 38% in June, 45% in July, 55% in August and 61% from September onwards. This demonstrates the importance of extending the tourism season this year and that there is still a job to do to boost consumer confidence.
More than 27,000 businesses across England have signed up to VisitEngland's 'We're Good To Go' industry standard and consumer mark, reassuring customers, staff and local residents that the correct procedures and processes are in place to welcome them back safely.
VisitEngland's latest research also shows that while bookings for domestic trips for spring had accelerated, with just under half of domestic trips planned between May and June booked, the summer months are slower with just over one in five trips between July to September booked, suggesting a 'wait and see' approach.
Tourism is one of England's largest and most valuable industries, supporting hundreds of thousands of businesses, employing more than 2.6 million people and usually generating more than £106 billion a year for the English economy.
You can get involved and follow Experience Oxfordshire's English Tourism Week activity by following;
Twitter – @ExperienceOxBiz and @ExperienceOx
Facebook – Experience Oxfordshire
Instagram – @experienceoxfordshire
LinkedIn – Experience Oxfordshire
To claim 15% off an award winning Oxford Official Walking Tour go to www.oxfordofficialwalkingtours.org and insert code ETW15 at checkout. The code will be accepted for any bookings made throughout English Tourism Week including bookings for future dates.
**ENDS***
NOTES TO THE EDITOR:
For more information please contact Tracey Edginton at VisitEngland: tracey.edginton@visitbritain.org or 07974111076
Experience Oxfordshire is the official Destination Management Organisation (DMO) for Oxfordshire. We are the trading arm of the parent charity, Experience Oxfordshire Charitable Trust, and are a not-for-profit partnership organisation that is committed to the promotion, management and development of Oxfordshire as a great destination to live, work, visit and do business whilst improving growth and productivity across the visitor economy. The DMO provides essential business advice and support to visitor economy businesses across Oxfordshire.
For more information on the value of Oxfordshire's visitor economy go to https://www.experienceoxfordshire.org/partner/partner-benefits/research-and-insights/
Contact:
Name: Anne-Marie Hicks
Email: press@experienceoxfordshire.org
Call: 01865 686433