Experience Oxfordshire Hosts Travel Industry Leaders for Annual Partner Conference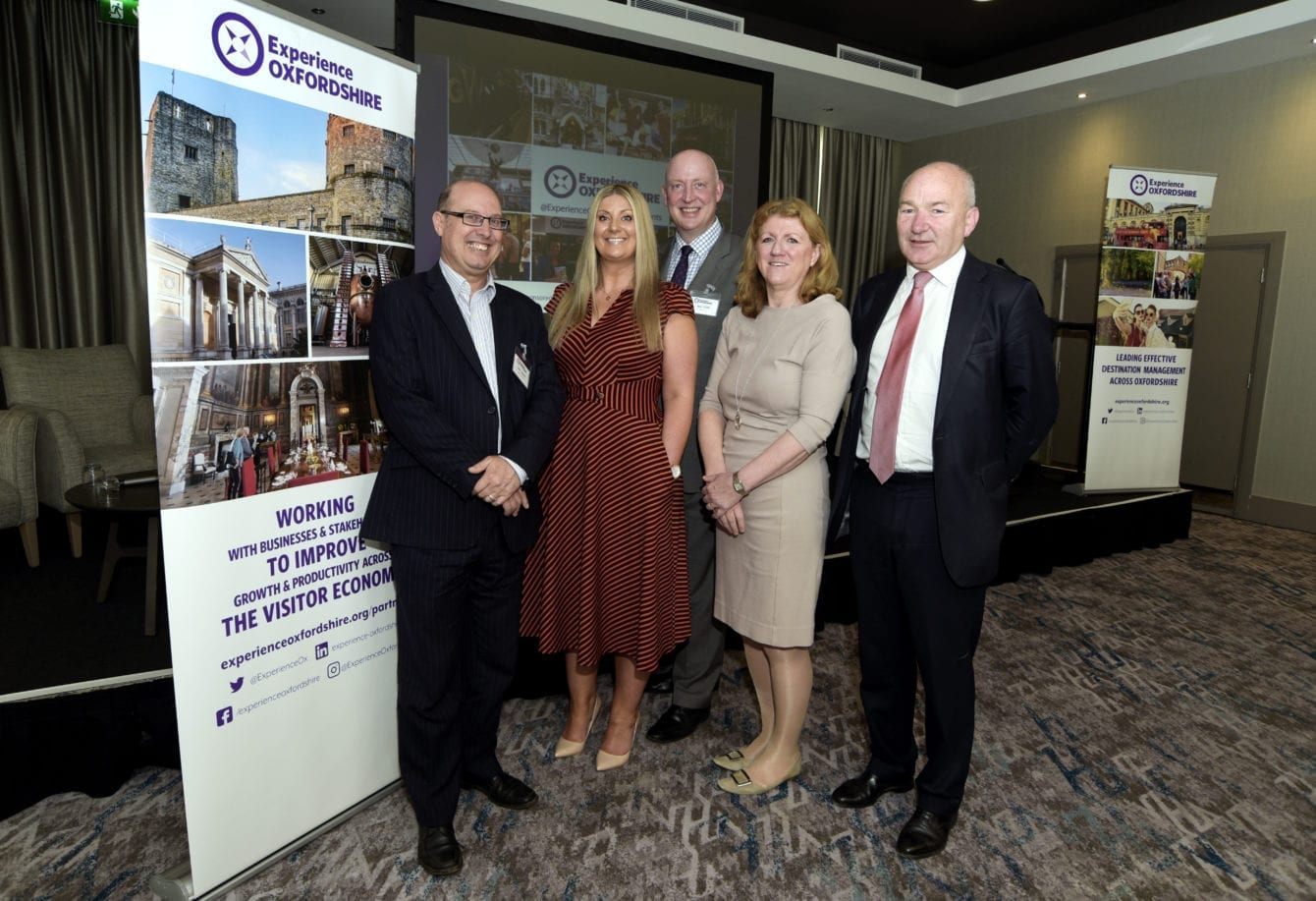 Experience Oxfordshire Press Release                                                  
For immediate release: 24/05/2019
Experience Oxfordshire were delighted to welcome travel industry experts from across the Country to their annual Partner Conference – 'Insights from the Experts' – at Jurys Inn, Oxford on 23rd May 2019. Now in its third year, the full-day event brought together national experts from across the Visitor Economy sector in a valuable opportunity for Oxfordshire partners to find out the latest industry trends and ask important questions on a range of issues that affect the industry.
The annual 'Insights from the Experts' conference provides an exclusive opportunity to engage with leading figures from across the Visitor Economy sector and gain up-to-date insights and was attended by over 120 Experience Oxfordshire partners and guests.
This year, the speaker line-up included;
Sally Balcombe – CEO of VisitBritain & VisitEngland
Kurt Janson – Director of the Tourism Alliance
Joss Croft – CEO of UKinbound
Tom Jenkins – CEO of the European Tourism Association (ETOA)
Jasman Ahmed – Strategy Director, Accord Marketing
Martin Hawke – Regional Sales Manager, TripAdvisor Experiences
Nikki White – Director of Destinations & Sustainability, ABTA
Roy Graff – Managing Director – EMEA, Dragon Trail Interactive
Top topics from the industry discussed at the conference included sustainability, working with the travel trade, being bookable online, responsible tourism and niche Chinese market segments as well as hearing current trends and insights.
The event was chaired by Hayley Beer-Gamage, Chief Executive at Experience Oxfordshire, who commented:
"We are delighted with the support that 2019's 'Insights from the Experts' conference has received. We are very proud that Experience Oxfordshire are able to host such a high-profile panel of leading figures to share their knowledge, expertise and insight on the issues and opportunities that affect the Visitor Economy sector. The conference was a fantastic opportunity for our partners to engage with the panel and ultimately gain great knowledge and insight to help them in their own business. It was also an opportunity for us to talk to our partners about successes over the past year and plans for the year ahead "
The conference was held at Jurys Inn, Oxford, who are hosting and sponsoring 'Insights from the Experts' for the third year. Commenting on the event Anna McInnes, General Manager of Jurys Inn, Oxford, said:
"We were delighted to host this event once again. The visitor economy of Oxfordshire is vitally important to our business, and I am very pleased to work with Experience Oxfordshire and support an event which provides valuable insight for all businesses working within the tourism sector for Oxfordshire."
David Holland, Managing Director of Glide Media, co-sponsors of the event, said:

"We believe that building strong relationships with regional Destination Management Organisations (DMOs) is a fantastic way to attract new visitors for our customers. The innovative work that DMOs like Experience Oxfordshire do within the tourism sector is invaluable, so we were delighted to show our support by sponsoring 2019's 'Insights from the Experts' conference."
Nigel Tipple – Chief Executive of OxLEP, co-sponsors of the event, said:
"It is our role at OxLEP to champion Oxfordshire's economic potential – of which, our visitor economy plays a vital role generating around £2billion a year to the county's economy.
With world-class attractions and rural locations – as well as a significant retail offer thanks to the likes of Bicester Village and Westgate Oxford – our growing visitor economy genuinely attracts people from across the globe, therefore it's important we continue to recognise its significance.
We are therefore very pleased to support this year's 'Insights from the Experts' event."
The 'Insights from the Experts' conference is part of a rolling programme of conferences, seminars and networking events organised by Experience Oxfordshire for its Partner network.
For more Experience Oxfordshire events, visit:
www.experienceoxfordshire.org/partner/partner-benefits/experience-oxfordshire-events/

***ENDS***
 NOTES TO THE EDITOR:
 Photo Credits: Courtesy of Experience Oxfordshire
Link to hi-res photos: EO Press Folder
For more information contact:
Antonio Ferrara
Phone: 01865 686433
Email: press@experienceoxfordshire.org / antonio.ferrara@experienceoxfordshire.org
Experience Oxfordshire
Experience Oxfordshire is the official Destination Management Organisation (DMO) for Oxfordshire. We are the trading arm of the parent charity, the Experience Oxfordshire Charitable Trust, and are a not-for-profit partnership organisation that is committed to the promotion, management and development of Oxfordshire as a great destination to live, work, visit and do business.
www.experienceoxfordshire.org/partner
Jurys Inn, Oxford
Jurys Inn Oxford is the newly refurbished Jurys Inn hotel located in Oxford, just a stone's throw away from Oxford City Centre, and the A34. This venue has recently received a £10.8m refurbishment. With 240 stylish rooms, and 20 meetings and events rooms, Jurys Inn Oxford is the perfect base for hosting any future events.
www.jurysinns.com/hotels/oxford
Glide Media
Glide Media is one of the region's most established print distribution specialists, delivering clear and transparent promotional services for over 15 years. They operate a vast network of leaflet display stands spanning nine counties in the South-West & Central regions. They pride themselves on giving leisure, entertainment and tourism providers direct access to prominent and diverse venues, ranging from central transport hubs to high footfall shopping centres, connecting their customers with new and emerging visitors.
OxLEP
The Oxfordshire Local Enterprise Partnership (OxLEP), champions Oxfordshire's economic potential, acting as a catalyst and convener to drive a dynamic, sustainable and growing economy.