Experience Oxfordshire MP roundtable reflects on the impact of Covid and the challenges faced for tourism recovery across the region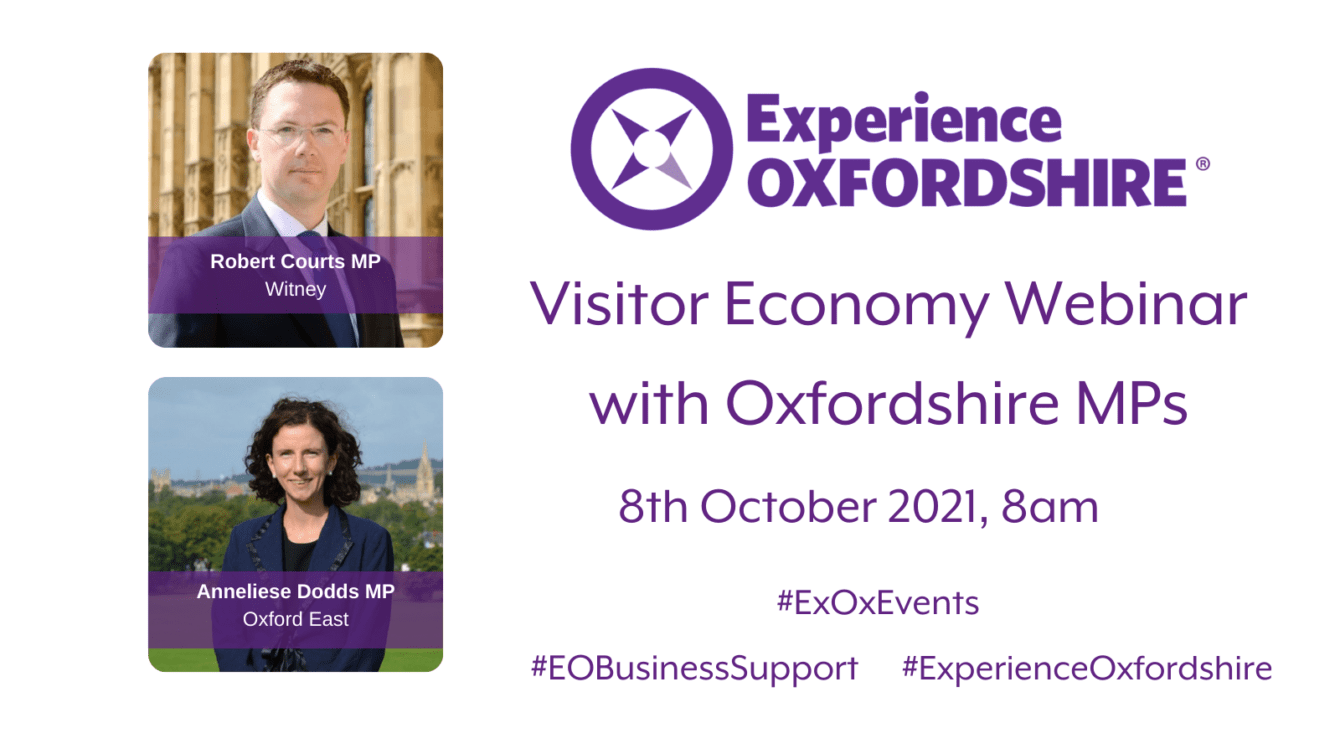 Last Friday, Hayley Beer-Gamage, CEO of Experience Oxfordshire hosted an MP roundtable with Robert Courts, Conservative MP for Witney and West Oxfordshire and Anneliese Dodds, Labour MP for East Oxfordshire, plus a variety of businesses from across the region including representatives from Bicester Village, Blenheim Palace, and the Oxford Bus Company to discuss the Governments Tourism Recovery Plan, the DMO Review and the impact of Covid on the visitor economy.
Pre-pandemic Oxfordshire welcomed 30 million visitors per year which contributed £2.5billion into the visitor economy supporting 42,000 jobs but, post-pandemic is a very different story. With an anticipated 50 per cent losses in both visitors and spending in 2020 and the added impact that tourism will be the last sector to fully recover, now more than ever support is needed to aid recovery.
Experience Oxfordshire was recently cited in The de Bois review as a case study for excellence for the business support the DMO has been providing to businesses across the region during the pandemic.
Hayley Beer-Gamage discussed the government Tourism Recovery Plan and said "it's a fantastic and ambitious plan but it needs significant financial support and funding for it to be implemented and provide that long term recovery support. DMOs have a really important place and space in the recovery process, we bolster the private sector support and are working hard with our partners to ensure growth in the visitor economy." Hayley continues "But it's not without its challenges, with inbound tourism not looking likely to fully recover to pre-pandemic levels until late 2023 and with added competition not only across the UK but our European neighbours as well as long haul markets, we need to ensure all of the hard work which had previously been implemented to nurture those markets such as China and the US doesn't go to waste." Hayley added "We need to be planning now for their return rather than in the future."
One of the biggest problems faced by the hospitality industry not only in Oxford and Oxfordshire, but across the UK, is the lack of workforce currently available. Hotels are operating at a reduce capacity and some restaurants have had to close due to the lack of staff and not being able to meet the consumer demand. Hospitality is still seen as a low skilled and low paid work and the narrative needs to be changed to encourage potential job seekers that this is a career for life and there are options and opportunities within the industry.
Robert Courts, MP Witney and West Oxfordshire said "The lack of workforce is a problem across the country and in part this is due to economic dislocation from the pandemic. Many people returned home, whether that be to other regions in the UK or other countries, some have changed industries altogether and the major challenge we have when someone leaves the hospitality industry is they don't return. The government has a number of training schemes in place to ensure we have the skills packages available to encourage people into hospitality. We know there are a lot of jobs available, and training is essential to the recruitment into those roles." Robert added "We expect Oxford and Oxfordshire to remain a top destination for both domestic and international markets and it's widely understood across government that support is needed for the Tourism Recovery Plan and DMO Review to ensure the visitor economy is bolstered."
In response Anneliese Dodds, MP for Oxford East added "It's imperative that we have a clearer longer term national focus on schools' development and further education support. For example, we know there's a severe shortage of chefs locally and we need to support those keen to get into the industry and train up. We need better signposting for young people to make it clear what their options and opportunities are once they leave school."
There are opportunities for the return of international visitors but with the withdrawal of tax-free sales the UK isn't as value for money as it once used to be. China is the second biggest spending market in the UK with pre-pandemic sales accounting for £1.7billion in revenue and the lack of Chinese visitors is having a big impact on the visitor economy.
During the morning session both MPs acknowledged and thanked Experience Oxfordshire for their ongoing work on and support of visitor economy recovery for the region.
Hayley Beer-Gamage remarked "We thank the MPs for addressing our partnership this morning. We know there are challenges ahead for the recovery of tourism within the area and we are committed to supporting the visitor economy return to pre-pandemic levels in Oxford and Oxfordshire."
For more information about Experience Oxfordshire visit https://www.experienceoxfordshire.org/
-Ends-
Notes to Editors
The full list of business representatives in attendance includes:
Westgate Oxford
JackFM
Bicester Village
Cogges
Blenheim Palace
Stagecoach in Oxfordshire
Oxford Witney Hotel
Courtyard by Marriott Oxford City Centre
Oxford Bus Company
Wellers
St. Margarets Hotel
Oxford City Council
Cherwell District Council
Oxford Official Walking Tours
City Sightseeing Oxford
Oxford Tube
Experience Oxfordshire Venues
About Experience Oxfordshire
Experience Oxfordshire is the official Destination Management Organisation (DMO) for Oxfordshire. The trading arm of the parent charity, Experience Oxfordshire Charitable Trust, and a not-for-profit partnership organisation that is committed to the promotion, management, and development of Oxfordshire as a great destination to live, work, visit and do business whilst improving growth and productivity across the visitor economy. The DMO provides essential business advice and support to visitor economy businesses across Oxfordshire. To find out more about Experience Oxfordshire and the benefits of becoming a partner visit www.experienceoxfordshire.org/partner or call 01865 686439.
Media Contacts:
Sarah Long and Kylie Bawden at FINN Partners experienceoxfordshire@finnpartners.com  
Anne-Marie Hicks, Experience Oxfordshire press@experienceoxfordshire.org