Make it a Summer to Remember at Britain's Greatest Palace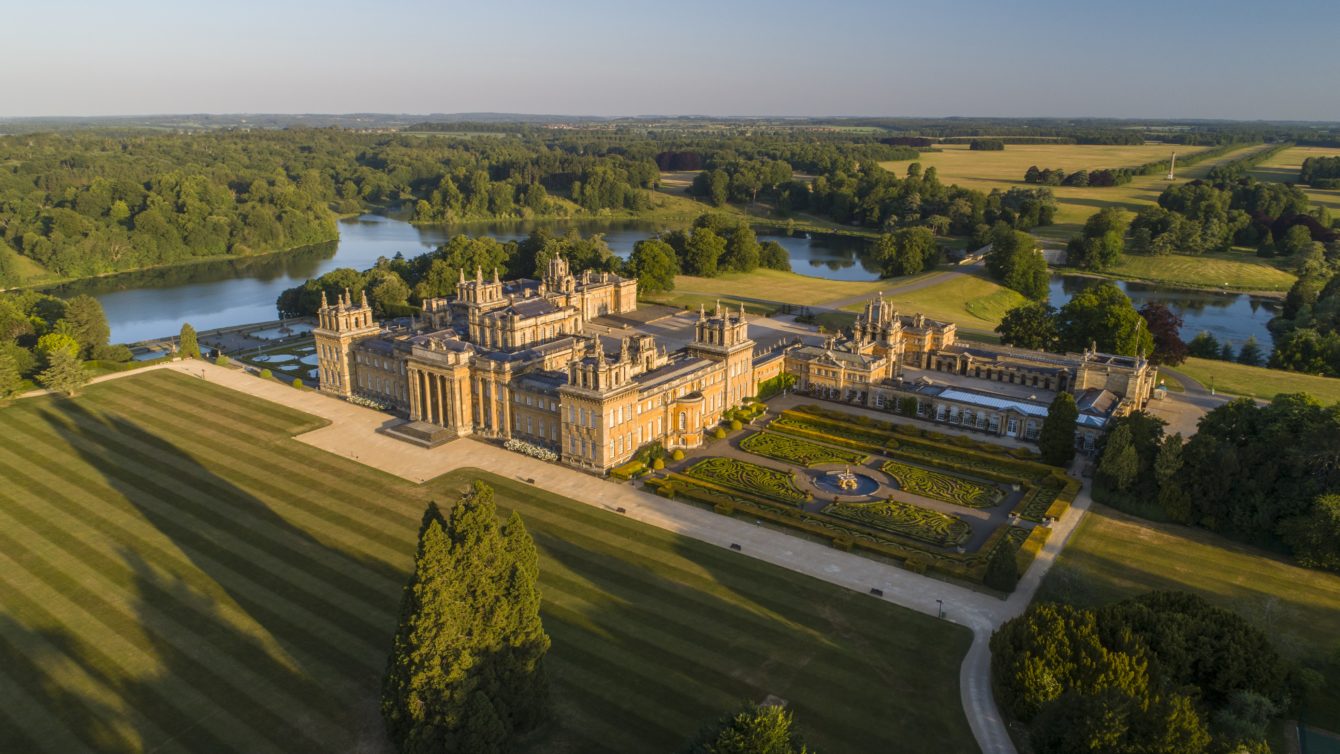 Blenheim Palace is hosting a series of exciting outdoor events and fun activities this summer. From drive-in movie nights and knights in shining armour to wilderness camps and flying fairies, there's something for everyone to enjoy. All set against the stunning backdrop of this magnificent Oxfordshire UNESCO World Heritage Site. Plus in 2021 visitors have the opportunity to convert their day ticket into a free Annual Pass.
Visit the family-friendly Walled Garden
Take the Miniature Train from the Palace for a little adventure in our Walled Garden, perfect for all the family.
Our small play area is open for your little ones to enjoy, with the Pizza Café serving refreshments on the outdoor terrace for a much-needed snack. Explore the Butterfly House and Marlborough Maze at your own pace and find our new trail for hours of family entertainment.
31st July & 2nd August 9 Hole Crazy Golf & Garden Games 10.00 – 17.00
7th & 8th August Magic Shows 12.15, 13.30 & 14.45
14th & 15th August Bubble Performances & Workshops 11.00, 12.30 & 14.00
21st & 22nd August Recycled Art Workshops
28th, 29th & 30th August Circus Skills Workshops 10.00 – 17.00
Meet the Hawk
 Meet Bella the Harris Hawk as she works with her handler Gary to control pests around the Great Court. See her in action scaring pigeons away from the Palace Stonework and learn all about this very important job.
Wednesdays from 21st July to 1st September in the Great Court
Painting Pony, Pony Rides and Pony 'Hide and Seek' Trail
Pony rides are running throughout the summer by the Walled Garden Station. Monday – Friday 24th July – 1st September.                                                                                        *Additional £5 charge. (Ponies will not be available on Wednesday 4th of August)
Ted the Painting Pony will be in the Stables/Stables Courtyard every weekend during this period.
Find the Blenheim Ponies on a fun trail. Rob Roy was Winston Churchill's very own pony. Like many ponies he could be quite cheeky. Today he has let out all the other ponies from their stables and they're playing hide and seek in the Walled Garden.
There are ten of them including Rob Roy. We are seeking the assistance of our younger visitors to help us find them. You'll see they have their stable number on them, once you've found them all come and tell us the number on Rob Roy and we'll give you a pony badge. Good luck!
Me and My Bee (27th July – 1st August)
 Touring in its pop-up tent to schools and community venues across Oxfordshire, this family comedy with live music is located at the Walled Garden. The show tackles the big issue of climate change on the small scale. It's about saving the planet, one bee at a time.
Camp Wilderness (until 27th August)
Throughout the summer, Camp Wilderness, offers back-to-basics three and five-day residential camping experiences for children aged 8 – 14 years, in the heart of Blenheim's ancient woodland. Held in safari-style tented camps, days at camp are spent participating in a host of different activities, from traditional fire-lighting and shelter-building to archery and survival scenarios. Whilst evenings are spent enjoying bush tucker feasts, playing games and roasting marshmallows over the campfire. Plus new for 2021 share the adventure with a Camp Wilderness Family Experience.
Bushcraft Axe Throwing and Archery (daily throughout summer)
Visitors of all ages are being encouraged to channel their inner Robin Hood and let off some steam with axe throwing and archery sessions at Blenheim Palace. Running daily throughout the summer, the sessions are being organised under the watchful eye of The Bushcraft Company whose expert guides will be providing specialist tuition. On the hour sessions will be split between both archery and tomahawk throwing, giving people of all ages the opportunity to experience both activities during their visit. The sessions are running with limited participants to ensure all activities are exciting, educational and safe).
Open Water Swim Skills with SwimQuest (31st July)
 Join a front crawl workshop with Olympic open water medallist Cassie Patten, with a morning or afternoon session which will allow you time to explore the park and gardens. The session is suitable for all ability levels, however it is advised that you should have some open water experience and be able to swim 100m comfortably without stopping (in any stroke). The group will be divided into ability groups.
Butler Training Course  (2nd– 6th August)
The Royal School of Butlers are proud to hosts a five-day course which will give students a detailed understanding and practical experience of the role of a traditional Butler. Included in the course are all the skills required for the 21st Century Butler in both commercial and private environments.
The Luna Open Air Cinema (12th – 15th August)
Following the fantastically popular 2020 Summer Season, The Luna Open Cinema is back for a sequel. Enjoy an unforgettable big-screen experience set against the stunning backdrop of Blenheim Palace. Throw in great food, a full bar, both with click and collect service, an optional seated upgrade, and of course giant screens with incredible state of the art sound, and it's the perfect summer's evening out. The programme of films for 2021 includes the Academy Award winning Queen biopic Bohemian Rhapsody, to the iconic Star Wars: A New Hope. You can take a journey to the golden age of cinema with Marilyn Monroe's Some Like it Hot or test out your vocal skills at the singalong version of the smash-hit movie musical The Greatest Showman.
Blenheim Palace Food Festival (20th – 22nd August)
This gastronomic festival will showcase the very best of produce from local and national stallholders offering high quality, tempting food choices from indulgent sweet treats to the most delicious organic fruit and veg, glorious bakes to the tastiest street food. The Festival Kitchen and Marquee has a full programme of demonstrations, Q&As, workshops and book signings. Special guests include BBC Masterchef Champions Kenny Tutt and Thomas Frake. Great British Bake-Off contestant Karen Wright and Eva Humphries, Wholefood Warrior alongside many other celebrity chefs and food & drink experts. Family friendly activities and entertainment will be available throughout the weekend plus the stunning parkland is the perfect spot to enjoy a picnic of food and drink from the festival.
Salon Prive (1st-4th September)
Celebrating 16 consecutive years of the Concours D'Elegance in 2021, Salon Prive offers an experience for entrants that is second-to-none. Gathered on the South Lawn will be the finest collection of classic automobiles available in the UK. With 25 Global, European and UK debuts at the 2020 event, Salon Prive is the place to be when it comes to new cars. The only place in the UK where guests can walk the lawns, meet the manufactures and test drive the latest models.
(5th September)
On the final day the lawns are open to the public, welcoming thousands of new visitors to enjoy the UK's most impressive super and hyper cars in existence on the South Lawn, alongside classic specialists and luxury brands.
International Horse Trials (16th-19th September)
A world class international equestrian event and a great family day out. There is much to do on all days in addition to the showcase eventing classes, such as complimentary displays and demonstrations.
There's shopping, thrilling arena attractions, an array of delicious food and drink, lots of children's entertainment and of course, top class equestrian sport.
Issued on behalf of Blenheim Palace. For more information please contact Samantha Vaughan on 07469 129743 or SVaughan@blenheimpalace.com .
About Blenheim Palace
Home to the Dukes of Marlborough since 1705, the Oxfordshire Estate was designated a UNESCO World Heritage Site in 1987.
Set in over 2,000 acres of 'Capability' Brown landscaped parkland and designed by Vanbrugh in the Baroque style, Blenheim Palace is also the birthplace of one of Britain's most famous leaders, Sir Winston Churchill and it was his father who described the vista, on entering the Estate from the village of Woodstock, as the 'finest view in England'.