Maurizio Cattelan to Present His First UK Solo Exhibition at Blenheim Palace Featuring New and Seminal Works, Including 'America'. 12 September – 27 October 2019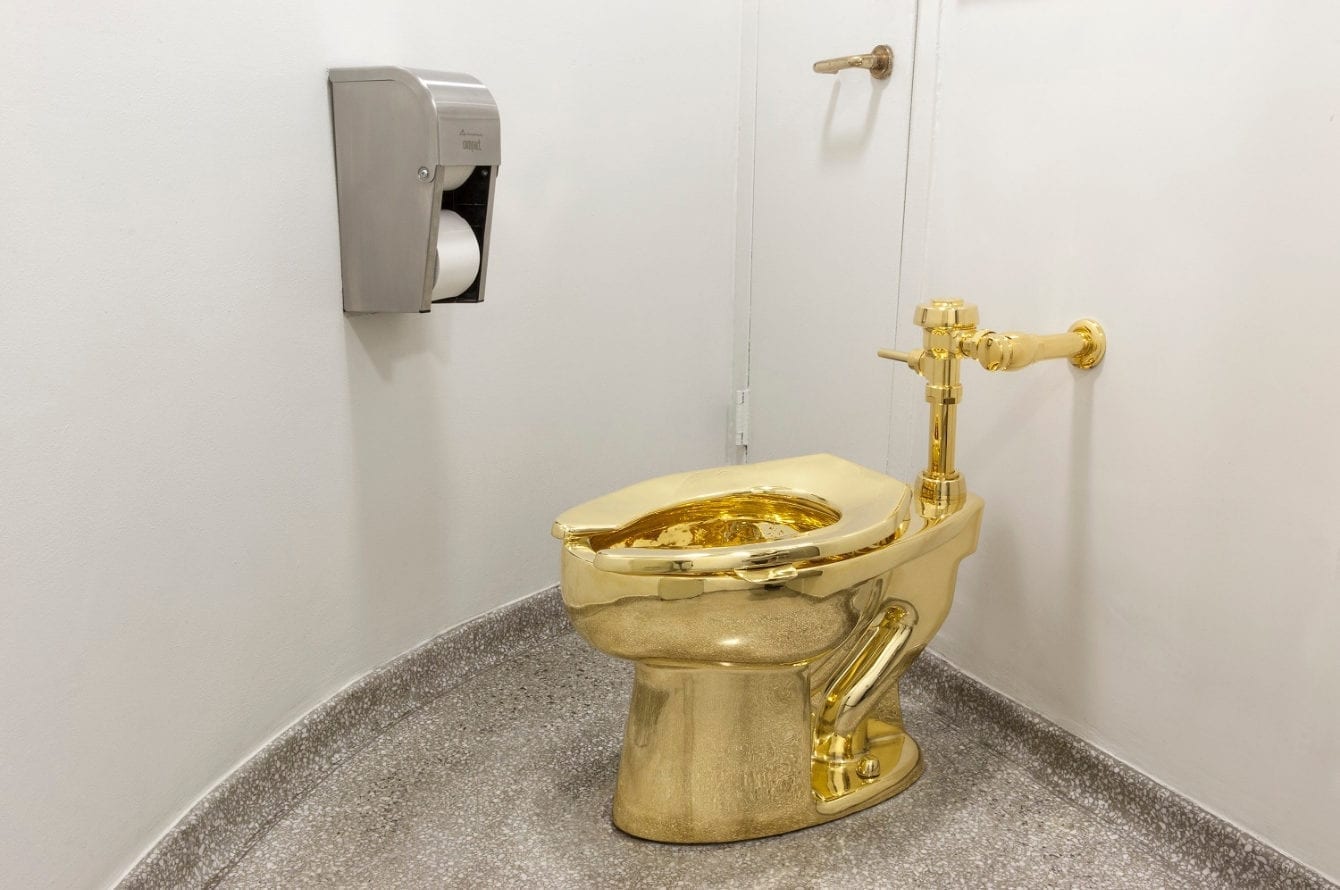 Blenheim Art Foundation, now in its sixth year, will host a solo exhibition by Maurizio Cattelan at Blenheim Palace this autumn, running from 12 September – 27 October 2019. This is Cattelan's first and most significant solo exhibition in the UK in twenty years and will feature new works specially made for the show. The new works will be joined by a number of his most iconic pieces as part of a themed selection displayed throughout the 18th century Palace, engaging with Blenheim's history and unique setting.
Maurizio Cattelan is best known for his hyper-realistic sculptures that take inspiration from pop culture and history in order to make sharp and satirical comments on society, power and authority. The exhibition will notably feature America (2016) – one of Cattelan's most recognisable works – a solid 18-Karat gold toilet which will be installed inside the Palace, adjacent to Sir Winston Churchill's birth room. As a fully functioning toilet, visitors will be welcome to use it during their visit and experience a rare individual encounter with one of contemporary art's most famous works.
In the context of the opulent 18th century Palace, America can be seen as a witty comment on the social, political and economic disparities in the United States; an extravagantly luxurious object made available for public use. The work highlights the inescapable commonalities of the human body despite social and economic differences. It is emblematic of Cattelan's practice in its mixture of irreverent humour and astute social commentary.
The piece was created in 2016 and first exhibited at The Solomon R. Guggenheim Museum in New York, where over 100,000 visitors queued to use it.
Further artworks to be included in the exhibition will be announced later in the year. Cattelan will be the sixth artist to present a solo exhibition at the UNESCO World Heritage-listed Palace, following Ai Weiwei, Lawrence Weiner, Michelangelo Pistoletto, Jenny Holzer and Yves Klein.
In March 2019, Blenheim Art Foundation won the Global Fine Art Award for 'Best Public Exhibition' for SOFTER: Jenny Holzer at Blenheim Palace, 2017. This marked the first time that a British institution was awarded this prestigious global accolade.
Maurizio Cattelan said 'I am constantly inspired by the past and how nothing has really changed, so to show my work at Blenheim Palace – a place full of history and humanity – is significant to me.'
Michael Frahm, Director of Blenheim Art Foundation said 'We are happy to continue our mission to bring great contemporary art to Blenheim Palace. Maurizio Cattelan has been producing groundbreaking work for decades, so it is a proud moment for us to present his first UK solo show in twenty years. As the first artwork to be announced, America sets the tone for what should be a bold, exciting and thought-provoking show.'
Edward Spencer-Churchill, Founder of Blenheim Art Foundation said 'Maurizio Cattelan is one of the most singular and daring artists working today. His work can make us laugh and quake in turn, with its acerbic comments on the world we live in. I believe that his wry wit, stoicism and fantastical vision are exactly what we need in these times of global flux and uncertainty. We are delighted to welcome his work at Blenheim in the expectation that it will stimulate debate, conversation and expand our minds.'