Oxford Bus Company and City Sightseeing Introduce New All-Female Tourism Management Team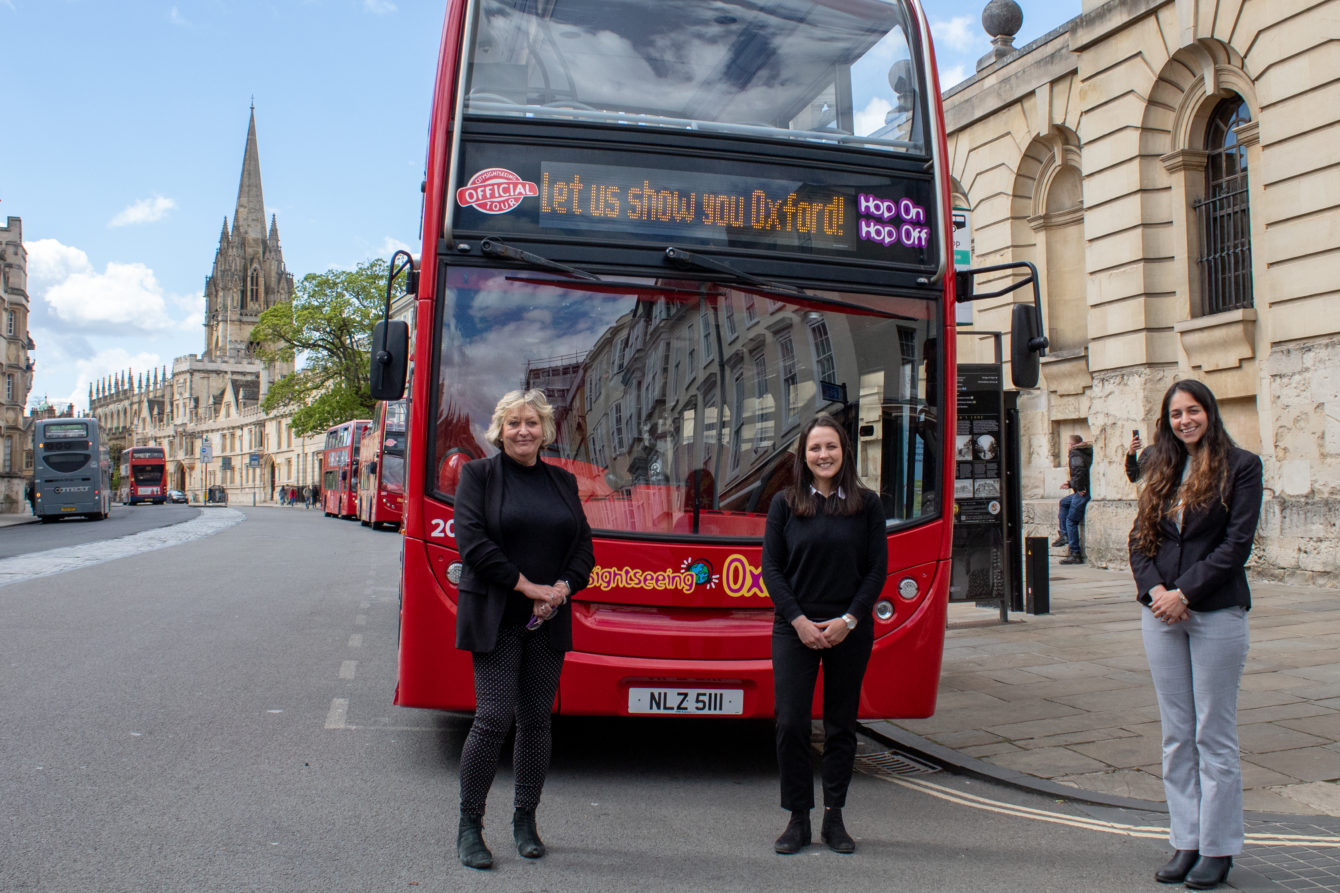 Oxford Bus Company and its sister company City Sightseeing have created a revamped tourism management team across both companies to help drive the visitor economy.
The trio of Jane Marshall, Clarisse Garcia and Val Tachy form the all-female team created to ensure visitors to Oxford receive a world class welcome. The focus will be on developing partnerships with key visitor attractions, marketing what Oxford has to offer and delivering a first-class customer service. The tourism triumvirate was created as a part of a commercial restructure at both companies focused on ensuring top class delivery of tourism related services in the City.
Jane's role as General Manager of City Sightseeing Oxford has been expanded, and as Head of Tourism she will now have a renewed focus on forming mutually beneficial partnerships. Former bus driver Val will oversee the management and engagement of drivers for City Sightseeing Oxford. Clarisse has been promoted to Retail Manager, having previously worked as a travel shop supervisor and she will now be responsible for the High Street Visitor Information Point and Gloucester Green Travel Offices and overseeing colleagues working at those locations and tour guides for the City Sightseeing buses.
The news comes as Oxford is braced to bounce back from COVID-19 restrictions and welcome an increased number of visitors to the city. Oxford Bus Company and City Sightseeing play an integral role in Oxford's crucial visitor economy. City Sightseeing runs the popular open-top bus tours of the city and the Visitor Information Point in High Street whilst Oxford Bus Company primarily operates the Travel Shop in Gloucester Green.
Phil Southall, Oxford Bus Company and City Sightseeing Managing Director, said: "We are pleased to announce this exciting new management team designed to help drive our visitor economy. The team are highly talented and we are looking forward to re-building our tourism offerings.
"Oxfordshire is an attractive destination, and we remain committed to ensuring we deliver a world-class welcome to visitors. Our visitor information point is a vital service to visitors to help them get the most out of their trip to the county. While our open-top bus tours remain a fantastic way to explore the city. Key to reigniting the visitor economy will be partnerships and all key stakeholders working together to develop packages and compelling initiatives."
The all-female management team is also a boost to Oxford Bus Company's and City Sightseeing's parent company The Go-Ahead Group's 'Women in Bus' initiative. It is designed to address the long-standing lack of gender diversity in public transport. Go-Ahead's Women in Bus network provides visible role models to colleagues, and creates a forum for women to raise issues, share experiences and support each other.
Mr Southall added: "The Go-Ahead Groups female colleague-led networking is the first of its kind in the bus industry and we're proud to be making a positive contribution to its success.
"One of our core values is embracing diversity and we want our workforce to fully reflect the great diversity of our passengers and the communities that we serve. There are great opportunities for people to work in our industry and we are committed to working to attract more females into the bus business."
Our visitor information point provides ideas and information on things to see and do in the city and wider county. It provides travel timetables, maps and books. Plus, discounted tickets for attractions, gifts and souvenirs.
The City Sightseeing tour takes in the city's famous sites, including the Oxford Castle, Christ Church College, Magdalen Bridge, Sheldonian Theatre, and Ashmolean Museum. The audio commentary is available in 14 languages, and a version for children, which includes quizzes, is also available.
Ends