Oxford Bus Company Commemorate X90 on Emotional Last Day of Service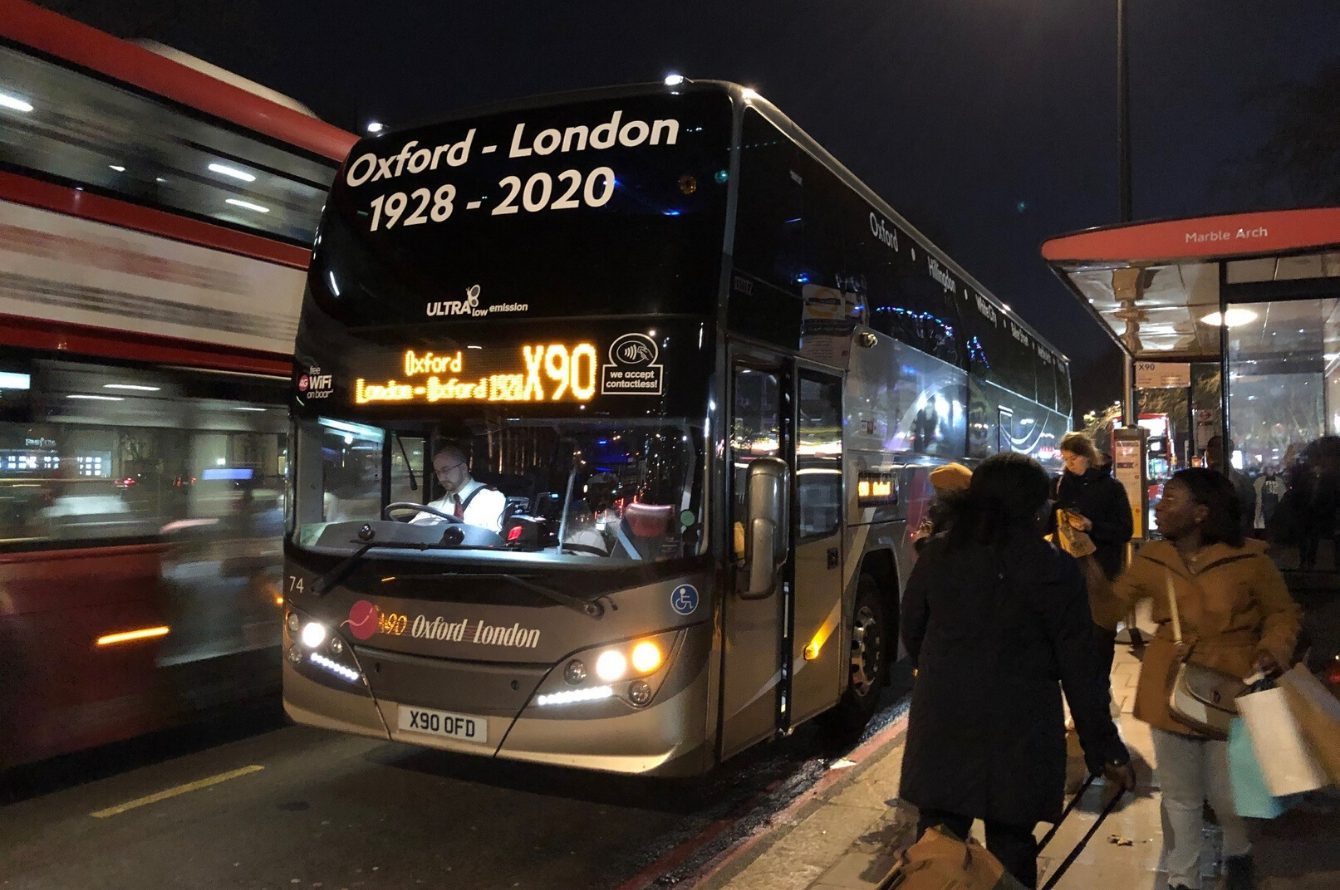 Oxford Bus Company celebrated its proud history of transporting passengers between Oxford and London, on the last day of the X90 service on Saturday 4 January 2020.
Colleagues past and present and members of the public embarked on free vintage rides between Gloucester Green and Thornhill Park and Ride on vehicles from yesteryear. The final X90 coach journey departed from London at 1am and completed its journey at Gloucester Green bringing to a close a long and distinguished service. The Oxford to London coach route can be tracked back to the early 1920s. The express service had operated for more than 40 years and carried millions of customers.
It was an emotional day for the many colleagues and members of the public who have worked and enjoyed journeys on the service. Oxford Bus Company would like to thank everyone who has travelled on the X90 and all colleagues who have worked on the service. A commemorative booklet which chronicles the history of the coach route between Oxford and London is available for purchase from the X90 website https://x90.oxfordbus.co.uk/
Phil Southall, Oxford Bus Company Managing Director said: "It was a very sad day as the X90 came to an end. Yet there was a real sense of pride of the route's long history and a shared passion for public transport among the many people who came and enjoyed a vintage coach ride with us. I drove two of the journeys personally and every trip was full with well wishers.
"We are grateful to everyone who has travelled with the X90 and to my colleagues who have worked on the service throughout its existence. We are aware the difficult decision to withdraw the service has inconvenienced loyal customers and once again we thank everyone who has supported the X90."
A Bristol VR double decker that was used on the X90 service in the 1980's and a single decker from the 1960's was used for the vintage rides. The preserved coaches were provided for the special event by owners Jonathan Radley and Dave Clements. 
The decision to withdraw the service was not taken lightly and the company is doing everything possible to minimise the impact on customers and colleagues up to the withdrawal date. Any unused tickets are eligible for a pro-rata refund.
Falling passenger numbers due to new rail competition and worsening congestion made maintaining the X90 service challenging. This saw the time it takes to complete a journey between Oxford and London worsen by up to 50% in two years and passenger numbers drop by 35% since 2015. Oxford Bus Company introduced several measures to adapt to the challenges, including new timetables and lower fares, but with regret it was no longer viable to operate the X90 service. All X90 drivers have been redeployed to other roles within the business.