Oxford Bus Company unveils special new Ashmolean Museum branded coaches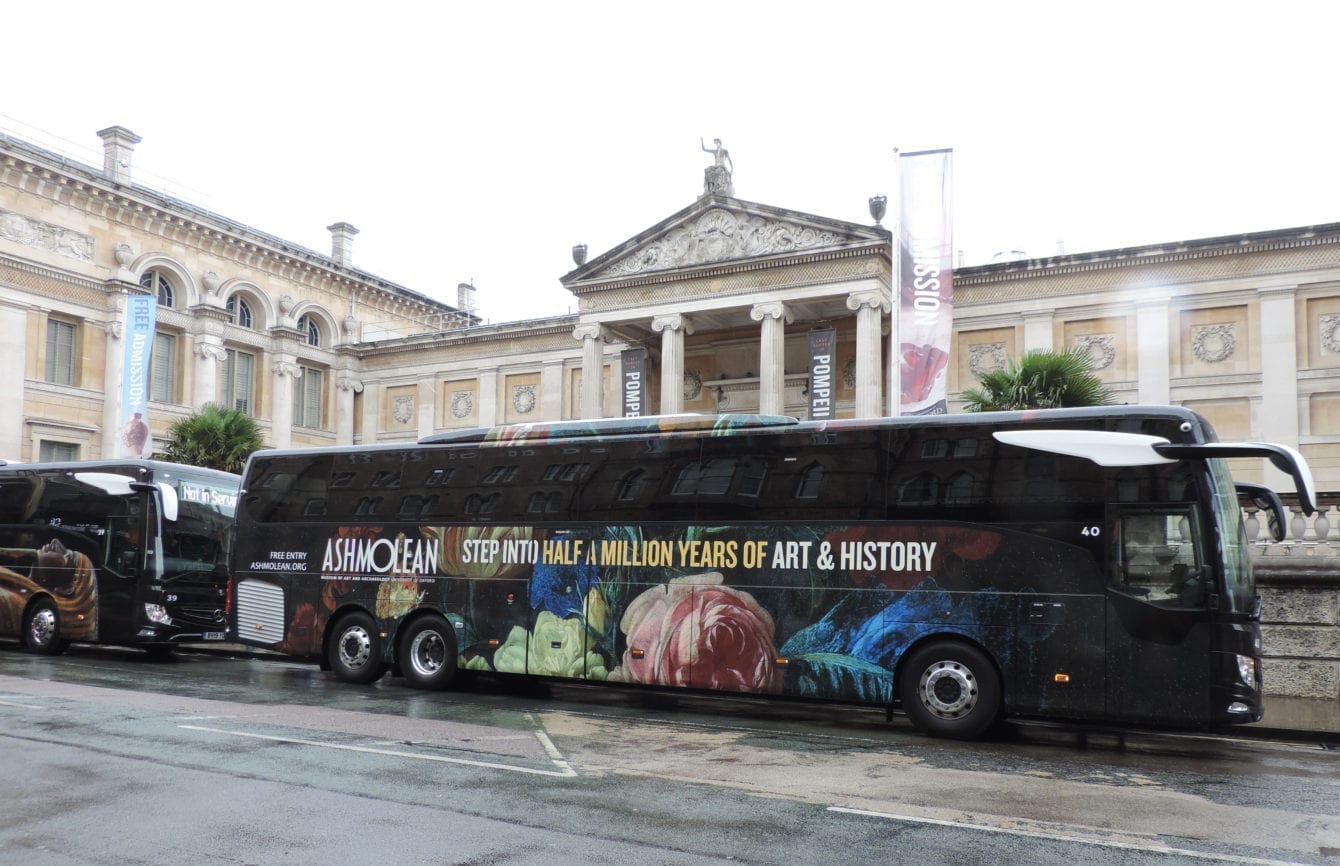 The Oxford Bus Company has revealed the dazzling new Ashmolean Museum branded luxury coaches.
The two coaches form part of Oxford Bus Company's £3.5m investment in a new range of coaches for its Airline services to Heathrow. It will see 11 new Mercedes Tourismo coaches enter service this month, including the two Ashmolean Museum branded vehicles.
One coach has been wrapped with the museum's Egyptian mummies and the other in images of spectacular Dutch flowers. These also celebrate the Oxford Bus Company's partnership with Experience Oxfordshire and a commitment to support the organisation in highlighting the excellent visitor attractions in the county.
Phil Southall, Oxford Bus Company Managing Director said: "We are proud to be displaying the Ashmolean Museum livery on two of our new coaches, as part of our commitment to helping showcase the wonderful visitor attractions in Oxfordshire.
"The coaches look fantastic and they are now out in service providing a first-class service to our passengers and helping raise awareness of the great places to visit in Oxford. The new coaches include a lot of the latest technology on the market and make them one of the most modern and luxurious coach services to Heathrow."
Susan McCormack, Director of Public Engagement, Ashmolean Museum, said: "We are enormously grateful to our friends at the Oxford Bus Company for giving us the opportunity to showcase some of our treasures outside the museum. Two coaches from the new fleet will be wrapped in pictures of our Egyptian mummies and a spectacular Dutch still life. We can't wait to see them out on the road, and we hope they brighten up the journeys of passengers and drivers around town."
The coaches are fitted with the latest green technology and are ultra-low Euro 6 rated for emissions. Most journeys between Oxford and Heathrow will operate using the 11 new coaches which will be part of an overall fleet of 16 Airline coaches serving both Heathrow and Gatwick airports.
The new vehicles include luxurious seating that can be extended out to give more individual space and a tray table for each passenger to make their journeys as comfortable as possible. The trays are designed to accommodate laptops and tablets and each seat also includes a USB charging point and power-socket. There will also be monitors on-board, with sat-nav displays to enable passengers to check progress on their journey, just as they would when on an aeroplane. The new coaches also boast free Wi-Fi, wheel-chair access and much improved luggage capacity for passengers' suitcases and bags.