Painting in Coloured Light: The modern stained glass designs of John Piper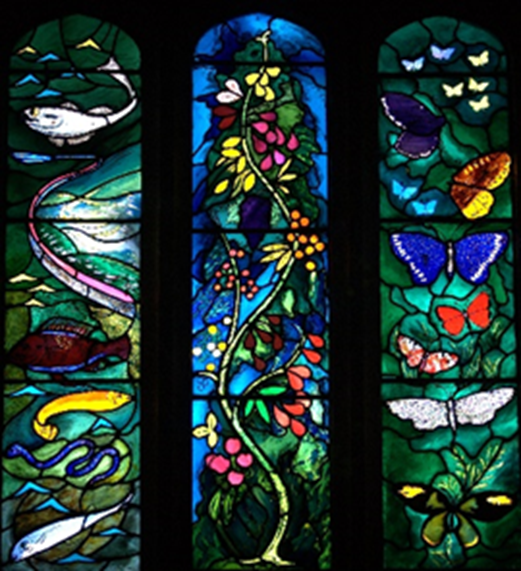 Stained glass window at All Saints Church, Farnborough, West Berkshire, featuring symbols of The  Resurrection: fishes; tree of life; butterflies. Designed by John Piper and made by Joseph Nuttgens. Photo: Andrew Loutit. © The Piper Estate / DACS 2021
The River & Rowing Museum reopens its doors on 20 May 2021 with a wonderful new display 'Painting in Coloured Light' in its nationally significant John Piper Gallery
Visitors will be able to get up close to the vibrant and newly-conserved cartoon of John Piper's beautiful stained glass window design in memory of his close friend Sir John Betjeman
The display also highlights this local Henley artist's lifelong passion for stained glass.
The River & Rowing Museum bursts open its doors finally on Thursday 20 May with a remarkable new display in its nationally significant John Piper Gallery, shining a spotlight on Piper's lifelong passion for stained glass and his exploration of this medium, influenced by the medieval windows he encountered from childhood.
The centrepiece of the new display, recently beautifully conserved and rarely seen in public before, is Piper's vibrant 'cartoon' or design for the stunning stained glass window, which he was invited to create (c. 1985 – 1986) for All Saints Church, Farnborough, West Berkshire, in memory of his close friend and collaborator Sir John Betjeman. Piper and Betjeman (1906-1984), the Poet Laureate, writer and broadcaster, shared a close friendship, a love of the British landscape, and a love of churches, embarking on many a 'church crawl' together. This was the last of the incredible stained glass windows Piper designed before he died in 1992 and is still the most important feature of this little parish church.
The window's design echoes another design featuring fish, a tree and butterflies that Piper had worked on much earlier for Nettlebed. A central 'Tree of Life' rises upwards in a serpentine movement as a sign of profusion, laden with coloured leaves and fruit…Piper's flowering and fruiting tree, which suggests resurrection and eternal life.*
It was created in Piper's large barn studio at Fawley Bottom near Henley on Thames where he worked on his large-scale designs, from stained glass windows to theatre designs. The cartoon then hung in Piper's home there for many years before being loaned by the Piper family to the River & Rowing Museum in late 2018. This impressive, vibrant and intricate cartoon gives us a rare glimpse into Piper's creative process.
Most recently, the cartoon has been expertly and lovingly conserved by paper conservator Amelia Rampton, whose work has brought the piece and its rich colours back to life, enabling us to get a close-up view of Piper's techniques for creating stained glass windows.
The artist's lifelong interest in stained glass began as a boy when he traced the stained glass windows near his home in Surrey and on family holidays. Indeed, by the time he was 14, he claimed to have visited every church in the county.

Over the years, Piper designed more than 60 stained glass windows, his designs a blend of 'traditional' early stained glass and modernism, for local churches such as Farnborough and Nettlebed, and major cathedrals, such as those of Coventry and Liverpool. For Piper, stained glass was the perfect media to learn about how to use colour.
In Piper's own words:
"Stained glass is a great leader astray of anyone who works at it – designer and craftsman alike. In terms of colour and form it is eccentric. Colour is abnormally bright, since the light comes through the material instead of being reflected from the surface; tone is usually dictated by bounding leads or area joints of some kind. The whole thing is imprisoned within glazing bars that form an inexorable grid and are structurally necessary. This is its proper splendid discipline."
Natalie Patel, Curator at the River & Rowing Museum, says:
"We are extremely excited to feature this new spotlight display in our John Piper Gallery to reopen the Museum. Not only does it give incredible insight into John Piper's creative process and how stained glass impacted his use of colour across all of his work, but it shows conservation in action. It's a must-see!"
 Painting in Coloured Light: The modern stained glass design of John Piper, the rest of the River & Rowing Museum, its Shop and Café will be open Thursday to Monday from 20 May 2021, 10am – 4pm.
Entry to Painting in Coloured Light and The John Piper Gallery is via General Admission,
pre–booking for which is essential – book ahead at rrm.co.uk – and enables access to the whole Museum.
Visitor safety remains the Museum's priority. Measures include limited numbers to ensure safe social distancing, a carefully managed one-way route, hand sanitiser stations throughout the Museum and galleries, as well as regular cleaning of contact areas.
To find out What's on at the River & Rowing Museum, subscribe to their e-newsletter. 
Ends
For additional press information, interviews or photography please contact:
Charlotte Kewell, Head of Marketing & Communications:              charlotte.kewell@rrm.co.uk
Kerri Cicirello, Marketing & Communications Assistant:                  kerri.cicirello@rrm.co.uk
Notes to Editors:
 * Source: Hugh Fowler-Wright and David Fraser-Jenkins, The Art of John Piper.
John Piper: A Very British Artist
John Piper, who for many years lived locally to Henley on Thames, is one of Britain's most prolific and versatile artists of the 20th century. The River & Rowing Museum's dedicated and nationally significant John Piper Gallery, opened following successful crowd-funding in 2016,  features works from private and public collections, many on display for the first time, demonstrating Piper's outstanding versatility in art – from drawing and painting  to stained glass and ceramics.
The River & Rowing Museum inspires escape and exploration, telling the many stories of the River Thames and celebrating the wildlife that calls it home. Beyond its beautiful riverside location in Henley on Thames and award-winning building, the Museum's doors open onto art, history, conservation and the international sport of rowing. The galleries include interactive displays and stories and objects of international significance, including the family-friendly 'Wind in the Willows' gallery and a dedicated gallery to the work of Modern British artist John Piper, which opened in 2016 following successful crowd-funding with the support of the Art Fund.
In addition, the Museum hosts a lively programme of special exhibitions from partners such as the National Portrait Gallery, the Ashmolean, Seven Stories, the V&A and the Hayward Gallery. Working closely with local partners, the Museum's Community Gallery showcases a wide variety of local projects. Twice shortlisted for Family Friendly Museum of the Year, the Museum is a registered educational charity, and welcomes children and adults taking part in its engaging and inspiring learning and events programme. The Museum's Chocolate Café terrace overlooks Mill Meadows, and its shop celebrates local suppliers, specialising in children's books and games, fashion and craft.
As a charity receiving no ongoing public funding, the Museum relies on its visitors and supporters. Please help support the Museum's future by becoming a Friend or making a donation.
Arts Council England is the national development agency for creativity and culture. We have set out our strategic vision in Let's Create that by 2030 we want England to be a country in which the creativity of each of us is valued and given the chance to flourish and where everyone of us has access to a remarkable range of high quality cultural experiences. We invest public money from Government and The National Lottery to help support the sector and to deliver this vision. www.artscouncil.org.uk
Following the Covid-19 crisis, the Arts Council developed a £160 million Emergency Response Package, with nearly 90% coming from the National Lottery, for organisations and individuals needing support. We are also one of the bodies administering the Government's Culture Recovery Fund. Find out more at www.artscouncil.org.uk/covid19.
At the Budget, the Chancellor announced the £1.57 billion Culture Recovery Fund would be boosted with a further £300 million investment. Details of this third round of funding will be announced soon.
Painting in Coloured Light: The modern stained glass designs of John Piper is supported by: