Portrait of 'the most beautiful woman in the world' on display at Blenheim Palace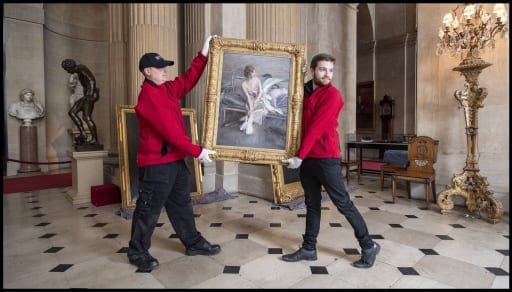 A full-length portrait of Gladys Deacon, Duchess of Marlborough and once considered the most beautiful woman in the world has gone on public display at Blenheim Palace.
The extraordinary picture, painted by renowned artist Giovanni Boldini in 1916, is part of the Oxfordshire UNESCO World Heritage Site's ongoing programme to recover lost works of art.
Boldini's paintings showed his subjects in soft-focus, elongated, in movement, alive, and sophisticated. He was even dubbed the King of Swish.
The portrait returned to Blenheim Palace having previously been on display in Italy's Palazzo dei Diamanti as the star of an exhibition of Boldini's work.
Painted in Paris five years before the American beauty married the ninth Duke of Marlborough, the portrait is one of a series which depict the cosmopolitan elite of the Belle Époque.
The Duke had previously been married to Gladys' close friend the American railroad heiress Consuelo Vanderbilt.
"Gladys was a renowned beauty who counted Proust and Monet among her close acquaintances," said Kate Ballenger, Blenheim Palace's Head of House and Collections.
"She inspired works of art by Rodin, Degas, Epstein and other leading artists.
"Among her most famous features were her striking blue eyes. These were immortalised by the British artist Colin Gill, who painted giant versions of them looking down from the ceiling of the Palace's North Portico in 1928," she added.
As well as her eyes, Gladys was the inspirations for a pair of long-necked lead sphinxes, cast in her image in 1930 by W. Ward Willis, which are still on display in the Palace's Water Terraces.
Gladys Duchess of Marlborough, died in 1977 at the age of 96.
In addition to the Boldini portrait, which is on display to visitors as part of the Private Apartments tour, Blenheim Palace has also acquired 15 paintings and 40 miniatures from the Estate of Viscount Churchill.
For more information, additional images and high res images please contact: Melodie Manners | melodie@flamingo-marketing.co.uk | 01637 873379 or 07815 709548