Description
For all fans of Harry Potter and Alice in Wonderland, this is the specialist 2-hour tour to take. Enter the magical worlds of Harry Potter and Alice in Wonderland and visit Christ Church College and the Divinity School (part of the Bodleian Library) with a professionally trained Green badge guide.
Vouchers as Presents!
Vouchers for the Harry Potter Tours make great Christmas presents! To order, please just call us on 01865 686 441 to pay by credit card. All the recipient need do is call us when they are ready to book! Vouchers are valid for one year.
Meeting Point
All Oxford Official Walking Tours (apart from the Oxford Pub Tour) meet outside the Visitor Information Centre here at 15-16 Broad Street Oxford OX1 3AS.
What you will see
Your specially trained guide will take you to the principle places used as inspiration for the Harry Potter films, as well as the actual film locations. These include the world famous colleges: Christ Church and New College, and The Divinity School (part of the Bodleian Library) subject to availability.
Christ Church with its beautiful meadows is also the college associated with the hugely popular Alice in Wonderland books. Nearby is the Alice Shop, which was a sweet shop where the real Alice may have bought her sweets!
What you will learn
You'll be shown how these film sites were adapted to create the backdrop for the scenes in the Harry Potter films, and which parts of the University were used as inspiration for the Grand Hall at Hogwarts. You'll learn more about the real little girl upon whom Alice was based, along with her real pet cat, and hear what her life was like, as well as why the books became so hugely popular.
Your Guide
Your guide will be an enthusiastic expert on Harry and Alice and able to answer your questions. They will be trained in the history of the City and University too, and so can take questions on background information as well. Your guide will have a Green badge (from the Institute of Tourist Guiding) and be a member of the Oxford Guild of Tour Guides.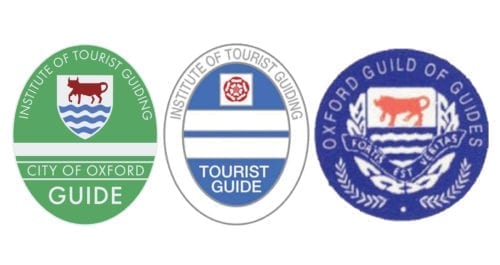 Guide Profile
Linda Gelens says:
"People love this tour – it is a chance to see some of the most famous and beautiful colleges of Oxford and see how they were used in the Alice books and the Harry Potter films."
Booking
You can buy tickets on the day at the Visitor Information Centre but we suggest booking in advance to avoid disappointment for this tour, because it is very popular and only runs once or twice a week on Fridays and or Saturdays. We recommend booking in advance either by phone 01865 686 441 or online.
Tickets 
Your tickets are valid for the date and time booked only. If you think you might not make the start time, please book a different date as we are unable to contact the Guide once the tour has departed.
On booking online you should receive a Sagepay payment confirmation, a Booking Confirmation and an eTicket by email – if not, you can present your Sagepay payment confirmation on your phone. If you would like to see your eTicket, please check your spam filter or whitelist us at info@experienceoxfordshire.org. For more details, please see Additional Information.
Group size
Tickets are limited to 19 to ensure that you have a pleasant experience and can ask your Guide questions as you walk around with them.
Children
Children are welcome on this tour but must be accompanied by an Adult. Children under five must be booked for please as infants are counted for college entrances which are restricted to 19 per tour. Please note, with the amount of distance to cover, children under 5 who are not being carried or in pushchairs might find the tour too long and may prefer the Harry Highlights Tour (coming soon) which is 1.5 hours. (Please note pushchairs might need to be left outside the colleges, at the owners' own risk, at the Porter's Lodge).
Distance
Your tour will cover 2 miles walking, with three college/building visits, and so it covers more ground than other tours. It stops every so often to see the film sites. Overall it does not involve walking travelling any further than 20 minutes away from the City centre and Visitor Information Centre.
Guide Dogs
Guides Dogs are welcome on all tours. Other dogs and pets unfortunately are not allowed.
Accessibility
The City centre is quite flat and walkable – however, please note that some of the ancient colleges included on this tour do have unavoidable steps. Please let us know in advance on 01865 686 441 or officialtours@experienceoxfordshire.org before booking this tour if you have any mobility difficulties, so that we can arrange ahead of the tour how to best accommodate you, and check the suitability of this tour for you. We also offer the Harry Highlights Tour which may be more suitable as it is just 1.5 hours long as the visit to Christ Church is an optional extra at the end of the tour.
Parking
We recommend the Park and Ride service. The nearest Park and Ride will be signposted on your entry route in Oxford, and buses leave regularly. Please allow at least 20 minutes for the bus journey into central Oxford. For more information on parking options, please see https://www.oxford.gov.uk/parking.
Book this as a Private Tour
To book your own private tailor-made Harry Potter tour, with or without a mention of Alice, or in combination with other tour themes, please call us on 01865 686 442 or email us with your preferred date and time on officialtours@experienceoxfordshire.org
Prices are £140 per Guide for up to 19 people for a tour up to 2 hours long. College entrance fees are not included but can be paid on the day.
Vouchers
If you would like to buy tickets as a present, please call us on 01865 686 441 and we can arrange an eVoucher to be sent for you (purchaseable by credit/debit card).
Brought to you by: