Switch off home working and commute by bus to reduce carbon emissions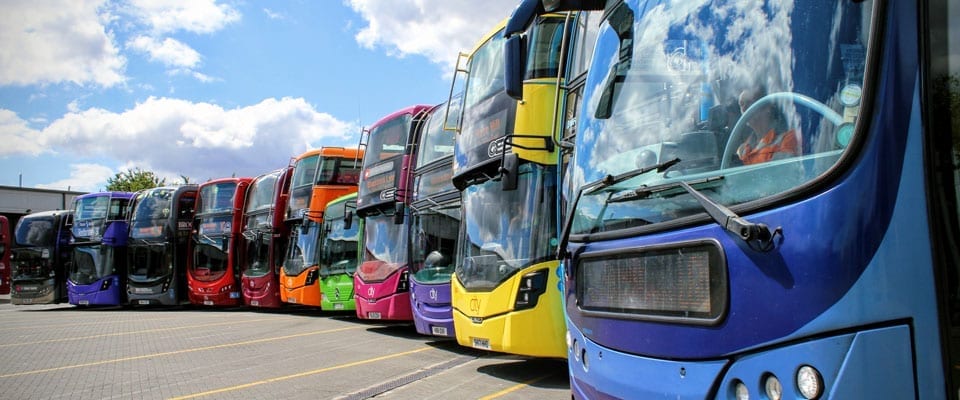 Research has revealed an average employee that works from home all year round produces 80% more carbon emissions than an office worker.
An average home worker produces 2.5 tonnes of carbon per year while working – the equivalent of making more than 1 million cups of tea.
The study by WSP consultants identified that working from home in the summer saves around 400kg of carbon emissions, the equivalent of 5% of a typical British commuter's annual footprint. However, this small seasonal benefit is significantly reversed in the winter when workers typically heat and light their homes for much longer periods.
A second, related study by Purdue University in the USA found that video conferencing can create as much as 1kg of carbon emissions per hour, due to the energy intensive way in which internet data is stored and transferred around the world. As much as 96% of this is caused by streaming video to allow home workers to maintain face to face contact while away from the office.
Based on the findings Oxford Bus Company and Thames Travel are encouraging Oxfordshire residents to return to offices in line with government advice to help reduce the county's carbon footprint. The bus operators have also revealed some carbon savings that can be further made by using public transport for single journeys rather than a private vehicle on five popular Oxfordshire commutes.
Wantage to Milton Park – travelling by bus would save 2583g of carbon compared to driving – the equivalent of keeping a fridge running for 94 days.
Abingdon to Oxford city – travelling by bus would save 1840g of carbon compared to driving – the equivalent of making 780 cups of tea.
Kidlington to Oxford – travelling by bus would save 1653g of carbon compared to driving – the equivalent of watching TV for 172 hours.
Harwell to Didcot – travelling by bus would save 1202g of carbon compared to driving – the equivalent of charging a mobile phone 5094 times.
Oxford city to JR Hospital – taking this journey would save 935g of carbon compared to driving – the equivalent of keeping a lightbulb on for 264 hours.
Phil Southall, Oxford Bus Company and Thames Travel Managing Director said: "This data dispels the myth that virtual meetings from home are good for the planet. While our own findings demonstrate commuting by bus rather than car can deliver further significant carbon footprint reductions.
"Returning to offices can help reduce carbon emissions, while supporting the wider economy and enhancing mental and physical health and boosting social inclusion. And with gas and electricity prices rising this winter, leaving the home office behind this winter will be good for your pocket, too. We'd encourage people to get back to offices and to consider swapping their cars for a bus journey to really make a difference."
Oxford Bus Company has kept the people of Oxford moving since 1881. Its services span Oxfordshire including the city, Park&Ride and airline services. Its sister company Thames Travel operates in south Oxfordshire and Berkshire. Last year it invested £2.4M in eleven new ultra-low emission vehicles. More than two-thirds of the fleet now meet the Euro VI emissions standard, helping improve air quality in Oxfordshire.
An Oxford City Council air quality report recently revealed with NOx emissions from buses has decreased by half since 2013. Buses now contribute less pollution than cars in Oxford city centre. City Sightseeing Oxford, owned by Oxford Bus Company, introduced the first electric double decker bus to the city last year.
Ends
Notes to editors
The calculations used in WSP study used accepted energy demand benchmarks set out in the Energy Consumption Guide. For the purposes of the study 'air conditioned, standard' office type was used. For staff travel the national average commuting figures as compiled by National Statistics and the Department for Transport were used. The average miles per gallon figures were taken from studies produced by the Department for Transport and National Statistics.