Southcombe
Chipping Norton, Oxfordshire OX7 5QH United Kingdom
01608 238014
Opening Times
Open 10am to 5pm every day (except Christmas Day, Boxing Day and New Years Day).
Open later on Illuminated Evenings and Christmas Fairytale event days.
Mixing classic fairy tales, animals, and adventure play, children will love Fairytale Farm. With an exciting adventure playground, an enchanted walk with a surprise around every corner and a chance to meet the amazing animals, there is so much to see and do. It is a sensory and learning wonderland for all the family.
Race a rubber duck along the pump-powered waterway or see a family of mice going about their daily business in our beautifully crafted indoor model village. Where else can you meet mermaids, rabbits, sleeping beauty, alpacas, rheas, seahorses, ducks, chickens, and magic?
And make some time for the Beanstalk Café, serving freshly ground coffee, locally baked cakes and homemade meals.
Fairytale Farm is divided into seven main zones: Huff and Puff for adventure play – Enchanted Walk for our fairy tale sensory experience – Alfie and Friends, where you can meet their amazing animals – Jack's Yard, where you can visit Mouse Town, see Jack's Beanstalk, play in their sandpit and visit Rapunzel's Kingdom indoor play – New from summer 2022 is their brand new dinosaur-themed area, Dino Valley – Fairy Dell area, with the Weather Fairy to meet – Wilderness Walk area, where you can meander through a range of wildlife habitats and experience their mini world of seasonal senses along the way.
There are a whole host of new attractions at Fairytale Farm, with their biggest ever investment in new developments:
● Explore the magical new indoor play area, Rapunzel's Kingdom, themed around a fairy tale forest, with castles, slides and fairy houses to visit, role playing and interactive features.
● Climb on board the brand-new Combine Harvester, with two levels, multiplay activities and a slide, it is perfect for imaginary farm play!
● Step inside the new Musical House. Operate the fairground organ or the brass band – everything is people-powered!
● Discover the brand-new dinosaur-themed area, Dino Valley, with a collection of life-sized (but very friendly) dinosaurs.
Significant further investments have also gone into their animal area, including new enclosures, animal petting area and footpaths around all enclosures, so need for wellies anymore!
Ticket Prices – Adults: £8.00 (£7.20 online), Children (2 to 16): £7.75 (£6.98 online), Child under 2: Free entry, Senior Citizens (60+): £7.75 (£6.98 online), Carer: Free entry (maximum one carer per disabled visitor, evidence of disability required).
Groups – For groups of 12 or more paying visitors: Adults: £6.40, Children (2 to 16): £6.20, Senior Citizens (60+): £6.20, Carer: Free entry (maximum one carer per disabled visitor, evidence of disability required)
Annual Pass – Valid 12 months from date of purchase. Adults: £42, Children (2 to 16): £40, Senior Citizens (60+): £40, Family ticket (2 adults and up to 2 children): £145,
Schools – Please contact them for details. One free adult per 4 paying children (under 3) and per 6 paying children (3 and above).
Birthday parties – Party packages £19.95, with exclusive use of the farm when it is closed to the public. The package includes food, party host, goody bag, animal feed, animal petting session, party invitations, gift voucher for the birthday child and a free return visit for every child.
Events
May 2022
May 28 @ 10:00 am - June 5 @ 5:00 pm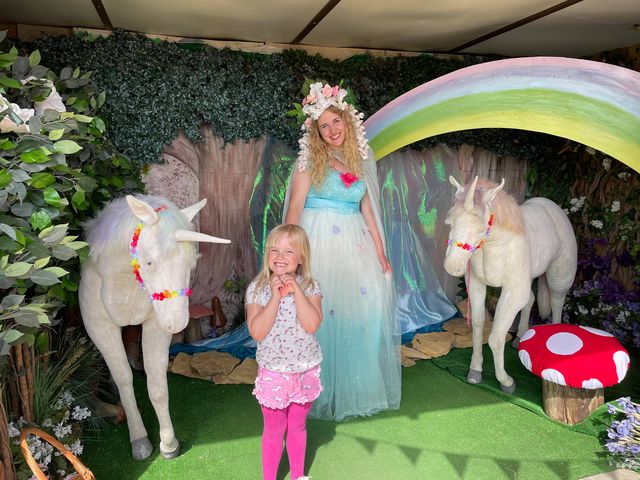 Visit Fairytale Farm this May Half Term for a magical 'Once upon a Unicorn' week. This mythical creature will sprinkle some colourful magic around the Farm. Come dressed up in anything unicorn-related and receive a sweet treat on arrival! Ribberty Rabbit Crafting will be joining us again so you can get mythically crafty in the Craft Corner. Join in our 'How to Train a Unicorn' trail activity and discover some useful training tips! Meet the Unicorn Queen and share the training tips…
Find out more »
+ Export Events
What's nearby?