Experience Oxfordshire Release Data on Economic Impact of Covid-19 to Oxfordshire's Visitor Economy and Shares Concerns for the Sector's Recovery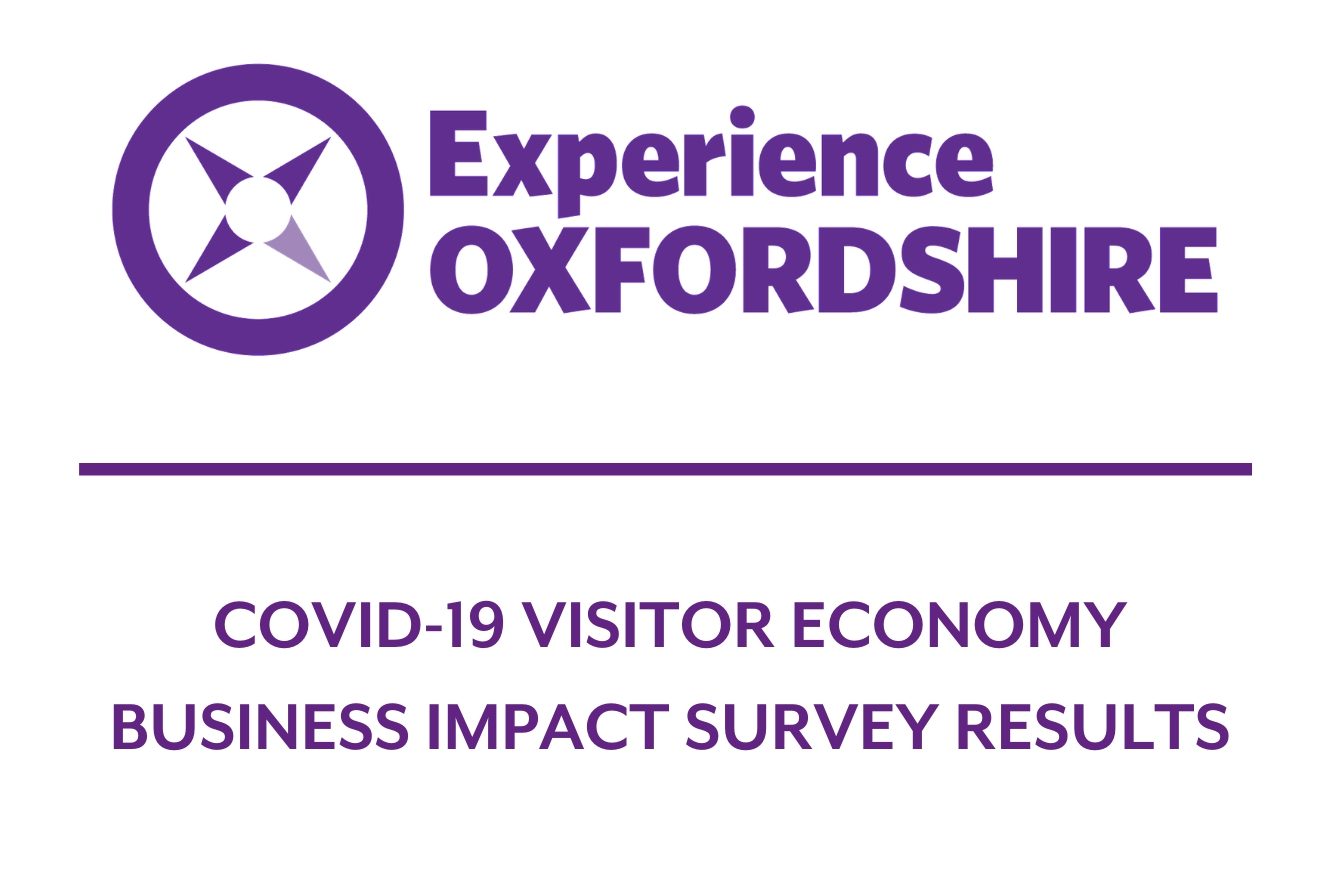 Experience Oxfordshire, the Destination Management Organisation for the county, has published a report of findings from a county-wide survey to provide an initial analysis of the effect of the outbreak of Covid-19 and subsequent lockdown on visitor economy businesses across the county.
According to the research undertaken by Experience Oxfordshire the reduction in spend from tourism related activity is already showing significant losses of between £112.5million and £137.5million per month, with monthly losses rising further as we proceed through the year into the peak visitor spend period of May-August.
The report shows that the Covid-19 pandemic has caused huge disruption across Oxfordshire's visitor economy, with 84% of businesses reporting a revenue drop of greater than 50%. Further damage is boosted by cancellations on forward business, with 36% of respondents reporting that 76%-100% of their forward business has been cancelled.
The study also demonstrates widespread temporary closures, with 69% of respondents having temporarily closed their business and some uncertain as to whether they will be able to re-open due to not being able to afford rents in the absence of business returning, alongside several business having to close permanently as it has already hit them hard.
Oxfordshire's visitor economy provides 40,000 local jobs and the Experience Oxfordshire Covid-19 Visitor Economy Business Impact Study demonstrates that a third of businesses have not been able to retain their staff during the pandemic. However, 76% of these businesses have reported that their staff have been furloughed, rather than made redundant. It appears that the Government support provided for businesses to furlough employees has been taken up and well received, allowing businesses to retain an experienced workforce ready for a time when social distancing restrictions may be relaxed.
The importance of financial support for the  visitor economy sector is also clear from the report, with 53% of respondents experiencing cash flow problems. Take up of other Government support outside of furloughing has been varied, with as little as a third of respondents looking at Cash Grants and Business Rate Holidays; perhaps indicating a need for more focussed communication of these options across businesses in the county and more clarity and flexibility on eligibility.
45% of businesses surveyed indicated that without financial support they would fail within the next 3 months with this rising to 73% after 6 months, through peak season. This shows how vital these financial lifelines will be if Oxfordshire is to have a viable and competitive visitor economy in the county post Covid-19.
The survey results also point towards a concern around the aftermath of the effect of Covid-19, with worries over the re-building of public confidence frequently quoted. 14% of respondents considered the need for support and co-operation in managing the re-opening of Oxfordshire as a destination, in areas of operation including hygiene standards, crowd control, and restricted visitor capacity at attractions. Visitor economy and leisure businesses have been identified by the government as amongst the last to reopen, largely due to social distancing measures, so support will be vital  for this sector for longer than many others.
Chief Executive of Experience Oxfordshire, Hayley Beer-Gamage, commenting on the report said:
"This study clearly shows the severe impact that Covid-19 is having on Oxfordshire's visitor economy. An industry that has historically thrived and grown, and provided vital social and economic value, is now at serious risk.  
We need to be able to manage a phased recovery and understand what that looks like for the sector, which is now extremely vulnerable. Our study is already showing potential loses of over £1billion in 2020 and this is set to increase further as lock down, phased opening and social distancing continue.
At Experience Oxfordshire we are doing all we can to support our partners and wider visitor economy businesses across Oxfordshire and are regularly feeding back to local stakeholders and national government and agencies on the severity of the situation.
The visitor economy sector is going to need as much support as possible going forward and we will need to be managing both the demand and supply side of the visitor economy to ensure that recovery can take place. It will not be quick, but we need to take a strategic and coordinated approach to our recovery. We are lobbying for as much support for visitor economy businesses as possible so our sector can once again thrive in the future."
The Oxfordshire Local Economic Partnership (OxLEP) are also providing an extensive range of business advice, support and signposting for business across the county to assist during the Covid-19 pandemic.
Nigel Tipple, Chief Executive of OxLEP, said:
"Coronavirus has created an unprecedented situation and will cause concern and disruption to businesses and sectors of all sizes for the foreseeable future.
With this in mind, we will continue to promote and support the county's businesses – in particular – those with the greatest potential to support early recovery. Our visitor economy will be a critical element of that recovery planning.
Therefore, it's important to listen and act upon these key findings from Experience Oxfordshire."
Experience Oxfordshire are offering a range of business support and advice which can be found at www.experienceoxfordshire.org/partner/business-support and are encouraging businesses to contact the team on partnership@experienceoxfordshire.org .
***ENDS***
For more information contact:
Antonio Ferrara
Phone: 01865 686433
Email: press@experienceoxfordshire.org / antonio.ferrara@experienceoxfordshire.org
NOTES TO THE EDITOR:
Experience Oxfordshire is the official Destination Management Organisation (DMO) for Oxfordshire. We are the trading arm of the parent charity, Experience Oxfordshire Charitable Trust, and are a not-for-profit partnership organisation that is committed to the promotion, management and development of Oxfordshire as a great destination to live, work, visit and do business and improving growth and productivity across the visitor economy.
www.experienceoxfordshire.org/partner
Twitter (B2C): @ExperienceOx, Facebook: @experienceoxfordshire, Instagram: @experienceoxfordshire
Twitter (B2B): @ExperienceOxBiz, LinkedIn: @ExperienceOxfordshire
Twitter (Venues): @ExOxVenues
A full copy of the report can be found here:
http://www.experienceoxfordshire.org/partner/partner-benefits/research-and-insights/
Oxfordshire Local Enterprise Partnership (OxLEP) champions Oxfordshire's economic potential, acting as a catalyst and convener to drive a dynamic, sustainable and growing economy. It is our aim to create and maintain conditions that make our county the location of choice for world-leading businesses.