BBC War Correspondent John Simpson CBE gives keynote speech at the Experience Oxfordshire Cultural Platform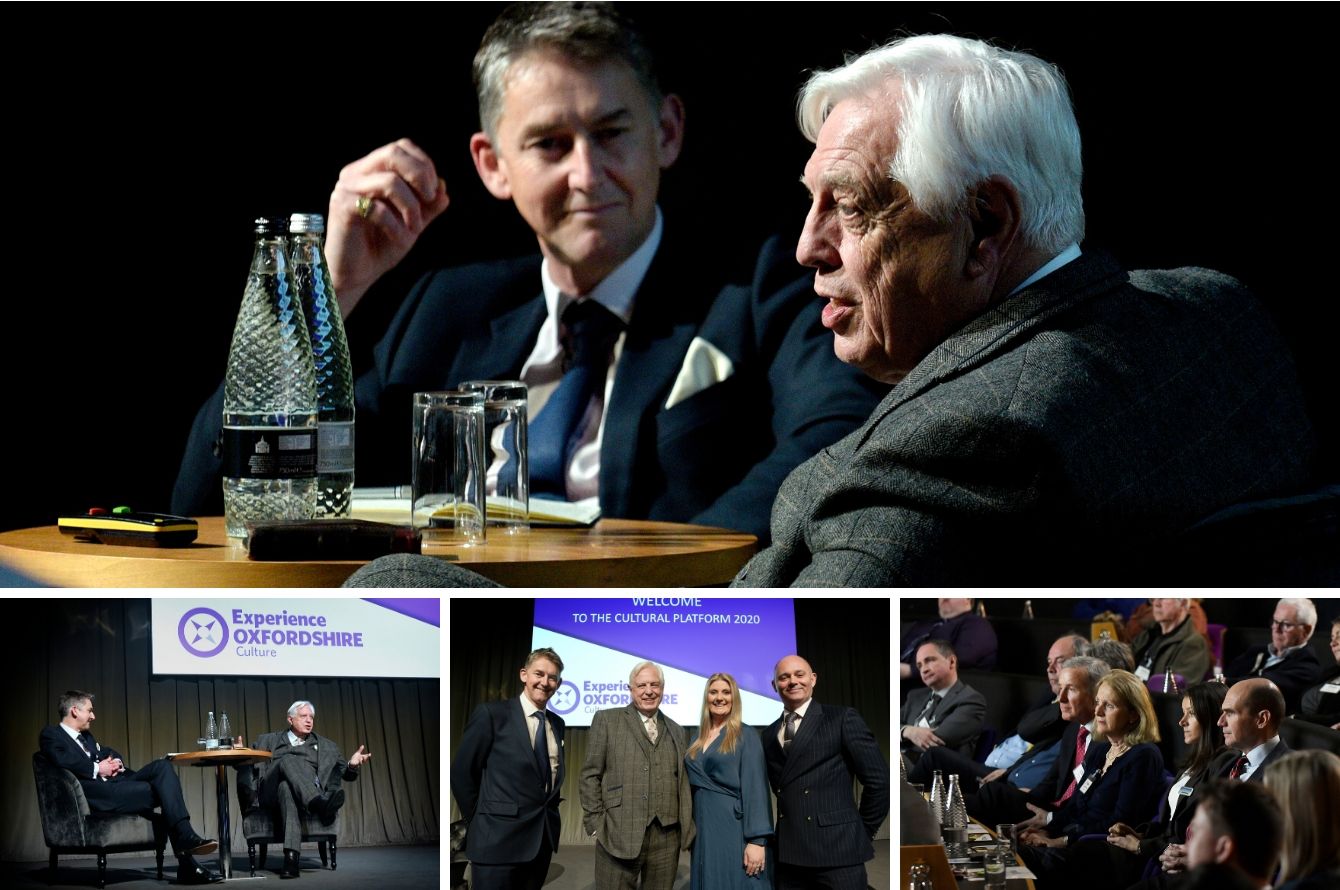 Experience Oxfordshire Press Release
For immediate release: 16/03/2020
BBC War Correspondent John Simpson CBE gives keynote speech at the Experience Oxfordshire Cultural Platform
John Simpson CBE was welcomed to Heythrop Park Resort in Oxfordshire on Wednesday 11th March, as guest speaker at the Experience Oxfordshire Cultural Platform, which included a keynote speech, an interview from the former High Sheriff of Oxfordshire Richard Venables and audience Q&A. Following John Simpson's keynote speech "Is the world becoming a more dangerous place?", the wide-ranging discussion included highlights of John's long career, his predictions for the future of the BBC, and making Oxford his home of the last several years.
This year's Cultural Platform attracted leading figures from Experience Oxfordshire's Partner network, the county's political leaders and the local business community. The event is part of Experience Oxfordshire's commitment to promoting culture across Oxfordshire and was sponsored by VSL & Partners, Heythrop Park Resort and Richardsons Chartered Accountants – Oxfordshire based companies who share a passion for promoting and supporting the cultural sector in the County.
Commenting on the event, Hayley Beer-Gamage, Chief Executive of Experience Oxfordshire said:
"The annual Experience Oxfordshire Cultural Platform is part of our continuing commitment to promoting culture in Oxfordshire. It's a great opportunity to celebrate the County's cultural heritage and remind ourselves how important culture is to Oxfordshire. This year's event also included a timely reminder from our guest of honour, John Simpson CBE, that we must continue to invest in and promote this vitally important part of the visitor economy. It was a privilege to host the event and John was interesting, insightful, entertaining and an absolute pleasure to work with. Our thanks go to all of the sponsors of this event that was enjoyed by all in attendance".
Speaking about the Cultural Platform, John Simpson CBE said:
"I was delighted to support Experience Oxfordshire Charitable Trust by attending this event. It was a pleasure to speak at the Cultural Platform, to welcome so many of Oxfordshire's leading figures to Heythrop Park Resort and to participate in such a positive exchange of questioning and debate. I do hope the guests enjoyed the afternoon; and found the event as enlightening and stimulating as I did."
Richard Venables, former High Sheriff of Oxfordshire added:
"John Simpson provided great insight into unpredictability in today's world and his often humorous interaction with world leaders. His observations on Oxfordshire where 'on point' with the need to actively promote all aspects of Oxfordshire's cultural life and not to rest on our laurels."
Andrew King, Director of Richardsons Chartered Accountants, added:
"Richardsons were delighted to sponsor this event. It provided an uniquely privileged perspective on the sweep and pattern of world events over the last 50 years, and priorities for shaping Oxfordshire's future."
Paul Russell, Heythrop Park Resort Director commented:
"We were delighted to host the prestigious Cultural Platform this year. Heythrop Park Resort's story combines a 18th century manor house with a stylish, contemporary estate and we are conscious of our place within the wider story of Oxfordshire. We were very fortunate to hear John Simpson's stories of the many places he has reported from, and how they have shaped him."
As part of the event and to encourage wider engagement of the local community Experience Oxfordshire also ran a competition to win a pair of tickets to the event, and they were won by Jayne Cooper from Freeland, near Witney, who commented on winning and attending the event:
"It is the first time I have won a competition so felt really good yesterday being at the cultural event. We both enjoyed our time, in networking with others and listening to John Simpson and the question and answer session. Very informative, easy listening and fun too. Opportunities like this don't happen very often!"
***ENDS***
Photos to accompany this release are available here
For more information contact:
Antonio Ferrara
Phone: 01865 686433
Email: press@experienceoxfordshire.org / antonio.ferrara@experienceoxfordshire.org
NOTES TO THE EDITOR:
Experience Oxfordshire is the official Destination Management Organisation (DMO) for Oxfordshire. We are the trading arm of the parent charity, Experience Oxfordshire Charitable Trust, and are a not-for-profit partnership organisation that is committed to the promotion, management and development of Oxfordshire as a great destination to live, work, visit and do business.
www.experienceoxfordshire.org/partner
John Simpson CBE is a veteran broadcaster and accomplished author, having covered most of the major world news events from the 1960s to the present day. His seminal reports on the big moments of recent history make up an illustrious list to include the Iranian Revolution, the First and Second Gulf Wars, the Fall of the Soviet Union and the Berlin Wall, the end of Apartheid in South Africa, the Genocide in Rwanda, the wars in the former Yugoslavia and the Tiananmen Square massacre in Beijing.
John has reported from 140 countries and interviewed 200 world leaders and dictators ranging from Michael Gorbachev and Vladimir Putin, Nelson Mandela, British Prime Ministers and U.S. Presidents to Fidel Castro, Colonel Gaddafi, Robert Mugabe and Saddam Hussein.
Richard Venables DL, former High Sheriff of Oxfordshire is an Oxford-based businessman who is also a keen participant in Oxfordshire's economic development, sporting and cultural life. He is a Board Member of Experience Oxfordshire, Active Oxfordshire and Oxfordshire Youth. In 2018/19 he was appointed High Sheriff of Oxfordshire. He is also a member of the Oxford Strategic Partnership.
VSL & Partners was formed in 2002 and comprises six leading commercial property experts as a niche commercial property firm in the Oxfordshire area. We aim to provide our clients with unrivalled local and regional advice. Our clients benefit from a very personal service mainly dealt with at director level.
www.vslandp.com
Richardsons are Chartered Accountants and business advisors based in Thame, Oxfordshire. ICAEW accredited and established for over 25 years, we provide specialist accounting advice for small and medium companies, as well as large corporates and individuals.
www.richardsons-group.co.uk
Heythrop Park Resort is a wedding & events venue, golf course, spa, and 4* hotel. Set amid stunning scenery on the edge of the Cotswolds, it's a place of both age-old decadence and contemporary style – incorporating an 18th century manor house and a stylish contemporary hotel, creating limitless opportunities for business or pleasure.
heythroppark.co.uk