Experience Oxfordshire Business Update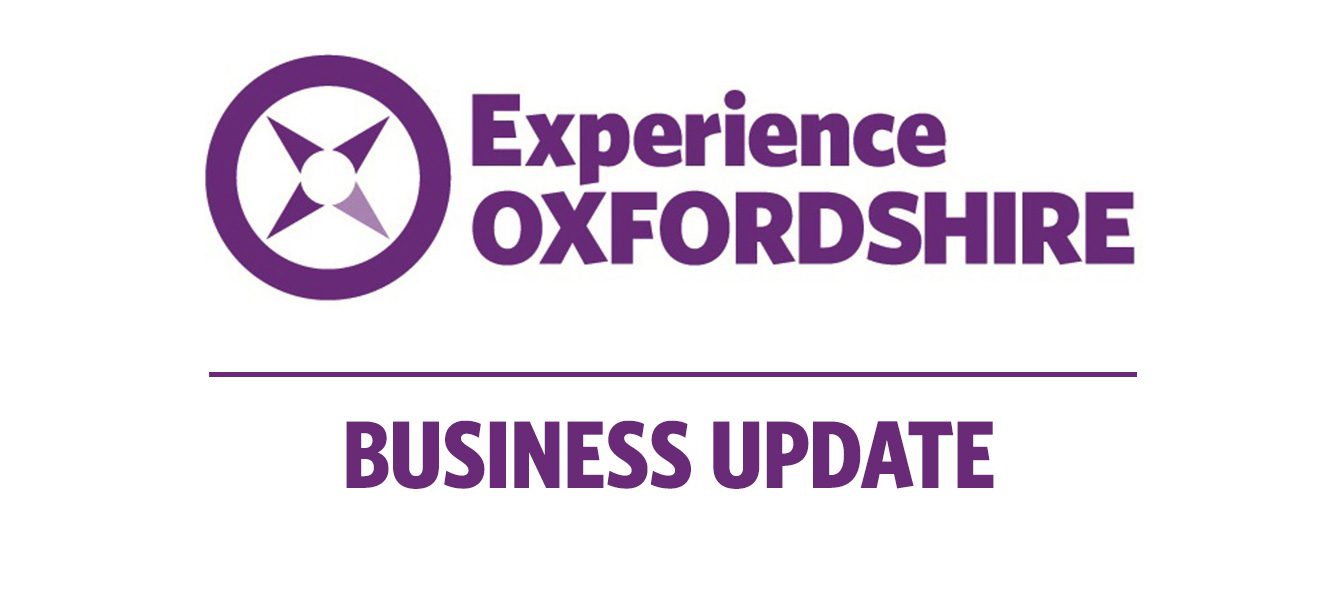 Experience Oxfordshire Press Release
For immediate release: 27/03/2020
Experience Oxfordshire have been inundated with businesses updates and are aware of the serious impact this is having on our sector; we have continuously been in discussion with government and national agencies to negotiate more support.
We hope this update helps to signpost you to support as well as update you on some of the work that Experience Oxfordshire is currently undertaking.
Business Support
VisitBritain and VisitEngland have now launched their business advice hub which provides up to date information on all of the support available including; government support for paying wages, emergency grants for hospitality employees, health and safety advice from Public Health England and much more. The hub can be found here:
https://www.visitbritain.org/business-advice/advice-tourism-and-event-businesses-affected-covid-19
A full range of business support measures have been made available to UK businesses and employees by government including:
Coronavirus Business Interruption Loan Scheme
Business Rates Holiday for Retail, Hospitality and Leisure
Cash Grant for Retail, Hospitality and Leisure
Small Business Grant Funding
Statutory Sick Pay Rebate
Time to Pay
COVID-19 Corporate Financing Facility
VAT Deferral
Income Tax Deferral for the Self-Employed
Coronavirus Job Retention Scheme
Additional 3 months to file accounts
More information on these can be found here:
https://www.gov.uk/coronavirus
This also includes today's announcement of support for the self-employed with more details here: https://www.gov.uk/government/news/chancellor-gives-support-to-millions-of-self-employed-individuals
There have also been a lot of enquiries from our accommodation partners with regards to closure and we have been asked to signpost to this page to help in terms of guidance:
https://www.gov.uk/guidance/covid-19-advice-for-accommodation-providers
HMRC have also launched a Business Support Helpline to answer queries or concerns regarding tax payments and finding solutions, these include; agreeing an instalment arrangement, suspending debt collection proceedings and cancelling penalties and interest where you are having administrative difficulties.
The number is: 0800 024 1222 and more information can be found at:
https://www.gov.uk/government/news/tax-helpline-to-support-businesses-affected-by-coronavirus-covid-19
The government has started a Coronavirus WhatsApp Information Service to provide official, trustworthy and timely information and advice about coronavirus to as many people as possible. It will provide information on topics such as coronavirus prevention and symptoms, the latest number of cases in the UK, advice on staying at home, travel advice and myth busting via a chatbot.
To use this free service, simply add 07860 064422 in your phone contacts and then message the word 'hi' in a WhatsApp message to get started. More details can be found at:
https://www.gov.uk/government/news/government-launches-coronavirus-information-service-on-whatsapp
In addition to the above do not forget that as your DMO the team here at Experience Oxfordshire are here to help so do contact us at any point on partnership@experienceoxfordshire.org or 01865 952670.
Experience Oxfordshire Services
We announced last week that due to Covid-19 measures and advice, and for the safety and wellbeing of our staff and customers, we had to suspend the operation of the Visitor Information Centre and Oxford Official Walking Tours. Further to this we have now temporarily closed our offices on Broad Street with the team now working from home to deliver our core DMO function. So do keep in touch with us, whether by email, telephone call or video call – we want to hear from you! Also keep an eye on our social media channels for updated communication across both B2B and B2C channels.
Partner Promotion
If you have something you would like to communicate across our partnership network then just let us know – this can be anything from  a business update, advice and support, a special offer or service you want to provide, or a press release. Send all updates to marketing@experienceoxfordshire.org. As the DMO for Oxfordshire we are of course continuing to keep warm dialogue with national and international travel trade and media contacts during this period, so that we continue to be well-positioned as a destination of choice when travel recommences.
Call for content!
During this time we are switching our strategy of engagement to very much support online and virtual content so if you have exciting interactive tours, 3D technology or high quality video then please send it through to us – this will be included online on the website and social media as well as featuring in our consumer, groups, travel trade and MICE newsletters where appropriate. Please submit this to marketing@experienceoxfordshire.org. Consumers are likely to be online and engaging more than ever at this time so it is a great opportunity to gain exposure and raise your profile.
Showing Love for Great Britain Campaign
In these uncertain times, we remain committed to sharing everything that is great about Oxfordshire and will be feeding this content through our own social media channels but also as part of the VisitBritain 'Showing love for Great Britain' Campaign. This will be focusing on content that includes; film and tv, literature, food and drink, music, heritage and gardens. We have great content to submit on behalf of our partners here, but your input is always welcomed!
Partnership Renewals
Many of you would have recently received your annual Experience Oxfordshire partnership renewal. As a charity and not for profit organisation Experience Oxfordshire of course rely on our income to operate the business. We too are being hit hard during the Covid-19 crisis – we are not a government-funded organisation, and have exactly the same business support measures available to us as you do at this time, along with having to suspend our own public facing services. Therefore, we would be extremely grateful if you are able to make your partnership payment as soon as possible to enable us to keep operating Experience Oxfordshire during this rather extraordinary time. That being said, if you are struggling to pay your partnership fee due to Covid-19 then please do speak to us and we will do all we can to continue to support you during this time and we can explore a variety of measures to achieve this. If there are any queries regarding your partnership then please send them directly to Frank Smith, frank.smith@experienceoxfordshire.org or call 07741572764.
In this Together
We are absolutely all in this together and the Experience Oxfordshire team are on hand to help. Please do stay in touch and we will continue to work hard on your behalf to help Oxfordshire's visitor economy through these unprecedented times.
Take care and stay safe.