Experience Oxfordshire launches campaign with GWR (Great Western Railway), with up to 50% off selected Advance tickets in the Great British Rail Sale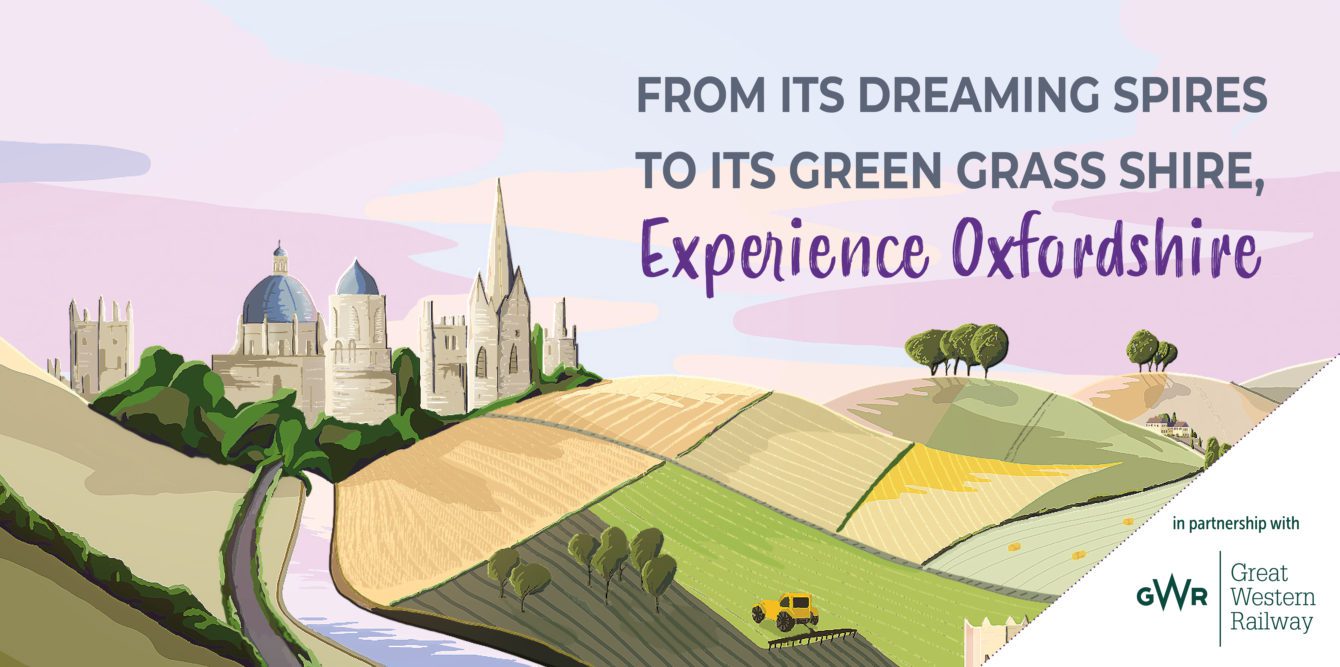 Experience Oxfordshire, the Destination Management Organisation (DMO) for Oxfordshire is delighted to announce the launch of its new campaign, in partnership with GWR (Great Western Railway), to encourage visitors to explore Oxfordshire by train.
'From its dreaming spires to its green grass shire' highlights the value and ease of travelling by rail to destinations across the county, including Oxford, which can be reached from London Paddington in as little as 52 minutes. For travel until 27 May 2022, GWR is also offering up to 50% off selected Advance tickets to Oxfordshire as part of the Great British Rail Sale*.
The campaign landing page provides advice and inspiration on where you can go across Oxfordshire, when you choose GWR: from discovering the iconic sites of the city of Dreaming Spires, immersing yourself in the county's arts and heritage, exploring its great outdoors, and enjoying its many family-friendly attractions.
GWR's state-of-the-art Intercity Express Trains give easy access to many of the county's must-see attractions and sights for a day trip, weekend break or family holiday:
> from 7 to 29 May amazing art can be discovered for free from numerous stations across Oxfordshire in studios and pop-up exhibitions during Oxfordshire Artweeks
> from Oxford station visitors can breathe in the history and heritage that the city has to offer on an Oxford Official Walking Tour
> from Hanborough station visitors can travel free to Blenheim Palace on Oxford Bus Company's new shuttle bus service
> at Didcot Parkway station families can ride the recently relaunched Pendennis Castle locomotive at Didcot Railway Centre.
Hayley Beer-Gamage, Chief Executive of Experience Oxfordshire said:
"We are delighted to be working with GWR to deliver this new partnership campaign. There's never been a better time to explore Oxfordshire, as the county welcomes back visitors after the restrictions of the last two years. 'From its dreaming spires to its green grass shire', highlights the ease of travelling by train to Oxford and to GWR's stations across the county, and the access it provides to many of Oxfordshire's major and more local attractions".
Gauthier Hardy, Regional Marketing Manager at GWR said:
"As a transport provider we see our role in destinations as an important one. We are delighted to partner with Experience Oxfordshire on this campaign to help encourage visitors to come to the city, county and Cotswolds."
The full campaign site can be viewed at https://www.experienceoxfordshire.org/travel-to-oxfordshire-by-train-with-gwr/ and GWR's Great British Rail Sale at https://www.gwr.com/sale
*Offer available until 23:59 on 2 May 2022, tickets must be purchased a minimum of one day in advance of the date of travel.
**ENDS***
Name: Lesley Wright
Email: press@experienceoxfordshire.org
Call: 01865 686433
www.experienceoxfordshire.org/partner
NOTES TO THE EDITOR:
For images please e-mail marketing@experienceoxfordshire.org
Experience Oxfordshire is the official Destination Management Organisation (DMO) for Oxfordshire. We are the trading arm of the parent charity, Experience Oxfordshire Charitable Trust, and are a not-for-profit partnership organisation that is committed to the promotion, management, and development of Oxfordshire as a great destination to live, work, visit and do business whilst improving growth and productivity across the visitor economy. The DMO provides essential business advice and support to visitor economy businesses across Oxfordshire. To find out more about Experience Oxfordshire and the benefits of becoming a partner go to www.experienceoxfordshire.org/partner or call 01865 686439.
First Greater Western Limited, trading as "Great Western Railway" (GWR), operates trains across the Great Western franchise area, which includes South Wales, the West Country, the Cotswolds, across southern England and into London. GWR provides high speed, commuter, regional and branch line train services, and before the covid-19 pandemic helped over 100 million passengers reach their destinations every year. GWR was awarded an extension to its direct award franchise (called DA3), which shall run up to 31 March 2023, with an option to extend for a further year.