Experience Oxfordshire Named Destination Marketing Organisation of the Year at UKinbound's Awards for Excellence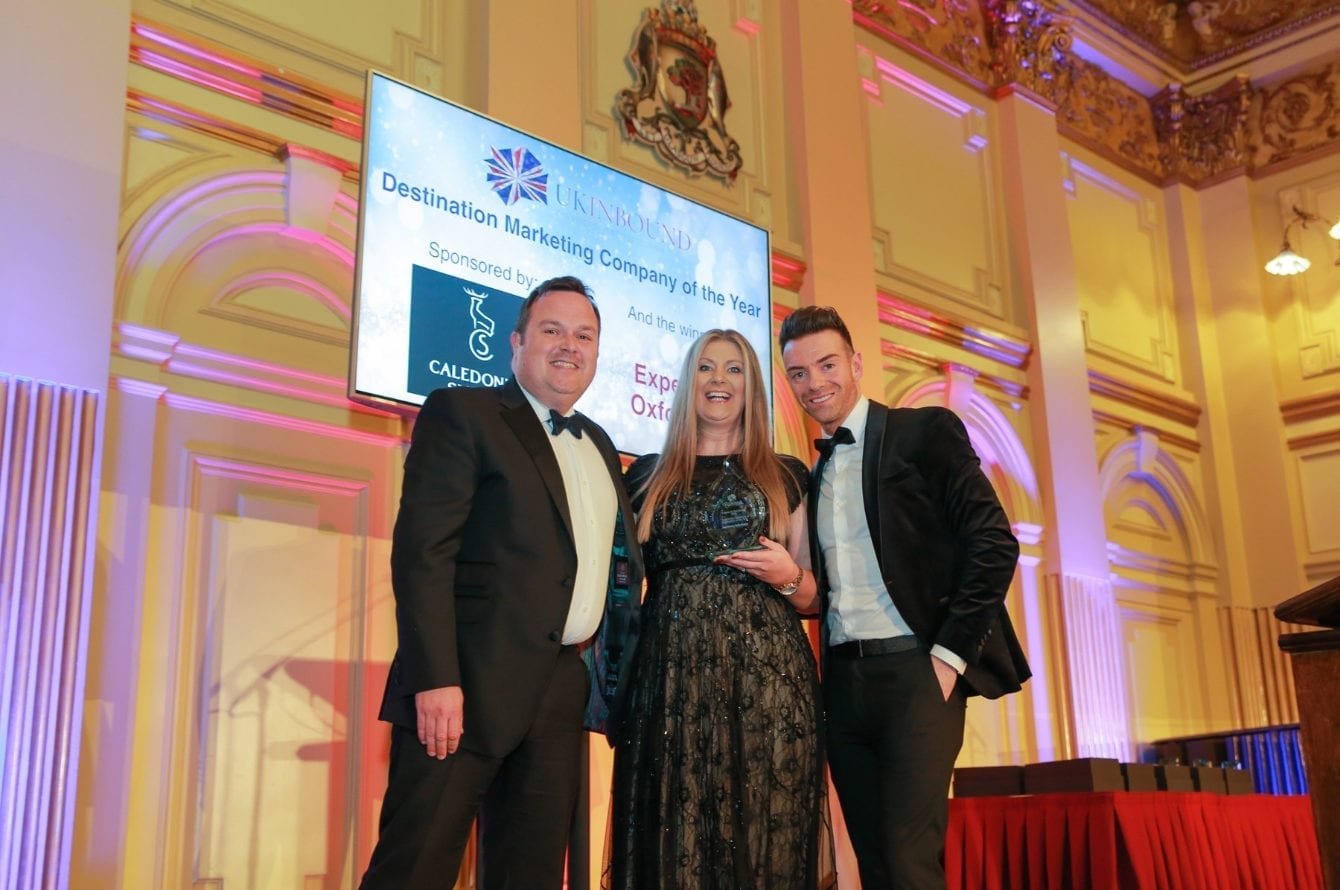 UKinbound, the trade association that represents nearly 400 of the UK's top tourism businesses, awarded Experience Oxfordshire the accolade of Destination Marketing Organisation of the Year at its Awards for Excellence event last night.
The award was presented in front of over 250 tourism and hospitality professionals at the annual Awards for Excellence Gala Dinner, which took place at the Glasgow City Chambers.
A panel of independent judges – Kurt Janson, director, Tourism Alliance; Cheryl McCain, executive director, Tourism Society; and Dr Karen Thomas, director, Tourism and Events Research Hub, Canterbury Christ Church University – compiled the shortlist based on self-nominations from member companies, with the final winners voted for by the membership.
Joss Croft, CEO of UKinbound said:
"Our awards celebrate outstanding contributions to the inbound tourism industry, and we're delighted to name Experience Oxfordshire as Destination Marketing Organisation of the Year. Throughout 2018 all of our members have strived for success, positively contributing to the sector, and the awards give us the opportunity to shine a spotlight on their noted achievements."
Hayley Beer-Gamage, Chief Executive of Experience Oxfordshire commented:
"I am so very proud that Experience Oxfordshire have won this award. We work incredibly hard to drive inbound business to Oxfordshire and the fact that this was voted for by the industry is testament to the strong relationships we have built over recent years. The team we have at Experience Oxfordshire is incredible, everyone works so hard to deliver for our partners and we are so delighted to now be recognised as best in class."
The Awards for Excellence were presented during the association's Annual Convention which took place at Glasgow Royal Concert Hall on Wednesday 6 and Thursday 7 February. The event featured an influential line-up of speakers including Ayesha Hazarika MBE, Irene Roberts from Expedia and Andrea Nicholas from Green Tourism.
ENDS
For further information contact:
Lauren Broughton (UKinbound)
lauren@diligentcomms.com | + 44 (0) 7725 865 063
Antonio Ferrara (Experience Oxfordshire)
Phone: 01865 686433
Email: antonio.ferrara@experienceoxfordshire.org / press@experienceoxfordshire.org
UKinbound
UKinbound is a leading travel trade association and the only one which focuses solely on the interests of the UK's inbound tourism sector. UKinbound addresses and engages with Government, the media, travel trade and the general public to raise awareness of the importance of inbound tourism to the UK economy.
Experience Oxfordshire
Experience Oxfordshire is the official Destination Management Organisation (DMO) for Oxfordshire. We are the trading arm of the parent charity, the Experience Oxfordshire Charitable Trust, and are a not-for-profit partnership organisation that is committed to the promotion, management and development of Oxfordshire as a great destination to live, work, visit and do business.