Experience Oxfordshire Venues Promotes Oxfordshire as Business Visits and Events Destination to Aid Economic Recovery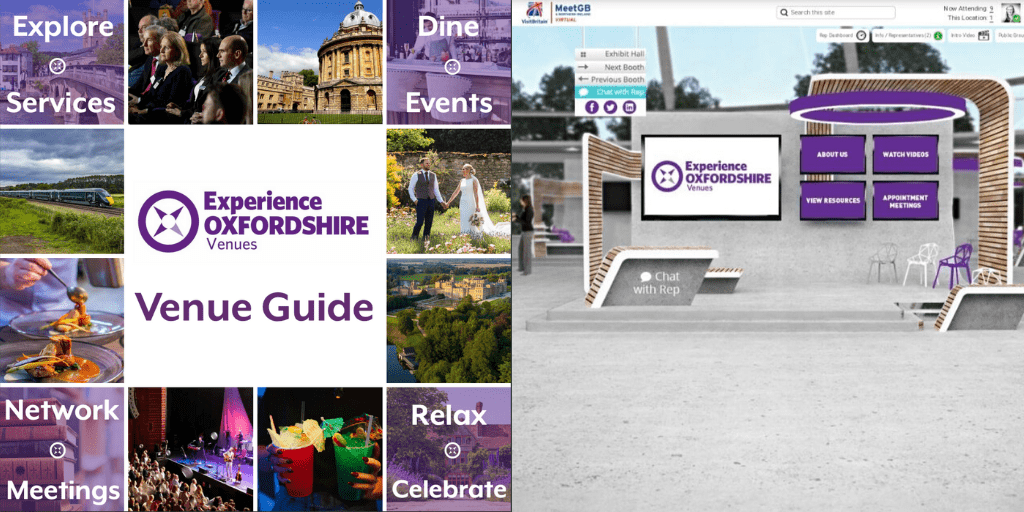 Experience Oxfordshire Venues, the free conference and event venue-finding service for Oxfordshire, operated by the Destination Management Organisation (DMO) for Oxfordshire, has been promoting the region to business visits and events (BV&E) buyers to boost economic recovery post Covid-19.
Experience Oxfordshire Venues have published a new Venue Guide for Oxfordshire. The Venue Guide is a 48-page resource for event professionals and buyers showcasing Oxfordshire's outstanding venues and destination offer. The comprehensive guide includes venue information such as capacity, facilities and location, making it a useful resource for prospective bookers. The guide also includes an introduction to Oxfordshire's exceptional incentive products, transport options and destination information.
The Venue Guide is free to view online here: www.experienceoxfordshire.org/venues, where a copy is available to download straight from the Experience Oxfordshire Venues homepage.
Experience Oxfordshire Venues, supported by OxLEP, recently attended VisitBritain's flagship MICE event, MeetGB, which took place on 16th and 23rd June in its new virtual format. The Experience Oxfordshire team spent two days promoting our Venues Partners and destination as a great place for business meetings and events in the future. The new Venue Guide was an important asset for this event and extremely well received. The team talked to buyers from across the USA and Europe over virtual back-to-back meetings and secured some tangible bookings and leads.
Promoting Oxfordshire to business and events visitors is part of Experience Oxfordshire's guiding ambition statement.  Now is an important moment to spark international interest in holding an event in Oxfordshire once travel restrictions are lifted and Experience Oxfordshire Venues are working with buyers to plan their future event and inspire them to hold it in Oxfordshire.
Hayley Beer-Gamage, Chief Executive of Experience Oxfordshire, said it is now more important than ever to promote Oxfordshire as an outstanding destination to host business events. She commented:
"Experience Oxfordshire are working hard to promote our Venues Partners and destination to international markets, as these visitors are going to be important for Oxfordshire's recovery post-Covid-19. We took part in MeetGB to promote Oxfordshire to buyers who are planning future events and ensure that Oxfordshire is front of mind. Our new Venue Guide was an important inspiration piece at this event. We are confident that our engagement with buyers at MeetGB will secure a boost to the Oxfordshire economy in the future through conference and events bookings, with qualified leads already being followed up on".
Experience Oxfordshire's attendance at MeetGB was supported by the Oxfordshire Local Enterprise Partnership (OxLEP). Nigel Tipple, Chief Executive of OxLEP, said:
"We very much welcome Experience Oxfordshire's continued efforts – including their most-recent work, showcasing the county at MeetGB – highlighting the safe 'reopening' of our visitor economy. Coronavirus has created an unprecedented situation and will cause concern and disruption to businesses and sectors of all sizes for the foreseeable future. Supporting our visitor economy's recovery is not just for the benefit of our local residents and businesses, but also, it can undoubtedly play a role in supporting the national recovery from the pandemic. We will continue to work closely with Experience Oxfordshire during this critical time."
Over recent years' Experience Oxfordshire have increased their participation and engagement in the BV&E sector and collaborated extensively with VisitEngland and VisitBritain on this important market.
Experience Oxfordshire Venues is a bespoke promotional package for venues partners and any business is welcome to join. The DMO is committed to continuing to work hard to promote Oxford and Oxfordshire as a world class destination for business visits and events and wider celebrations.
For information on becoming an Experience Oxfordshire Venues Partner, please email partnership@experienceoxfordshire.org.
***ENDS***
For more information contact:
Hayley Spore
Email: press@experienceoxfordshire.org / hayley.spore@experienceoxfordshire.org
NOTES TO THE EDITOR:
Experience Oxfordshire is the official Destination Management Organisation (DMO) for Oxfordshire. We are the trading arm of the parent charity, Experience Oxfordshire Charitable Trust, and are a not-for-profit partnership organisation that is committed to the promotion, management and development of Oxfordshire as a great destination to live, work, visit and do business and improving growth and productivity across the visitor economy.
www.experienceoxfordshire.org/partner
Experience Oxfordshire Venues is a free conference and event venue-finding service for Oxford and Oxfordshire operated by the award-winning Destination Management Organisation (DMO). The team at Experience Oxfordshire will match any brief to one or more venues in the historic heart of academic Oxford or the surrounding countryside, market towns and villages of Oxfordshire, completely free of charge.
www.experienceoxfordshire.org/venues  /  Twitter: @ExOxVenues
View the Oxfordshire Venue Guide here: https://www.experienceoxfordshire.org/wp-content/uploads/2020/06/Experience-Oxfordshire-Venues-Guide.pdf