Building back Oxfordshire's Visitor Economy: Experience Oxfordshire's New 2022 Visitor Guide Now Available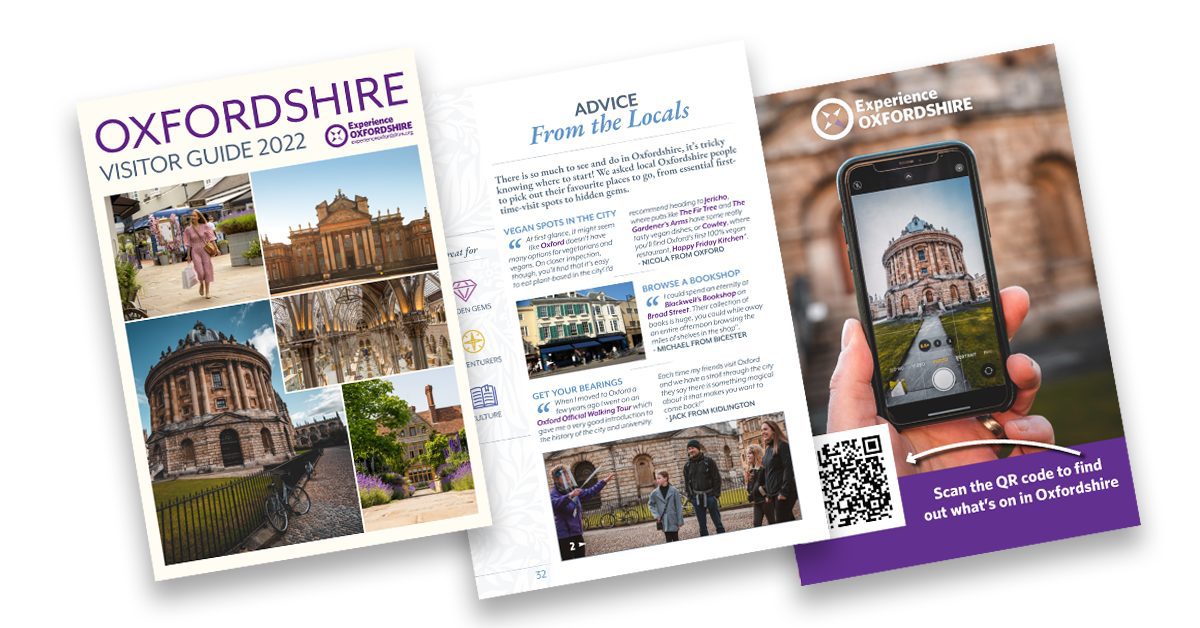 Experience Oxfordshire, the Destination Management Organisation (DMO) for Oxfordshire has launched the 2022 edition of the Official Oxfordshire Visitor Guide. It's available online now at https://www.experienceoxfordshire.org/oxfordshire-visitor-guide
The Visitor Guide is packed full of ideas and information, providing visitors and locals to Oxfordshire with the up-to-date insights and inspiration they need to get the most out of experiencing Oxford and Oxfordshire.
With an introduction from top chef and Oxfordshire resident, Raymond Blanc OBE, the 98-page 2022 Guide highlights the outstanding range of attractions, events, leisure activities and accommodation options on offer throughout the county.
Articles on Oxford's waterways, a walking itinerary along Oxford Canal and an itinerary along Great Western Railway's Cotswolds Line from Oxford to Worcester as well as advice on public transport encourage and enable exploration of cultural treasures across the whole county.
Snapshot insights into Oxford nightlife, student life, where the locals live, best places for afternoon tea, and Oxfordshire's quirkiest traditions, provide a great introduction to visitors new to the county. The Guide also features a range of weekend and day-trip itineraries, plus information about and highlights of each Oxfordshire district.
As well as being packed full of features, there's advice from Oxfordshire's locals and a directory-style listings section of accommodation, activity, and restaurant recommendations to help visitors easily plan their trip.
Speaking about this year's Visitor Guide, Hayley Beer-Gamage, Chief Executive of Experience Oxfordshire commented:
"The 2022 Visitor Guide showcases the many, delightful, things there are to see and do across Oxfordshire and the city of Oxford. It's providing tourists and locals with inspiration on places to stay, places to eat and explore – including some wonderful hidden treasures. During this year, as our sector works to build back tourism, our focus is on encouraging overnight stays from both domestic and international visitors The Visitor Guide features fantastic reasons for extending a stay, ensuring an increased spend per visit. In doing so, we create the best balance of impact and contribution to the county. We look forward to welcoming visitors to our world-class destination."
The guide was created by Oxfordshire-based marketing agency XIST2.
View a copy of the Guide online here.
ENDS
For more information contact:
Jenny McGee
Phone: 01865 686433
Email: jenny.mcgee@experienceoxfordshire.org / press@experienceoxfordshire.org
Experience Oxfordshire is the Destination Management Organisation (DMO) for Oxfordshire. We are a not-for-profit partnership organisation committed to the promotion, management, and development of Oxfordshire as a great destination to live, work, visit and do business. We have a growing partnership network of businesses spanning all parts of the visitor economy, and through effective collaboration we are all working to ensure the recovery of Oxfordshire's visitor economy and that Oxfordshire becomes a leading destination for tourism, culture, and business.
The DMO provides essential business advice and support to visitor economy businesses across Oxfordshire. To find out more about Experience Oxfordshire and the benefits of becoming a partner visit www.experienceoxfordshire.org/partner or call 01865 686439.