Father Christmas is returning to Bletchley Park for the festive season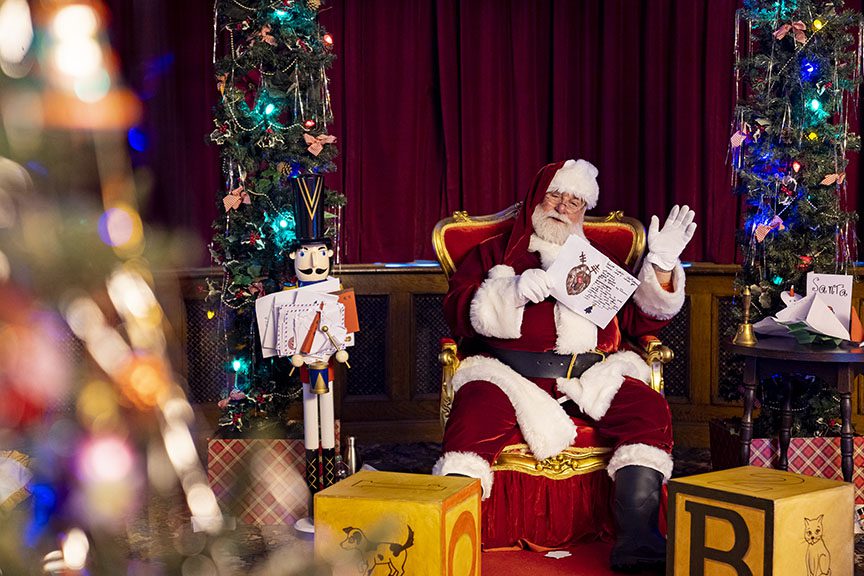 Bletchley Park in Milton Keynes, the once top-secret home of Britain's World War Two Codebreakers, now a vibrant museum and heritage attraction, will be welcoming the main man himself, Father Christmas, to its Vintage Christmas Grotto this winter.
Taking up residence in the sumptuously decorated Vintage Christmas Grotto in the Bletchley Park Mansion, families will be able to visit Father Christmas to tell him their Christmas wish and receive a beautiful present to take home. Tickets are on sale now for visiting the grotto in November and December (£9.50 per child, adults must have a valid Annual Pass or general admission ticket to Bletchley Park).
Families visiting Bletchley Park this winter can also pick-up a free puzzle trail and help Father Christmas find all his lost toys hidden around Bletchley Park. After a busy day exploring, warm up with delicious festive treats from the Hut 4 Café or Block B Coffee Shop. Starting your Christmas shopping? Beautiful, unique gifts are available from the Bletchley Park shop – from teddy bears and morse code machines, to the official Bletchley Park gin.
On Sunday 21 November, Bletchley Park will be hosting its first ever wreath making workshop giving you the chance to create a beautifully homemade Christmas wreath for either your front door or to gift to a loved one. Full details on the Bletchley Park website.
Booking for the Vintage Christmas Grotto experience is essential. Full details on all upcoming Christmas events can be found on the Bletchley Park What's On webpage: https://bletchleypark.org.uk/event_type/whats-on/
ENDS
For further information or images, please contact Rosie Burke, Bletchley Park's Media and Publications Manager rburke@bletchleypark.org.uk , mob: 07487 730193
Notes to editors
– The Vintage Christmas Grotto will be open between 10:00 and 15:30 on 27, 28 November and 4, 5, 11, 12, 18, 19, 20, 21, 22 and 23 December 2021.
– All dates are subject to availability. Booking is essential. To book your place please ring the Bletchley Park Bookings Team on 01908 272673.
– The Father Christmas Grotto Experience is located within Bletchley Park's beautiful Mansion. To access the museum, including the Mansion, accompanying adults will need to purchase standard admission tickets. All admission tickets are Annual Pass tickets. Anyone with a valid Annual Pass does not need to re-purchase them. Children must be accompanied by an adult and have a ticket (£9.50 per child) for the Vintage Christmas Grotto. Under 12s visit the museum for free.
– A Relaxed Vintage Christmas Grotto experience is taking place on Sunday 28 November when Bletchley Park's fully trained team will help children have a magical meeting with Father Christmas tailored to their individual needs. To book your place please ring the Bletchley Park Bookings Team on 01908 272673.
About Bletchley Park
Bletchley Park is a vibrant heritage attraction and museum, open daily to visitors.
It was the home of British World War Two codebreaking; a place where technological innovation and human endeavour came together to made ground-breaking achievements that have helped shape the world we live in today.
This unique site was previously a vast Victorian estate, where parts including the Mansion still survive, expanding during wartime to accommodate Codebreakers Huts and Blocks.
During World War Two, the Government Code and Cypher School (GC&CS), now known as the Government Communications Headquarters (GCHQ), was based at Bletchley Park. It grew from a small team of specialists to a vast intelligence factory of thousands of dedicated women and men. This extraordinary combination of brilliant and determined people and cutting-edge technology contributed significantly to Allied victory. In tough conditions, they provided vital intelligence and developed pioneering technological innovation that had a direct and profound influence on the outcome of the war.
The site continues to reveal secrets and tell fascinating stories of our national legacy.
The Bletchley Park Trust
Bletchley Park Trust is a registered charity, heritage attraction and independent museum. As an independent charity, we rely on income from our visitors, Friends and supporters to secure the long-term future of the site.
Registered charity number: 1012743.
Social Media
Join the discussion about Bletchley Park at:
Facebook /bletchleypark1
Instagram @bletchleyparkuk
Twitter @bletchleypark
YouTube /bletchleyparktrust
#BletchleyPark
Rosie Burke
Media & Publications Manager | Bletchley Park Trust
T: +44 (0)1908 272 661
M: +44 (0)7487 730193
E: rburke@bletchleypark.org.uk
W: bletchleypark.org.uk