Headless Horseman Gives Haunting Halloween Welcome at Blenheim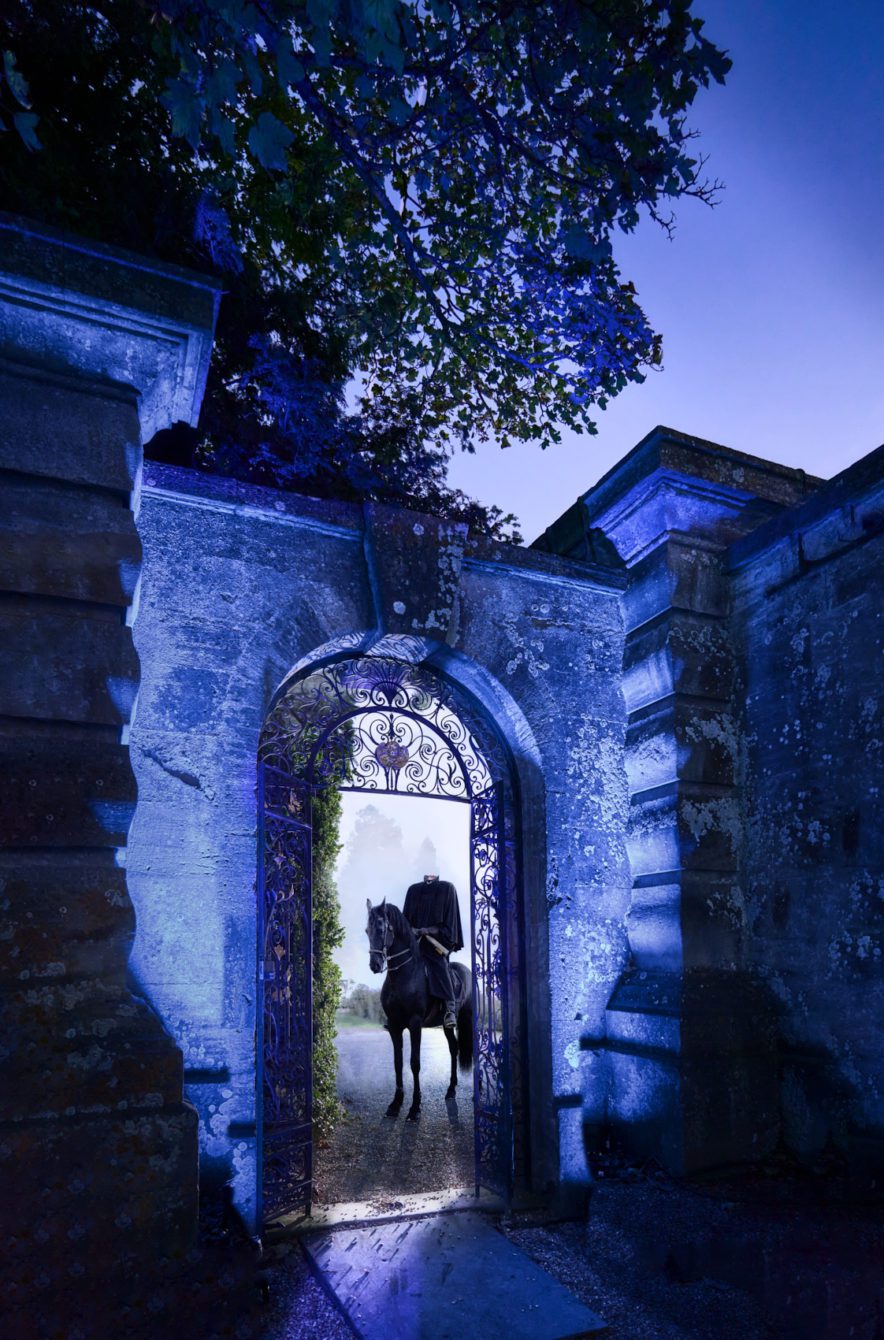 Brand New Trail at Blenheim Palace Opens for Halloween Half Term
The autumn air was filled with wonder on Thursday, as hundreds of visitors enjoyed the spook-tacular surprises at the opening night of a new Halloween trail at Blenheim Palace.  
A headless horseman ensures a rather grisly greeting at the gates of the palace, for what is a sensational, seasonal experience for family and friends throughout half term.
The trail, which is illuminating beautiful Blenheim every evening up to and including October 31, provides a series of ghostly goings-on and hocus pocus, as dusk turns into darkness.
Matthew Findlay, Head of UK Light Trails at Sony Music, said: "We are absolutely thrilled to have launched our first ever Halloween lights trail at Blenheim Palace and we've been equally as delighted with the response from visitors.
"It really is an unforgettable evening for all ages and we very much hope to produce another magical trail at Blenheim Palace next year."
The trail includes flickering flames in a fiendish fire garden, daring fire artists and grinning pumpkins.
Visitors wind their way through the illuminated haunted woods filled with creepy neon cobwebs, coffins that creak and bubbling cauldrons, before ducking for cover from the larger-than life spiders and beastly neon bats.
Then discover the Secret Garden filled with more hidden surprises. Could it be a trick of the light or do things really go "bump in the night"?
There's a delicious twist to the sweetest of treats on offer. Enjoy a wickedly good *hot toddy or devilishly decadent *hot chocolate, or *toast a marshmallow with someone special.
Halloween at Blenheim Palace is an unmissable outdoor experience, designed for visitors of all ages to enjoy.
For full pricing details and booking please visit: blenheimpalace.com/halloween.
*Separate charges apply
For more information please contact: Matt Dixon | matt@flamingo-marketing.co.uk | T: 01637 808 220.
What:                  Halloween at Blenheim Palace – A spooky, fun-filled after dark trail for all the family
When:                 Until 31 October 2021
For more information and opening times visit: blenheimpalace.com/halloween
Why Visit:           Discover a world like no other, created for all the family to enjoy.
Admission:         Limited capacity with timed entry, early booking advised.  Visit website for entry times.
Adult: £15, Child (age 3-16) £10, Family £46 Parking: £10
For full pricing and ticket information visit blenheimpalace.com/halloween 
Website:             blenheimpalace.com/halloween; #halloweenatblenheimpalace
Address:              Blenheim Palace, Woodstock, Oxfordshire. OX20 1UL
Notes to Editors
Halloween at Blenheim Palace is presented by Sony Music in partnership with Blenheim Palace.  The trail is created by Culture Creative.
About Blenheim Palace
Blenheim Palace is the home of the 12th Duke and Duchess of Marlborough and the birthplace of Sir Winston Churchill. This masterpiece of 18thcentury Baroque architecture boasts over 300 years of history and is a World Heritage Site, surrounded by more than 2000 acres of 'Capability Brown' landscaped Parkland and Formal Gardens. Not only an iconic part of history, Blenheim Palace is a living and changing experience with a wealth of events, themed tours and exhibitions throughout the year.
About Sony Music
Sony Music has been delivering themed illuminated trails for over eight years. Each trail is designed to showcase the natural and unique environment of the individual location and to immerse visitors into a world of light, fire and soundscape. They currently have 26 trails across the UK, Europe, USA, and Australia.
The chosen partners for national and international heritage and prestigious venues including Blenheim Palace; The National Trust; Forestry England; The Royal Botanic Gardens, Kew; Royal Botanic Garden, Edinburgh; Schwetzingen Palace, Germany; Botanic Gardens, Chicago, USA and Royal Botanic Gardens Victoria, Melbourne, Australia.
About Culture Creative
Culture Creative is a creative project and production management company based in the North East of England. The Company works across a wide range of cultural fields including art, sport, heritage, tourism, festivals and events, developing projects from concept to delivery. Since 2013 Culture Creative has worked closely with Sony Music to create illuminated trails in various venues across the UK and overseas.