MP Impressed With Blenheim's Environmental Initiatives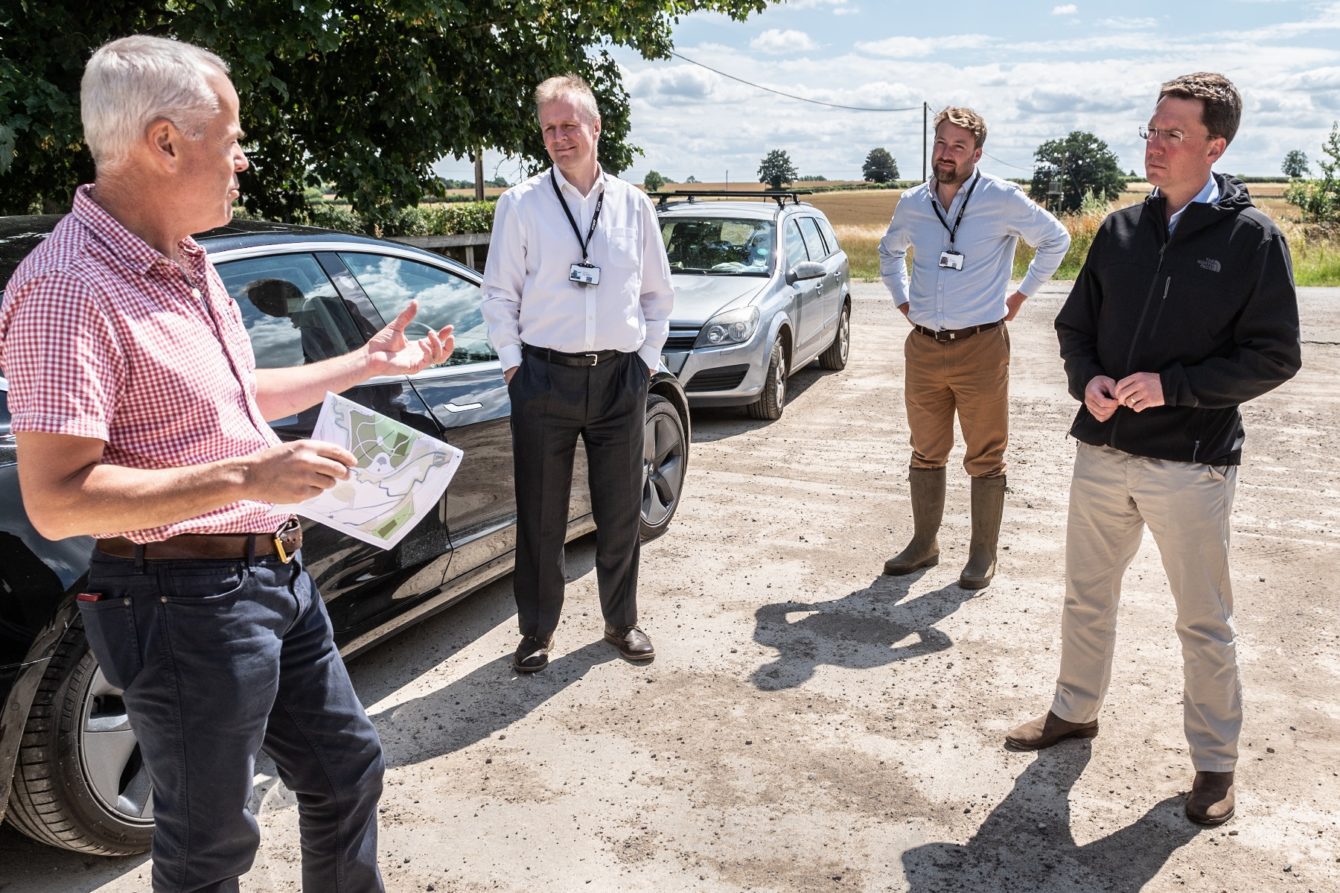 MP Robert Courts has praised Blenheim Estate's commitment to the environment during a visit to the Oxfordshire UNESCO World Heritage Site this week.
The MP for Witney and West Oxfordshire was given a tour of the estate, which included a visit to the site of a new 150-hectare woodland being planted as part of a partnership with construction firm Morgan Sindall.
Work on the new woodlands begins in November and will eventually see more than 270,000 trees being planted and a series of public footpaths and cycleways being created.
In addition to creating a major new natural habitat for wildlife, the woodlands will sequester 25,000 tonnes of carbon as part of a 25-year programme.
During the tour he also met with representatives from Cotswolds-based forestry company, Nicholson's, who are helping to plant and care for the new woodlands.
He also found out more about Blenheim Estate's ground-breaking Land Strategy from Estates' Director Roy Cox.
The strategy has five main goals: Connecting communities with a network of paths and cycle routes to promote green travel, sharing the health and wellbeing benefits of land with local communities.
Valuing natural capital to create new income streams. Demonstrating the role of carbon-negative land management in tackling climate change, and forming partnerships with artisans and producers to start re-delivering economic gain to the local area.
The Land Strategy's long-term aim is for the Oxfordshire UNESCO World Heritage Site to become the UK's first estate to demonstrate carbon-positive land management.
"It is always a pleasure to come to Blenheim and I was particularly impressed to learn more about the sheer scale of the estate's commitment to the environment," he said.
"Chief Executive Dominic Hare and his entire team has developed a huge range of positive programmes and new initiatives that make Blenheim among the most sustainable and forward-thinking estates in the country.
"I was also very interested to see how much Blenheim is working with local communities and supporting a host of different projects and organisations within the area.
"Blenheim has a huge part to play in the continued success and prosperity not only of West Oxfordshire but the wider region, and to see how seriously they take their responsibility and also how committed they are to sustainability and valuing their natural resources is incredibly heartening," he added.
During his visit the MP was also able to view some of Blenheim's natural beehives. The hives, which are made from wood gathered on the estate, are home to colonies of highly endangered wild native bees.
The natural hive initiative is part of Blenheim estate's wider commitment to developing its 'natural capital'.
Natural Capital is a radical new model, which assigns importance to precious resources, like good air, water, soil, woodland, green spaces and biodiversity, in order to promote the best long-term decisions.
**ENDS**
Issued on behalf of Blenheim Estate. For more information please contact Gemma Else, Marketing Manager, Blenheim Estate, on 07702 472 938 or email gelse@blenheimestate.com or contact Drew Cunliffe drew@flamingo-marketing.co.uk .
About Blenheim Estate
At Blenheim Estate Land we know that our land is precious and finite, but cared for properly its benefits can be limitless. Yet today there are fresh challenges like climate change, an aging population and increasing urbanisation.
So our approach – spanning a number of projects – needs to be as sophisticated, enduring and holistic as those issues we face.
By adopting new methods of valuing our natural capital we can view our land resources as part of an ecosystem. An ecosystem whose benefits extend to the air we all breathe, the green transport solutions that connect our communities, the physical and mental health we enjoy, and the quality of the food we consume.