MPs show strong support for Oxfordshire's Visitor Economy during English Tourism Week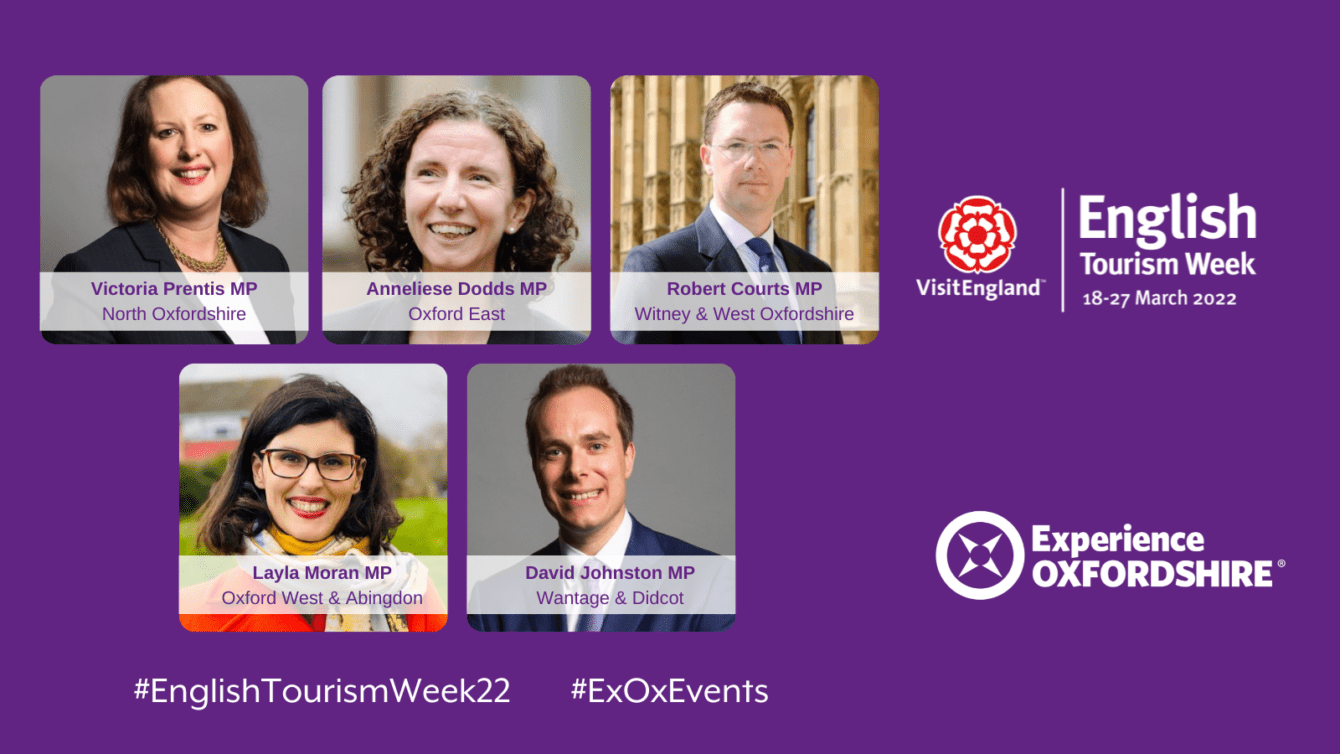 Oxfordshire's MPs are showing their support for the tourism sector this week by visiting businesses in their constituencies as part of Experience Oxfordshire's extensive programme of activity, marking English Tourism Week 2022.
Dedicated to highlighting the importance of tourism to local economies and promoting the innovation, quality and range of experiences on offer in England, this year the national campaign is also focussing on the wide range of jobs and career opportunities available across the sector.
Experience Oxfordshire, the destination management organisation for the county, was proud to invite Oxfordshire's MPs to meet with tourism operators, to see how the sector is building back business after the last two difficult years and to discuss the range of employment opportunities available within the sector.
Commenting on English Tourism Week the Tourism Minister, Nigel Huddleston MP said:
"English Tourism Week celebrates the enormous contribution our brilliant tourism sector makes to the economy and I'm looking forward to supporting this year's events.
"I encourage people to explore the huge range of opportunities available – from finding a new and rewarding career to exploring the exciting range of experiences, events and destinations on offer."
Hayley Beer-Gamage, Chief Executive of Experience Oxfordshire commented:
"Experience Oxfordshire is delighted that during English Tourism Week Oxfordshire's MPs are showing their support and engaging positively with the visitor economy in their constituencies at our fantastic partner businesses. They've heard first-hand of the pandemic's impact, and the challenges it's created, alongside exciting plans for investment and recovery.
"In 2019, over 30 million trips were made to Oxfordshire and the visitor economy was supporting over 42,000 jobs, contributing over £2.5 billion a year to Oxfordshire's economy. The impact of the pandemic has had a devastating effect on local businesses across the county. It's vitally important that we all show support to our local businesses in order to build back a thriving visitor economy".
After taking an Oxford Official Walking Tour, Anneliese Dodds MP said:
"I've really enjoyed participating in this fascinating tour of Oxford for English Tourism Week. Our city has such a wonderfully diverse range of attractions and experiences to offer visitors, and a committed workforce delivering them. After such a challenging time for the sector, it's great to see visitors returning to Oxford, but it's also good to see Oxford locals enjoying all that our city has to offer."
Victoria Prentis MP visited Bicester Hotel Golf and Spa and commented:
"It was great to meet the team at Bicester Hotel Golf and Spa today and I was very grateful for their invitation. It was reassuring to find out about the investment they've made to date, and despite the difficulties of the last two years, they have exciting plans for the future. This family-owned operation not only attracts business from across the country into the area, but provides a much-loved focal point for the local community. It's really positive to see a good business thriving.
"During the past two years of the pandemic, I have repeatedly raised the case for support for businesses in my constituency with my ministerial colleagues and will continue to do so.
"I hope my constituents will consider visiting Bicester Hotel Golf and Spa to enjoy their facilities".
Robert Courts MP visited Fairytale Farm and said:
"It was a pleasure to spend time at Fairytale Farm, an attraction which was developed to provide a safe and entertaining experience for all children, but where the needs of children with disabilities have been put first. This was not just a good decision to make on behalf of the visitors, it also makes good business sense. One in five people in the UK have some sort of impairment and as the tourism sector reopens after two difficult years, it's essential that a warm welcome is extended to all".
David Johnston MP visited Didcot Railway Centre and commented:
"It was great to be back at Didcot Railway Centre, an attraction at which you never fail to learn or see something new – including the upcoming return to service of one of Great Western Railway's most celebrated steam locomotives, the Pendennis Castle. The enthusiasm of the staff and volunteers is uplifting and shines through. We have fantastic examples of built heritage in our county, and it's really heartening to see here what can be achieved through dedication and solid support. Prior to the pandemic, tourism in Oxfordshire was worth £2.3bn – it's essential that the sector provides top quality experiences, as Oxfordshire does, to bring that income back."
Layla Moran visited Jurys Inn Oxford and said:
"The hospitality sector has risen to the challenges of the past two years, working hard to make hotels and restaurants both safe workplaces and pleasant places to stay. It's been good to catch up with the team at Jurys Inn here in Oxford, and hear the positive feedback they've been receiving from leisure and business travellers. Prior to the pandemic tourism supported 42,000 jobs in Oxfordshire. It's essential that we get those numbers back up, and we rely on the service providers, like Jurys, to ensure our visitors are welcomed and will want to return."
Keep up to date with Experience Oxfordshire's activity during English Tourism Week by following @ExperienceOxBiz
**ENDS***
IMAGES:
Available via the following link.
• Image 1 – Anneliese Dodds MP for Oxford East with Jenny McGee from Experience Oxfordshire and Oxford Official Walking Tours' Guide Matthew Johnson
• Image 2 – Victoria Prentis MP for North Oxfordshire with Lee Wood and Paul Morgan at Bicester Hotel Golf and Spa resort and Frank Smith of Experience Oxfordshire
• Image 3 – Robert Courts MP for Witney and West Oxfordshire with Nick Laister and Adele Bridgeman at Fairytale Farm and Frank Smith from Experience Oxfordshire
• Image 4 – David Johnston MP for Wantage and Didcot with Louise Brown, and Clive Hetherington, Anne Middleton and Thomas Macey at Didcot Railway Centre and Lesley Wright from Experience Oxfordshire
• Image 5 – Layla Moran MP for Oxford West and Abingdon with Jamie Taylor at Jurys Inn Oxford and Frank Smith of Experience Oxfordshire
NOTES TO THE EDITOR:

• For more information about English Tourism Week please see: https://www.visitbritain.org/english-tourism-week
• For the latest employment statistics from the Office of National Statistics see VACS02: Vacancies by industry
• See VisitEngland's latest Domestic Consumer Sentiment Research
• VisitBritain's latest estimates for domestic tourism in 2021 and its inbound tourism forecast for 2022 are available here: https://www.visitbritain.org/2021-tourism-forecast
For more information on English Tourism Week 2022 please contact Charlotte Sanders at VisitEngland: charlotte.sanders@visitengland.org or 07500 555 651
Experience Oxfordshire is the official Destination Management Organisation (DMO) for Oxfordshire. We are the trading arm of the parent charity, Experience Oxfordshire Charitable Trust, and are a not-for-profit partnership organisation that is committed to the promotion, management and development of Oxfordshire as a great destination to live, work, visit and do business whilst improving growth and productivity across the visitor economy. The DMO provides essential business advice and support to visitor economy businesses across Oxfordshire.
CONTACT:
Name: Lesley Wright
Email: press@experienceoxfordshire.org
Call: 01865 686433
www.experienceoxfordshire.org/partner