Oxford City Council applies to create pedestrian-friendly temporary public square in Broad Street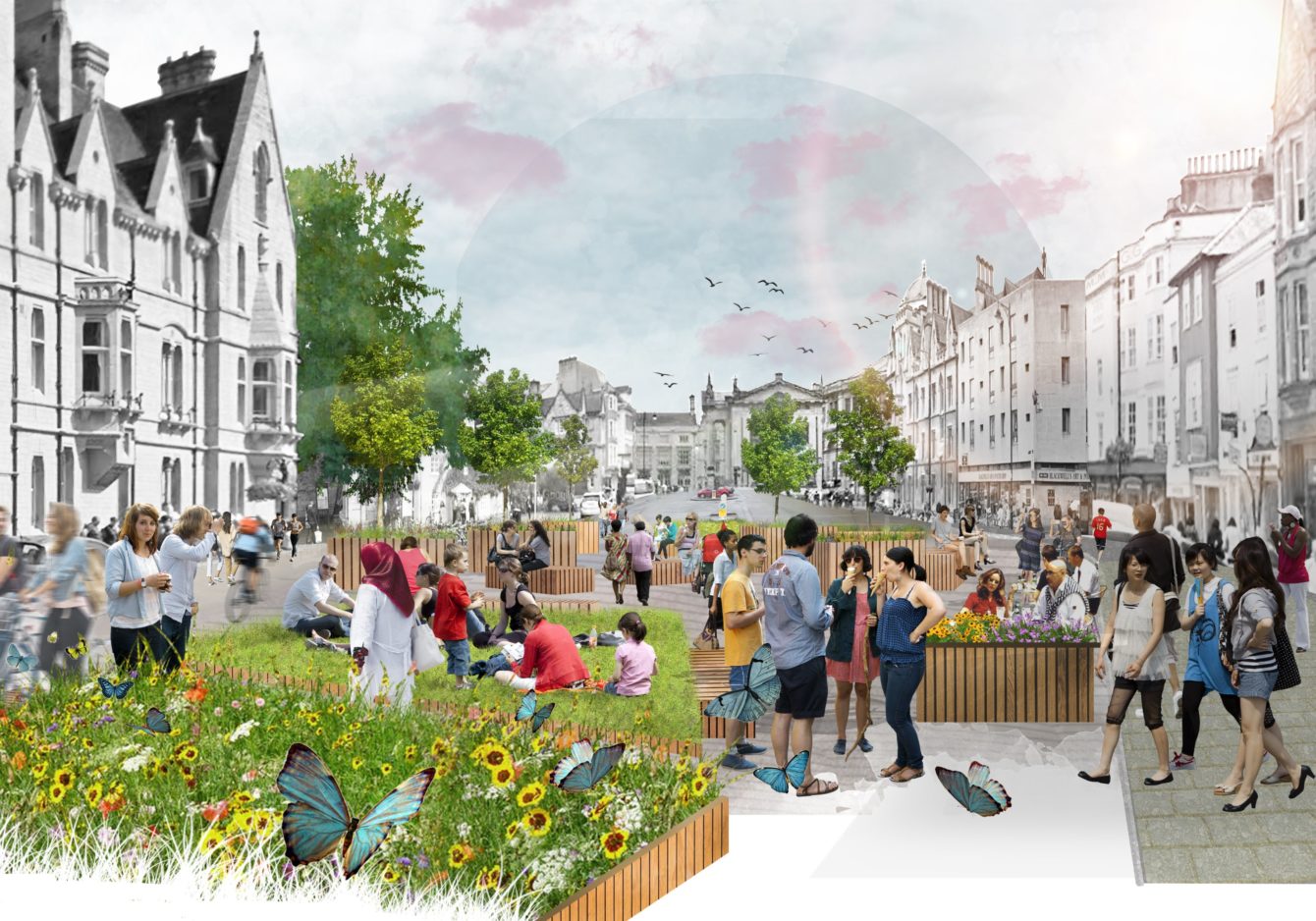 Oxford City Council's plans to create a temporary public square in the city centre this summer have taken a step forward with the submission of an application to close part of Broad Street to traffic.
Following extensive consultation with city centre stakeholders, the City Council has applied for a Temporary Traffic Regulation Order from the highway authority, Oxfordshire County Council, which will ultimately decide on the application.
The aim is to temporarily restrict vehicles on part of the road, between Magdalen Street East and just before the junction with Turl Street, from early July through to the autumn.
The project will create one of Oxford city centre's largest outdoor public spaces, at a time when the city hopes to welcome significant numbers of shoppers, visitors, workers and students to the city.
The City Council is seeking to promote the safe use of the city centre over the summer, to support Oxford's economic recovery and to inform the development of longer-term options for creating better civic spaces on Broad Street and in other parts of the city in the future. The Council is prioritising the use of local suppliers, recycled materials and the re-use of furniture after the scheme is finished.
The newly-created space will be designed principally as a new city centre destination for Oxford residents and visitors to relax and enjoy, with places to sit and meet friends and family in a safe outdoor environment. The proposals aim to help green this part of Broad Street with wild flower meadows and lawns, and to use materials that are recycled, and reusable where possible. The City Council also hopes to include high quality community and arts events in the space over the summer.
The proposals have been developed and informed through discussions with technical experts and local stakeholders, as well as with businesses and advocacy groups.
In April and May, the project team, led by Oxford-based landscape architects LDA Design, gathered the views of more than 60 organisations through informal conversations, workshops, drop-in sessions and its consultation portal. These include the University of Oxford and its Broad Street colleges, businesses on Broad Street, transport operators, cycling and walking groups, and event organisers.
LDA Design has worked closely with the Council's Inclusive Transport & Movement focus group, which features people with disabilities and representatives of disability organisations, and intend to ensure the scheme is as inclusive as possible.
The proposal will not impact the bus stops or the County Council's public car park in Broad Street, and a two-way cycle route will be retained throughout Broad Street. Access will also be maintained from Broad Street to Market Street, which is the main route for deliveries to and from the Covered Market.
LDA Design is leading a multidisciplinary team, including the highways engineering specialists Stantec. As part of their social value commitment during the project's development, LDA Design and Stantec are each offering a two-week work placement to a design student from Oxford Brookes University who will be paid the Oxford Living Wage. This opportunity is part of the City Council's ongoing efforts to collaborate with Oxford Brookes students regarding regeneration projects.
Councillor Tom Hayes, Deputy Leader and Cabinet Member for Green Transport and Zero Carbon at Oxford City Council said: "Oxford's iconic Broad Street is one of the best streets in Europe, and it's set to get even better. On a perfect summer day, children will be able to play, people will be able to pause for cool refreshments. With a beautiful meadow and some flower power, we can bring Broad Street back to life.
"In the longer term, this Council wants to pedestrianise more of the city and give the whole of Broad Street back to local people. For the summer, we will keep the cycle through route on Broad Street and seek to do the same for a permanent scheme."
Dafydd Warburton, Director at LDA Design said: "Framed by listed buildings, Broad Street is a popular destination, loved by many. But space here is heavily contested and pedestrians are confined to narrow pavements, with few opportunities to sit and spend time.
"This project is a fantastic opportunity to test new ideas for a more inviting public realm that's fitting for such a historic street, enhancing the city centre's appeal to residents and visitors alike."
Gillian Coates, Vice Chair and Planning Group Co-ordinator at Oxford Civic Society said: "Broad Street must surely be one of the most beautiful spaces in the City with its handsome and dignified architecture, its wonderful vistas and the central role it plays in the ceremonial life of the University. But it is not being used to its best potential – its pedestrianisation would facilitate it as a focal point in the leisure and entertainments. Its vibrancy would return and the freedom from vehicles would bring people back to the streets. Oxford Civic Society hope that eventually the whole of the Broad can be part of this aspiration. This may take years to fully deliver, but now is time to start.
Rebecca MacAlister, Blackwell's Regional Manager for Oxford, said: "Blackwell's has traded on Broad Street since 1879 and our booksellers have seen lots of changes to the street in that time. We welcome the Council's plans for temporary pedestrianisation of the West End of Broad Street this summer and are confident that the increased public realm in this part of the city will be a good development for all residents and visitors to Oxford, as well as encouraging customers to visit our shops here on Broad Street."
Sally Moss, Director at The Buttery Hotel said: "I'm really pleased to see that Broad Street is going to undergo improvements to mark what a beautiful thoroughfare it is. All our guests comment on the amazing views from their windows and it's nice that they will now approach us in a beautiful vibrant space which can only be a plus for the local area."
About the design team
The City Council has commissioned public realm experts LDA Design, which has offices in Warton Rectory Park, to produce a detailed proposal informed by extensive engagement.
LDA Design, which has offices in other UK cities including London, Bristol, and Manchester, was appointed because of their understanding of the local area, the expertise in their project team and specialism in urban and high street renewal with a strong focus on public and stakeholder engagement.
LDA Design has been involved in some of the UK's high-profile city centre public realm projects, including Newcastle's Grey Street, London's Stratford Waterfront and Strand-Aldwych, as well as Oxford's first public roof garden at Westgate Oxford.
ENDS
For more information contact:
Oxford City Council
Press Office
01865 252096