Oxford Official Walking Tours Launch New Website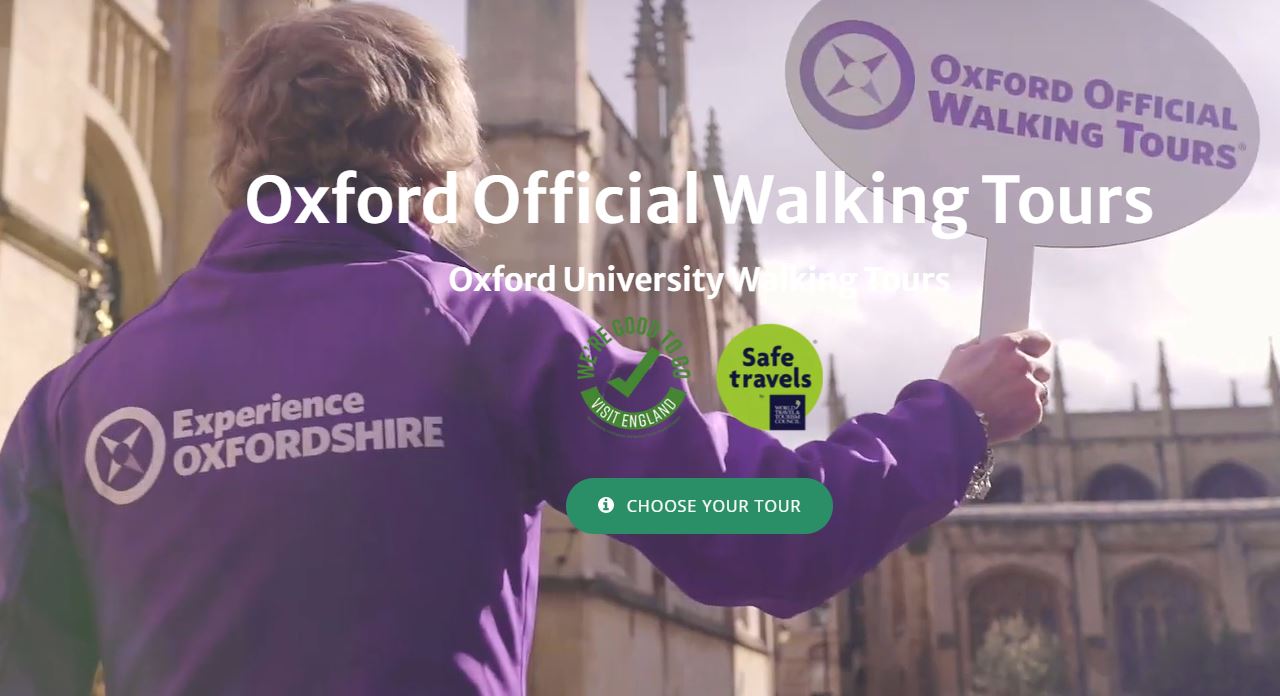 Oxford Official Walking Tours, operated by Experience Oxfordshire the Destination Management Organisation (DMO) for Oxfordshire, are thrilled to announce the launch of their new website www.oxfordoffocialwalkingtours.org.  With updated tours and an easy booking platform the website is designed to enhance the user experience and to simplify the booking process.  
Throughout the pandemic there has been a big shift in people booking in advance online and the website has been designed to make it easy for people to navigate the tours and pages. The website is a fully digital platform with an easy-to-use calendar and booking system. Booking is in real time with live availability and has a range of public and private tours available.    
All tours have received the VisitEngland 'We're Good to Go' industry standard and World Travel and Tourism Council 'Safe Travels' accreditation, showing that hygiene and safety protocols are front of mind at all times.  
Speaking about the new website, Hayley Beer-Gamage, Chief Executive of Experience Oxfordshire said: 
 "We are delighted to announce the launch of the new Oxford Official Walking Tours website and are confident this will enable people to book our tours quickly and easily. With the easing of lockdown and the shift in how people are booking, we needed to ensure we had a strong and robust booking platform and website that had the user experience at the forefront. Feedback has been extremely positive to date, and we look forward to welcoming locals and visitors back into Oxford on one of our award–winning tours." 
Oxford Official Walking Tours provide high quality themed tours of the city of Oxford and have consistently received the TripAdvisor Award of Excellence for ten years in a row. There are a wide range of tours available that take in famous heritage and film and tv locations across the city.  
The new website features lots of information and inspiration on the tours available including a new promotional video that showcases Oxford City at its best. Tours available are: Oxford University and City tour, Oxford Ghost tour, Inspector Morse, Lewis and Tolkein, Harry Potter and Alice in Wonderland, Philip Pullmans Oxford and Oxford Fiction and Fantasy.  
Book now by visiting www.oxfordofficialwalkingtours.org  
**ENDS*** 
NOTES TO THE EDITOR: 
Experience Oxfordshire is the official Destination Management Organisation (DMO) for Oxfordshire. We are the trading arm of the parent charity, Experience Oxfordshire Charitable Trust, and are a not-for-profit partnership organisation that is committed to the promotion, management and development of Oxfordshire as a great destination to live, work, visit and do business whilst improving growth and productivity across the visitor economy. The DMO provides essential business advice and support to visitor economy businesses across Oxfordshire. 
Please note that due to ongoing covid restrictions access inside colleges and buildings is not currently permitted as part of the tour and we recommend that all customers check access information before booking their tickets. The website is kept up to date with this information and you can contact Oxford Official Walking Tours on officialtours@experienceoxfordshire.org or call 01865 686442.  
Contact:
Name: Anne-Marie Hicks
Email: press@experienceoxfordshire.org
Call: 01865 686433