Oxford Official Walking Tours, operated by Experience Oxfordshire, are delighted to announce the re-launch of their comprehensive tours programme.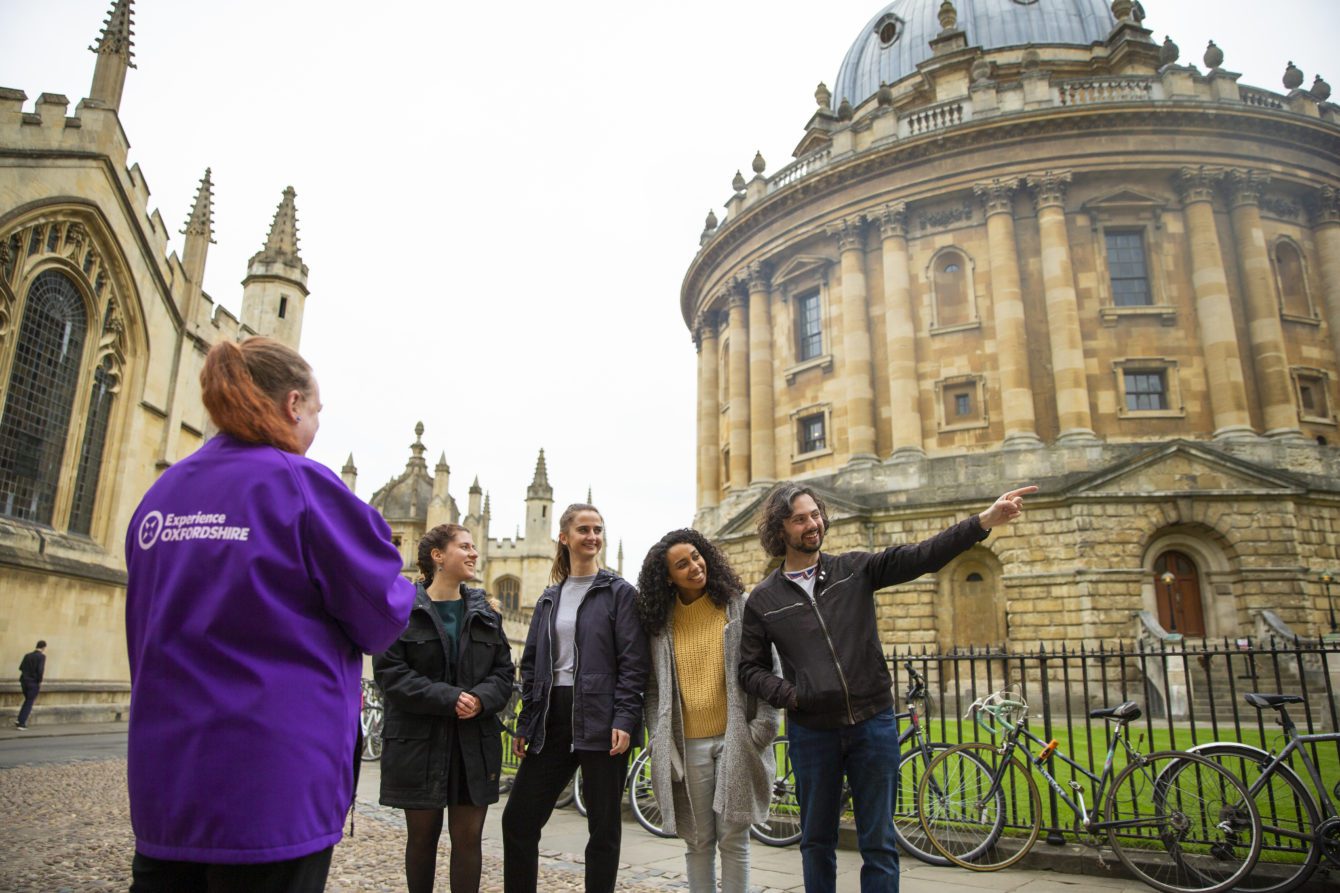 Summer in the city and what better way to get to know Oxford than through the eyes of a professional resident! With a millennium and a quarter's worth of history, Oxford is a city of stories. And the friendly guides working on the Oxford Official Walking Tours are the perfect people to tell them.
As visitors return to Oxford, from near, and increasingly, from further afield, Oxford Official Walking Tours have increased the range and frequency of tours available.
For fans of some of Oxford's most seminal academics the C.S. Lewis & J.R.R. Tolkien Tour provides an opportunity to explore the central Oxford locations where they lived and taught while discussing their work. Lovers of "His Dark Materials" and "The Book of Dust" trilogies can discover Lyra's Oxford on the Philip Pullmans' Oxford Tour which has been endorsed by the man himself.
The Inspector Morse, Lewis, and Endeavour Tour shows visitors what skilful use TV producers have made of Oxford (and its pubs!) and the ever-popular world of Harry Potter can be brought to life on the Harry Potter Highlights bespoke tour.
Annie Macdonald, Tour Desk Group Leader at Experience Oxfordshire, explained: "Oxford University and City Tour is our award winning and most popular tour. We help visitors get behind the stonework of these magnificent institutions by sharing historical facts, but in addition painting a picture of the times, through anecdotes and quirky stories about those who worked and lived here. As we walk through time, we not only point out the gargoyles above us, but also the secret passageways and hidden tunnels below!"
Hayley Beer-Gamage, Chief Executive at Experience Oxfordshire, added: "Oxford Official Walking Tours offer a great visitor experience and is the perfect way to make the most of a visit to the city providing an excellent introduction to a stay, however long.
As visitors return to Oxford, we're delighted to again be increasing our tours programme. Our guides are friendly, confident communicators who love the history of Oxford and can bring it to life with stories of real people in the city and the University. It is important as we work through post pandemic recovery that we offer an outstanding visitor welcome and our 5-star TripAdvisor reviews prove the tours are doing just that. We will continue to develop our tours programme and look forward to welcoming visitors back throughout 2022 and beyond"
Oxford Official Walking Tours aim to provide positive experiences for residents and visitors and as such tours are limited to a maximum of 20 people per group. Guides can explain the collegiate aspect of the University, with its tutorial systems, concepts that are unfamiliar to some of our visitors. Oxford Official Walking Tours also offer a range of private tours on request both in the city and across the county in locations such as Burford and Woodstock.  
**END**
IMAGES:
Available via the following link.
Image 1: Oxford Official University and City Walking Tour at Radcliffe Camera
Image 2: Oxford Official University and City Walking Tour
Image 3: Oxford Official University and City Tour at the Sheldonian Theatre
Image 4: Oxford Private Walking Tour at Hertford Bridge
Image 5: Oxford Private Walking Tour at Radcliffe Camera
NOTES TO THE EDITOR:
Oxford Official Walking Tours are operated by Experience Oxfordshire.  For full tour details, information, and online bookings:  www.oxfordofficialwalkingtours.org
For enquiries and group or private bookings email: Officialtours@experienceoxfordshire.org
Or phone: 01865 686441
Public tours are 2 hours long and leave from outside the Cool Britannia shop on Broad Street. Prices start at £12.
Private Tours are available on request and can be tailored to meet requirements.
Please note that due to ongoing covid restrictions not all tours include access to colleges, and we advise customers to check at time of booking to avoid disappointment.
Experience Oxfordshire is the official Destination Management Organisation (DMO) for Oxfordshire. We are the trading arm of the parent charity, Experience Oxfordshire Charitable Trust, and are a not-for-profit partnership organisation that is committed to the promotion, management, and development of Oxfordshire as a great destination to live, work, visit and do business whilst improving growth and productivity across the visitor economy. The DMO provides essential business advice and support to visitor economy businesses across Oxfordshire.
For more information on Experience Oxfordshire go to www.experienceoxfordshire.org/partner
Contact:
Name: Lesley Wright
Email: press@experienceoxfordshire.org
Call: 01865 686433