Oxford Official Walking Tours Wins 2020 TripAdvisor Travellers' Choice Award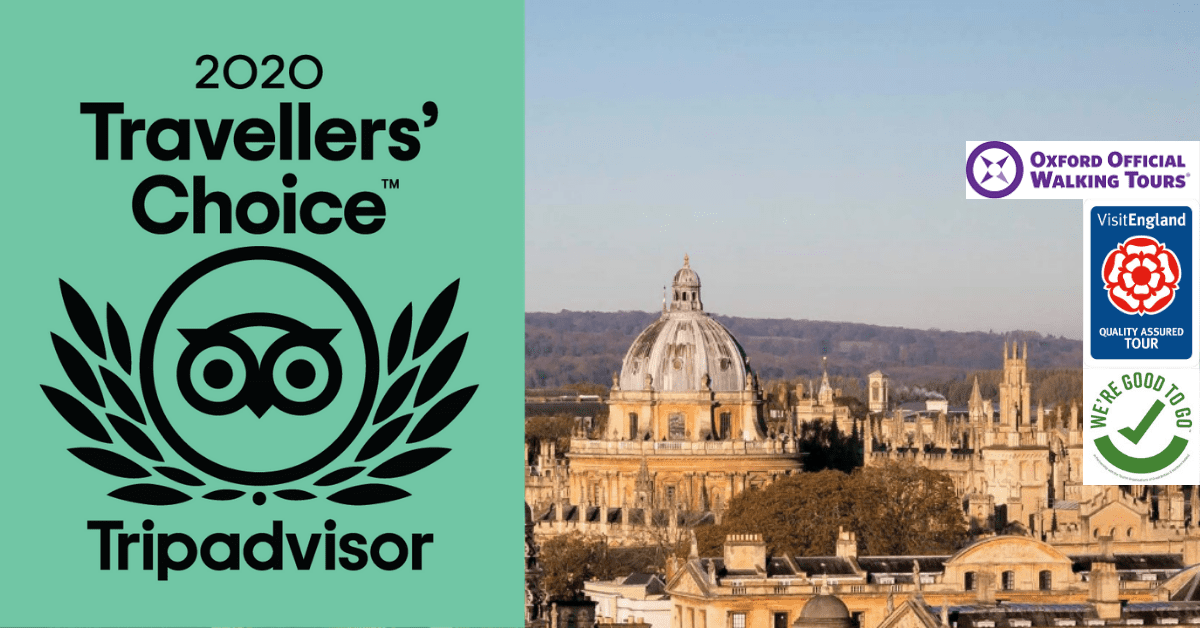 Oxford Official Walking Tours have been recognised as among the best in the South East, based on outstanding 2019 Tripadvisor Traveller Reviews.
Oxford Official Walking Tours, which are operated by Experience Oxfordshire – the Destination Management Organisation for the county – announced it has been awarded a 2020 Travellers' Choice award based on a full year of TripAdvisor reviews.
Award winners are known for consistently receiving great traveller feedback, placing them in the top 10% of hospitality businesses around the globe. Oxford Official Walking Tours have now received this accolade for 8 consecutive years showing their commitment to providing excellent service and a great visitor experience.
The official tours usually operate a wide range of thematic tours available on both a public and private basis, however in order to follow government guidance and ensure the safety of visitors is paramount, they are currently now operating just University and City tours daily and Inspector Morse tours at the weekend, all with limited capacities. The tours have also received the 'We're Good to Go' accreditation from VisitEngland which is given to businesses that have a commitment to following all the covid-19 government guidance.
Annie Macdonald, Tours Team Leader said:
"We have been really pleased to be able to offer our Oxford Official Walking Tours again post lockdown and are delighted to have received the TripAdvisor Travellers' Choice award. This award is important to us as it was voted for by customers that have actually been on the tour and have clearly enjoyed their experience with us. Our Official Tours are one of the very the best ways to see Oxford and we look forward to welcoming visitors back to enjoy them with us."
Commenting on receiving the award, Hayley Beer-Gamage CEO of Experience Oxfordshire said:
"The TripAdvisor accolade is testament to the hard work that the tours team and guides undertake to ensure that visitors are given a great tour of Oxford. We are delighted to have won this award 8 years in a row now and have enjoyed welcoming visitors and locals back to Oxford safely. All of our official tours programme has received the VisitEngland 'We're Good to Go' accreditation which shows our commitment to high quality experiences whilst operating alongside government guidance."
Kanika Soni, Chief Commercial Officer at Tripadvisor said
"Winners of the 2020 Travellers' Choice Awards should be proud of this distinguished recognition," Although it's been a challenging year for travel and hospitality, we want to celebrate our partners' achievements. Award winners are beloved for their exceptional service and quality. Not only are these winners well deserving, they are also a great source of inspiration for travellers as the world begins to venture out again."
To see traveller reviews and popular walking tours of Oxford Official Walking Tours (Experience Oxfordshire) visit https://www.tripadvisor.co.uk/Attraction_Review-g186361-d1417305-Reviews-Oxford_Official_Walking_Tours-Oxford_Oxfordshire_England.html
For more information and to book your tour go to: www.oxfordofficialwalkingtours.org or email officialtours@experienceoxfordshire.org

**** Ends ***
For more information contact:
Emily Enock
Email: press@experienceoxfordshire.org  / emily.enock@experienceoxfordshire.org
Notes to Editor
Experience Oxfordshire is the official Destination Management Organisation (DMO) for Oxfordshire. We are the trading arm of the parent charity, Experience Oxfordshire Charitable Trust, and are a not-for-profit partnership organisation that is committed to the promotion, management and development of Oxfordshire as a great destination to live, work, visit and do business and improving growth and productivity across the visitor economy and providing essential business support across the sector.
www.experienceoxfordshire.org/partner
Oxford Official Walking Tours are the award-winning tours of Oxford, offering both traditional and contemporary visitor experiences and public and private tours. The tours have received the 'We're Good to Go' accreditation from VisitEngland showing commitment to following safety protocols and government guidance. A video showcasing this can be found here