Oxfordshire Actor William Mannering to play Richard III At Blenheim Palace this summer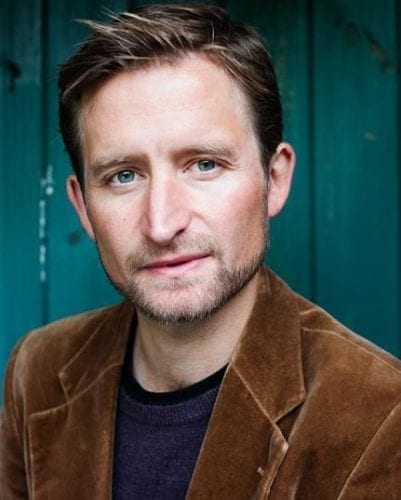 The producers of SHAKESPEARE'S ROSE THEATRE, the award-winning pop-up Shakespearean Theatre, are pleased to announce that Oxfordshire actor William Mannering will perform the title role of 'Richard' in Richard III at Blenheim Palace this summer, following the withdrawal of Dave Fishley from the role for personal reasons.
Son of Charlbury resident Stella Mannering, whose interior design business is based in Woodstock, William was brought up in Northmoor and went to the Dragon School in Oxford, before becoming an actor at 13 – after which his education was mainly on film sets.
Most recently seen in the West End in Pressure alongside David Haig, William has worked extensively on Shakespearean productions, including many seasons at the Globe, the Royal Shakespeare Company, the Oxford Stage Company and Birmingham Repertory Theatre. He has plied his trade in the region – frequently touring to the Playhouse in Oxford, and also played 'Bottom' in The Globe production of A Midsummer's Night's Dream in The Bodleian Quad in 2014. William's film credits include Master and Commander, as well as popular TV series Poldark, Endeavour and The Infinite Worlds of H.G. Wells.
William Mannering said, "I am thrilled to have the opportunity of playing this iconic role in front of a home crowd in Oxfordshire. I grew up just a few miles from Blenheim Palace, always aware of its place in our nation's history; I can think of no finer setting for the telling of this rich and powerful story. Our pop-up Rose Theatre is a building that Shakespeare himself would recognise and one in which he would feel quite at home."
 The 13-sided Elizabethan-style playhouse – complete with an Elizabethan village – will be constructed over a three-week period in the glorious grounds of 'Britain's Greatest Palace' where, in its Oxfordshire home, it will run from 8 July until 7 September, performing four of Shakespeare's greatest plays.
The Blenheim Palace company will be reviving the productions of A Midsummer Night's Dream and Macbeth as experienced in York last year as well as creating exciting new productions of Romeo & Juliet and Richard III.
The plays have been selected from across the genres, offering something for everyone, and will be performed in repertory by two companies of actors.
The Shakespearean theatre will be constructed using state-of-the-art scaffolding technology, corrugated iron and timber.  Inspired by the famous London Rose Playhouse built in 1587, 12 years prior to The Globe, SHAKESPEARE'S ROSE THEATRE will house an audience of 900, with 560 seated in three covered tiers around an open-roofed courtyard with standing room for 340 'groundlings'. The theatre will be located within a Shakespearean village, a rustic rural scene complete with village pond, farm wagons and carts, bringing an authentic Elizabethan ambience and theatricality to the event.
 SHAKESPEARE'S ROSE THEATRE and Shakespeare's Village are produced by Yorkshire-based Lunchbox Theatrical Productions. The Blenheim Palace season is presented in association with Raymond Gubbay Ltd and Blenheim Palace.
Book online www.blenheimpalace.com/shakespearesRT
By phone 0115 9129107
Calls cost up to 13p per minute plus your phone company's access charge.
In Person SHAKESPEARE'S ROSE THEATRE, Blenheim Palace, Woodstock, Oxfordshire, OX20 1UL from 10am, Mon 8th July 2019
Tickets
All seats in SHAKESPEARE'S ROSE THEATRE are the same – comfortably cushioned and backed, with plenty of leg room.  Groundling tickets in the courtyard are open-air, all other seats are under cover.  Visit blenheimpalace.com/shakespearesRT  for seating plan and further details.
Premium £70.00
A Reserve £55.00
B Reserve £45.00
C Reserve £35.00
D Reserve £25.00 (restricted view)
Groundlings £15.00
Wheelchairs – Courtyard £15.00, Premium £70.00.  Each wheelchair space includes carer seat free of charge.
Children (16 and under) £3 off all seats, £2 off Groundlings.
Groups of 16+ receive 10% off all ticket types (excluding groundlings). Contact SEE groups on 0844 412 4650 or by emailing groups@seetickets.com
Schools – Eight morning performances have been set aside exclusively for schools at £10 per ticket anywhere in the theatre. 1 teacher goes free with every 10 children. Tickets available through SEE Tickets on 0800 852 7244 or by emailing education@seetickets.com.
There is up to 15% off when purchasing 'combined tickets'.
Prices inclusive of booking fee. All transactions are subject to a single charge of £2 for print at home tickets and collections or £2.50 for postal orders.