Oxfordshire MP's Show Support for the Visitor Economy as Part of English Tourism Week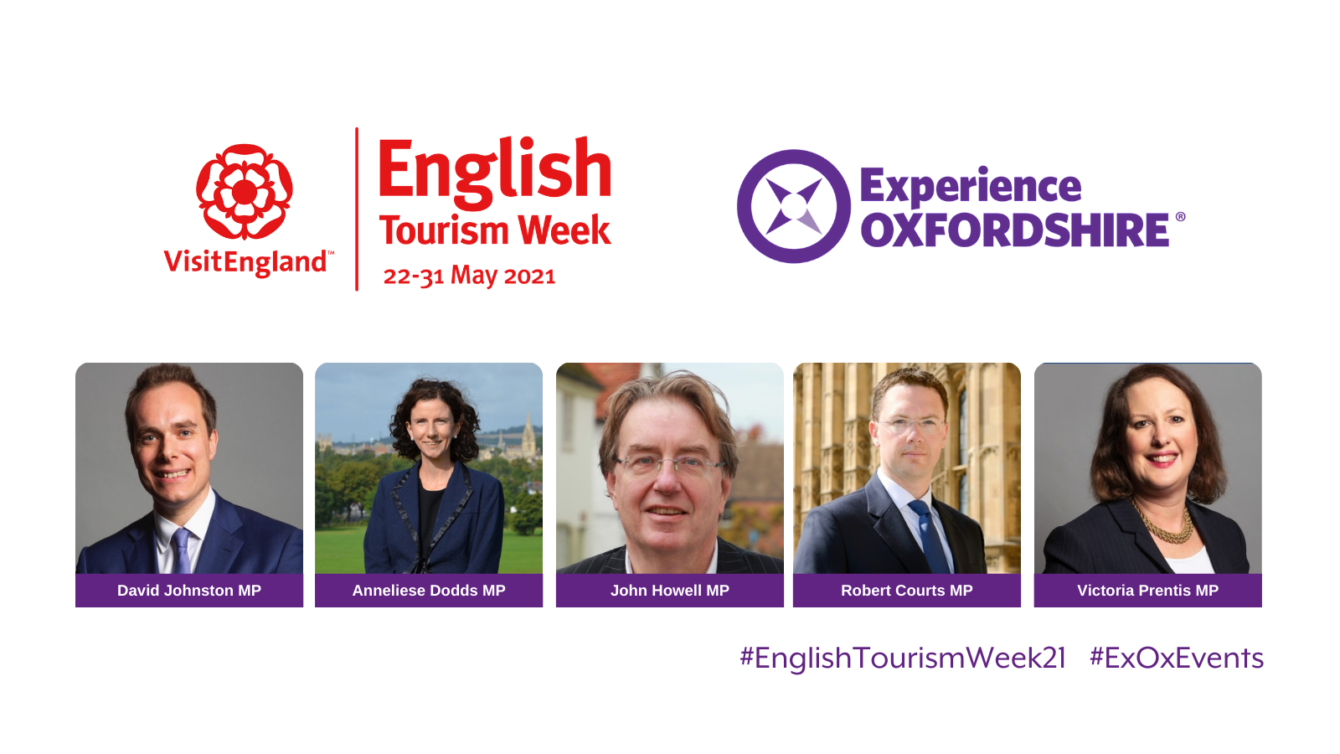 Oxfordshire MPs showed their support for the tourism sector this week by visiting businesses in their constituency as part of the extensive English Tourism Programme organised by Experience Oxfordshire, the Destination Management Organisation (DMO) for the county. This year's English Tourism week coordinated by VisitEngland was dedicated to showing support for tourism businesses and destinations across the sector as they reopen and start to rebuild. 
In addition to these visits MPs were also involved in a cross-party roundtable organised by the DMO on the importance of the visitor economy to Oxfordshire, the severe impact the pandemic has had on the sector and support needed for recovery. There was unanimous support politically for the sector. Discussion included; The current national DMO Review, upcoming release of the Government's Tourism Recovery Plan, existing and future financial support for businesses, domestic and inbound travel, re-instilling consumer confidence and workforce and labour market supply.  
Commenting on English Tourism Week Tourism Minister Nigel Huddleston said: 
"The tourism sector has undoubtedly faced enormous challenges over the past year. This is why we have provided over £25 billion in support to date, including the unprecedented VAT cut. Tourism and hospitality businesses across the country have continually impressed me with their ability to adapt over the past year and I know they're all ready to welcome us back. English tourism has so much to offer, from rural retreats to city breaks. I can't wait to get out there exploring and I urge everyone to join me in supporting our fantastic tourism sector by taking a domestic holiday over the coming months." 
Hayley Beer-Gamage, Chief Executive of Experience Oxfordshire commented: 
"We have been delighted to see so much political engagement locally from MPs across Oxfordshire as part of VisitEngland's English Tourism Week. It has been a challenging time for the travel and tourism sector and the week was a chance to raise the profile of the sector and our businesses. Both the roundtable and the constituency visits have given the opportunity for our partners to engage with MPs and talk directly about the issues facing them and the support required. Experience Oxfordshire will continue to champion our sector to national and local government and support businesses as we move through recovery. We are all looking forward to the visitor economy thriving again in the future as we welcome locals and visitors back to Oxfordshire."  
On visiting the New Theatre Oxford Anneliese Dodds MP said;  
"It has been a pleasure to visit the New Theatre Oxford during English Tourism Week and I was excited to hear about their plans for re-opening. The theatre has been through an extremely challenging time and as we move to the next stage of the road map, I hope that the New Theatre, alongside Oxford's other fantastic Theatres, will be able to re-establish themselves and thrive." 
Victoria Prentis MP visited Bicester Motion and commented;  
"It was great to meet the team at Bicester Motion today and find out about their exciting plans for the future. This multi-use site is not only already home to many great businesses but also has an ambitious development plan to ensure they become a future destination to visit in their own right. It is heartening to see investment plans of this size and scale as we move out of the pandemic and into recovery." 
Robert Courts MP visited Heythrop Park Resort and said;  
"Hotel and conferencing venues have been severely impacted by the pandemic and I was delighted to see in place all the safety and hygiene protocols that this property has undertaken to welcome guests back. This is a stunning property and a great reason to visit Oxfordshire. I would like to thank Experience Oxfordshire for managing the extensive programme of activity this week as business engagement in the locality is extremely important to me."  
David Johnston MP visited the Courtyard by Marriott Oxford South and commented; 
"It has been great to visit the Courtyard by Marriott Oxford South today and see the wider visitor economy re-opening across Oxfordshire. We understand that there are still challenges ahead for the sector, but it is great to see the positive attitude of the hotel team in welcoming business and leisure visitors back to the property and staff back to work." 
All businesses that were visited have achieved the VisitEngland 'We're Good to Go' industry standard which shows their commitment to taking the appropriate hygiene and safety protocols when welcoming visitors back. Over 500 businesses across Oxfordshire have now achieved this industry standard.  
On attending the cross-party round table John Howell MP commented; 
"I would like to thank Experience Oxfordshire for organising this important event. It was a great opportunity to hear direct from businesses on their issues and concerns and re-assure them that government is working hard to assist recovery where possible. The visitor economy is hugely important locally and I want to be able to support businesses in my constituency where I can." 
Over 30 million trips were made to Oxfordshire in 2019 with the visitor economy supporting over 42,000 job and contributing over £2.5 billion a year to Oxfordshire's economy. The impact of the pandemic has had a devastating effect on local businesses across the local visitor economy and as businesses re-open and start to trade again it is important that we support our local businesses through recovery.  
**ENDS*** 
Images (please click on text below to download image)
 NOTES TO THE EDITOR: 
See VisitEngland.com for destination suggestions. 
VisitBritain's latest tourism forecasts for 2021 are available here: https://www.visitbritain.org/2021-tourism-forecast 
For more information please contact Tracey Edginton at VisitEngland: tracey.edginton@visitbritain.org or 07974111076 
Experience Oxfordshire is the official Destination Management Organisation (DMO) for Oxfordshire. We are the trading arm of the parent charity, Experience Oxfordshire Charitable Trust, and are a not-for-profit partnership organisation that is committed to the promotion, management and development of Oxfordshire as a great destination to live, work, visit and do business whilst improving growth and productivity across the visitor economy. The DMO provides essential business advice and support to visitor economy businesses across Oxfordshire. 
Contact:

Name: Anne-Marie Hicks
Email: press@experienceoxfordshire.org
Call: 01865 686433