Oxfordshire MPs show support for the Visitor Economy on Constituency Day as part of English Tourism Week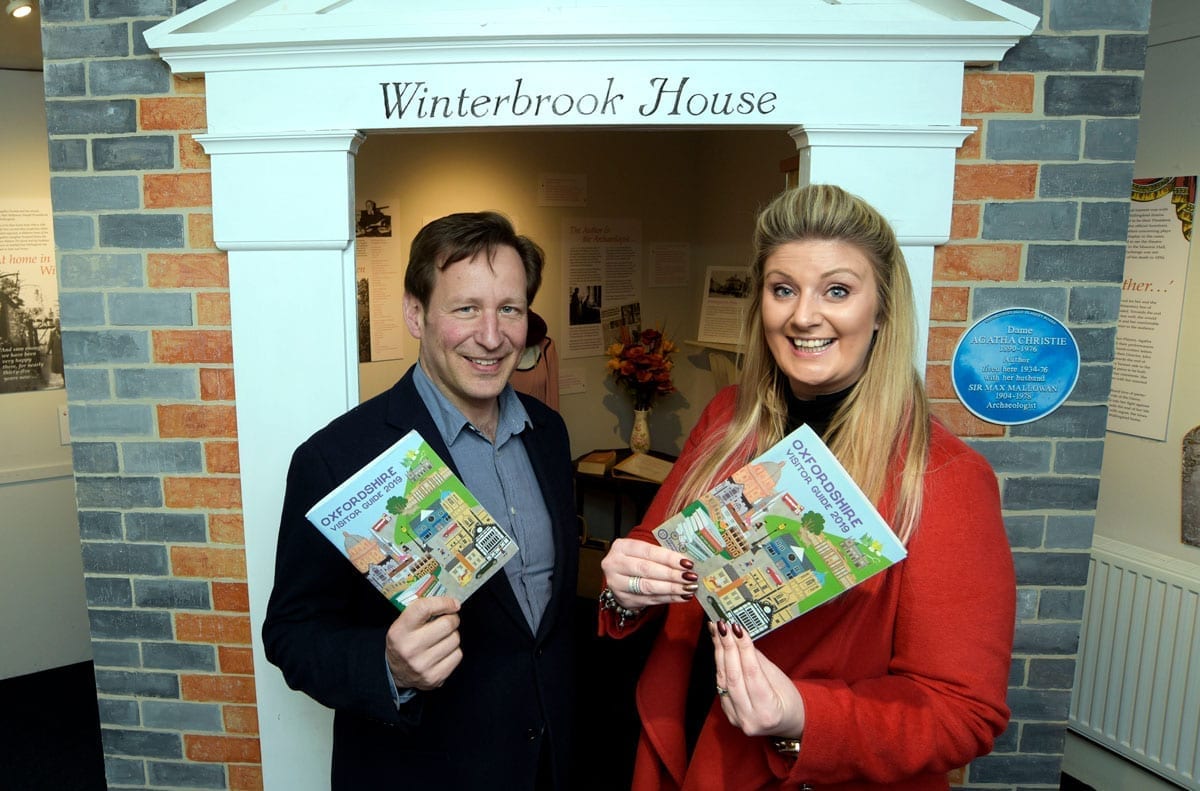 Oxfordshire MPs welcomed visitors to Oxfordshire on Friday 5th April at tourism businesses throughout the County as part of VisitEngland's national English Tourism Week
Organised by Experience Oxfordshire, the Destination Management Organisation for the County, MPs visited businesses including Waterperry Gardens, Harcourt Arboretum, Wallingford Museum, Hook Norton Brewery, Cogges, Stonor Park and The Oxford Artisan Distillery to see the investment being made to improve the welcome to visitors as Oxfordshire prepares for the main tourist season.
In  South Oxfordshire, Ed Vaizey, MP for Wantage and Didcot met up with Experience Oxfordshire Chief Executive Hayley Beer-Gamage to tour Wallingford Museum. Mr Vaizey said:
"It was lovely to visit Wallingford Museum once again.  It is a real treasure for Wallingford, full of wonderful artefacts linked to the town's long and illustrious history, and it is all the work of an amazing team of dedicated volunteers. It was a pleasure to be accompanied by Experience Oxfordshire, during English Tourism Week, and to hear about how much they are doing to promote Oxfordshire as a tourist destination and the exciting new Oxford Pass. "
John Howell MP for Henley-on-Thames took a tour of Waterperry Gardens' planting and preparations for the coming season with Simon Buchanan, Steward of Waterperry Estate. He then continued to Harcourt Arboretum to meet Professor Simon Hiscock, Director of the Botanic Gardens & Harcourt Arboretum to hear plans for a new visitor centre and enhanced family facilities, before heading to nearby National Trust property, Nuffield Place, former home of William Morris, to discuss the importance of visitor attractions to locals as well as tourists.
"I was delighted to visit Waterperry Gardens, Harcourt Arboretum and Nuffield Place to celebrate English Tourism Week on Constituency Day. These local attractions are very important to the Henley constituency visitor economy and it was fantastic to learn about how these businesses are working to increase their appeal to visitors in the future."
Meanwhile Robert Courts, MP for Witney, was practicing his pour behind the pumps at Hook Norton Brewery, while taking a tour of the brewery.  He reported:
"I greatly enjoyed my visit to Hook Norton Brewery, which showed me how the Brewery is a valuable local attraction, a thriving local business, and an important contributor to the Oxfordshire visitor economy. The fascinating visit was a fantastic way to celebrate English Tourism Week, and I very much enjoyed the experience."
In Oxford, Anneliese Dodds, MP for Oxford East visited The Oxford Artisan Distillery, and was treated to a special tour and tasting by founders Tagore Ramoutar and Cory Mason, and discussed exciting plans for a new visitors centre and restaurant on the site. She said:
"It was wonderful to visit The Oxford Artisan Distillery, and understand the care and craft that makes this organisation and its products so uniquely 'Oxford'.  Their plans  to attract more visitors from further afield make TOAD an exiting new addition to Oxfordshire's visitor economy, and I am very happy to have been able to celebrate English Tourism Week with them."
Oxfordshire welcomes 29.9 million visitors every year with the sector employing 1 in 10 jobs in Oxfordshire and has an overall value of £2.17 billion. Speaking about the importance of improving the visitor welcome and increasing the value of visitors to Oxfordshire, Hayley Beer-Gamage, Chief Executive at Experience Oxfordshire, said:
 "We are delighted to see such high profile political support from MP's across Oxfordshire as part of VisitEngland's English Tourism Week to highlight the work that Experience Oxfordshire and our Partners have been doing to make the city and county a more welcoming place for visitors and residents. The investments being made in new visitor facilities, improving accessibility and promoting family-friendly activities, are all great examples of Oxfordshire tourism businesses working to encourage and enable the exploration of our cultural treasures across the county by local people and visitors alike."
ENDS
NOTES TO THE EDITOR:
Photographs are available at:
https://drive.google.com/open?id=1QMp7tkOqI5kAQvzVVDpDtH_ASBbl8Ewb
Please see Photo Info.txt for names of those appearing
For more information contact:
Hayley Spore
Phone: 01865 686435
Email: press@experienceoxfordshire.org
Experience Oxfordshire
Experience Oxfordshire is the official Destination Management Organisation (DMO) for Oxfordshire. We are the trading arm of the parent charity, the Experience Oxfordshire Charitable Trust, and are a not-for-profit partnership organisation that is committed to the promotion, management and development of Oxfordshire as a great destination to live, work, visit and do business.
www.experienceoxfordshire.org/partner

VisitEngland's English Tourism Week
Taking place in spring each year, English Tourism Week campaigns to raise the profile of the industry and celebrate the value and quality of tourism in England. The campaign provides the tourism industry with a vehicle to kick-start the season and promote local tourism products. Everyone can participate in the campaign, from accommodation providers, attractions, tourist information centres and destinations, to related sectors such as hospitality, transport or retail.
www.visitbritain.org/english-tourism-week
Waterperry Gardens
Made famous by Beatrix Havergal who established her School of Horticulture for Ladies here from 1932 to 1971, it's now home to 8 acres of beautifully landscaped ornamental gardens, a quality plant centre and garden shop, gallery and gift barn, museum and teashop. The gardens are open all year round (except from Christmas to New Years Day), 10am to 5.30pm between March 1st and October 31st and 10am to 5pm in the winter.
https://www.waterperrygardens.co.uk
Harcourt Arboretum
Harcourt Arboretum is a satellite of Oxford University's botanic garden, near the village of Nuneham Courtenay and comprises some 150 acres. William Sawrey Gilpin (1762–1843), the artist and later landscape designer, laid out the pinetum, which forms the core of the arboretum. The trees are now mature, with giant redwoods and monkey-puzzle trees.
https://www.obga.ox.ac.uk/visit-arboretum

Wallingford Museum
Wallingford Museum is a colourful, delightfully intimate and family friendly local history museum, housed on two floors of a medieval oak-beamed building in the heart of Wallingford in Oxfordshire. The museum features The Wallingford Story – a walk through time from the Romans and Saxons to the Civil War, including a miniature re-creation of Wallingford's huge royal Castle, and a Victorian Street Scene with walk-in Shop, Pub, Workshop & Workhouse peepshow.
http://www.wallingfordmuseum.org.uk/
Nuffield Place
Nuffield Place reveals the surprisingly down-to-earth lives of Lord Nuffield, founder of the Morris Motor Company, and his wife. Their home and personal possessions are just as they left them, the decor and furnishings intact. From the comfortable sitting room with a small black and white TV, to Lord Nuffield's humble bedroom with a secret built-in workshop, this intimate home exudes the tastes and interests of its remarkable owner.
https://www.nationaltrust.org.uk/nuffield-place
Hook Norton Brewery
Hook Norton is one of only 32 family owned breweries and is the finest example of a Victorian Tower Brewery in the country, producing a fantastic range of award-winning beers. At the brewery we have a shop, Malthouse Kitchen Cafe, free museum and meeting rooms. Brewery tours take place 7 days a week and last approx 2 hours.
https://www.hooky.co.uk/visit-us/
The Oxford Artisan Distilery
The Oxford Artisan Distillery welcomes visitors for a behind-the scenes-experience where they can discover the principles of their approach to distilling and follow the production processes which make TOAD craft spirits so special. Visitors will get the opportunity to really see what goes into the spirits, everything is very visible and it's a perfect environment to truly understand grain to glass craft distilling.
https://www.spiritoftoad.com/tours
Stonor Park
Family home of Lord and Lady Camoys and the Stonor family for over 800 years with a 13th Century chapel with earlier origins, built on the site of a pagan stone circle. The house was built in the late 12th Century and developed until the mid 18th Century. It contains many family portraits, notable paintings and drawings, bronzes, sculptures and tapestries. A sanctuary for St Edmund Campion in 1581, an exhibition features his life.
Cogges
Cogges is a Scheduled Ancient Monument with over 1000 years of history, with Grade II* Listed 13th century manor house and 17th century farm buildings. Discover the fascinating story of past owners ranging from Norman knights, English Kings, Oxford University college founders to tenant farmers and wool merchants, with links to Witney's historic wool and blanket trade.