Spring Menu Update: Three New Dishes from Sri Lankan street food resturant, The Coconut Tree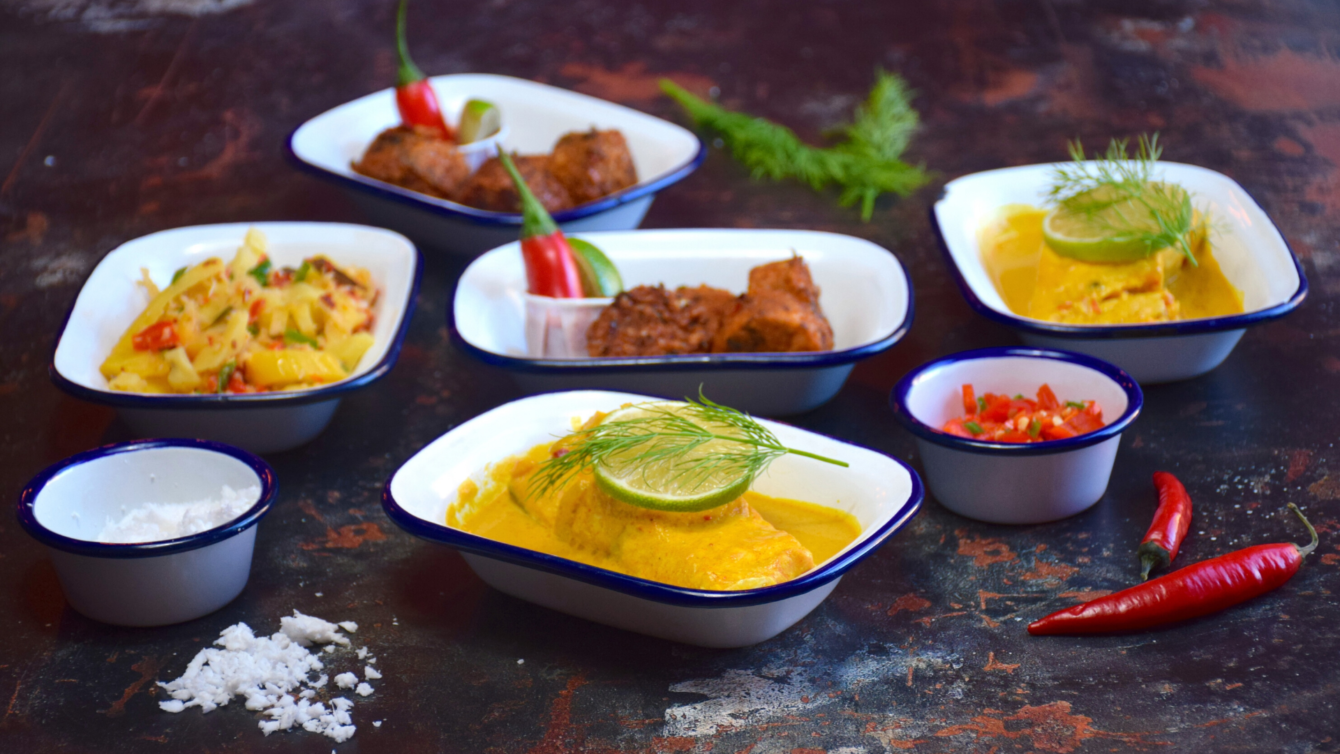 Pioneering independent Sri Lankan restaurant group The Coconut Tree will introduce three new street food inspired dishes to their menu this spring. Available from 1st April 2022, the new dishes add to the ever popular existing menu, which is naturally abundant in meat, fish and vegan options.
Isso Wade (GF) £4.80
Madly popular in Colombo, these crispy prawn fritters with warm spices and lentils pack a punch. Great for dipping into our Sri Lankan curries.
Kos Mallum (GF) (VG) £5.20
A vegan treat – tender Jackfruit is stir fried with fragrant chillies, garlic & onion.
Salmon, say whaaat? (GF) £8
The Coconut Tree specialises in authentic street food with the occasional seasonal twist – like this one; a take on the UK's favourite fish, the salmon takes on coconut milk infused with garlic, onion, turmeric, curry leaves & chilli.
The new dishes will be on offer at the group's nine restaurants, based in Cheltenham, Bristol, Oxford, Cardiff, Bournemouth, Reading, Bath – and when it opens later this week, Birmingham.
What else is on the menu at The Coconut Tree?
In recent years, Sri Lankan food has been having a moment, with The Times identifying it as a key food trend. The Coconut Tree's take on the cuisine is made up of smaller tapas-style plates including 'Hot Battered Spicy Cuttlefish'; 'Hoppers' – bowl shaped coconut pancakes served with sambal & Sri Lankan Salsa; 'Cheesy Colombo' – cheese cubes fried and mixed Colombo style; and 'Black Pork' which consists of diced pork belly cooked in 30 roasted spices.
Larger sharing dishes include their signature 'Devilled Dishes' – meat or fish cooked in spices, then stir fried with traditional banana peppers and finished off with crushed chillies (their own secret recipe!). Finally, their 'Kotthu' is a fine example of a local hybrid and served all over the country as a luxurious street food. It's made with finely chopped rotti and cooked with egg, vegetables and / or meat.
All of the vegan dishes at The Coconut Tree can be viewed on their dedicated 'ROOTS' menu, available to view here.
The Coconut Tree also recently unveiled a new cocktail menu; featuring 18 'Cocotails' in total, the revamped range includes seven brand-new cocotails, along with updated recipes for some of the restaurant's most popular drinks. For more information, visit: https://www.thecoconut-tree.com/cocotails.
The Coconut Tree aims to bring everyone on a journey through Sri Lankan street food and exciting botanical 'Cocotails', all served in a laid-back ambience. Everyone is welcome to the table.
Good Food. Good People. Good Times.
ENDS
For Press Enquiries
Jane Cook: hello@talktojanepr.co.uk
NOTES TO EDITORS:
Website: www.thecoconut-tree.com
I: thecoconuttreeuk
T: @CoconutTreeUK
F: TheCoconutTreeUK
The Story So Far
The Coconut Tree is more than just a bar and restaurant. They are a family. Take a handful of Sri Lankan boys, a couple of others along the way – watch them invest everything back into the business as they 'shape Sri Lankan eats in the UK'!
THE COCONUT TREE MANTRA
Don't expect a napkin, it's a roll of paper towels;
Do expect an explosion of flavours in our dishes and sweet and fiery cocktails;
Do expect candles in half coconuts;
Don't expect a massive food bill, but do expect to spoil yourself with drinks;
Do expect warm Sri Lankan hospitality – and don't expect the volume to stay down for too long!
Highlights & Awards
• Bath Life Awards, Best Restaurant – Finalist 2022
• Cardiff Life Awards, Best Restaurant – Finalist 2022
• Bristol, Bath & Somerset Tourism Awards – Finalist and Silver WINNER – Best Casual Dining 2022
• Bristol Life Awards – Winner – Best Bar 2021
• VIP Caterers at the British Grand Prix at Silverstone & Henley Royal Regatta 2021
• Cardiff Life Awards – Finalist – Best Restaurant 2021
• Bristol Life Awards – Finalist – Best Restaurant 2021
• So Glos Awards – Winner – Best Restaurant 2020
• Bristol Life Awards – Finalist – Best Restaurant 2020
• Ox in a Box Awards – Finalist – Best Veggie / Vegan Restaurant 2020
• The Vegetarian & Vegan Awards – Finalist – V Friendly Restaurant of the Year 2020
• Cardiff Life Awards – Finalist – Best New Business 2020
• Restaurant Magazine R200 Awards – Finalist – Best UK Operator 2020
• MTM Awards – Finalist – Best Restaurant 2020
• Gloucestershire Live – Winner – Best New Gloucestershire Business of the Year 2020
• International Icon Awards – Finalist 2019
• Bath & Bristol Crumbs Magazine Awards – Finalist 2019
• Bristol Life Awards – Winner – 'Best New Business' & Finalist – 'Best Bristol Business' 2019
• Bristol Life Awards – Winner – 'Best New Business' & Finalist – 'Best Bristol Business' 2019
• OpenTable – Winner – Diner's Choice Award 2018 (Oxford & Cheltenham)
• Soglos Lifestyle Awards – Winner – Gloucestershire Restaurant of the Year 2018
• Cotswold Life Magazine – Finalist – Customer Service Award 2018
• Cheltenham Business Awards – Winner – Best Restaurant and Bar Sept 2018
• Observer Food Monthly Awards – Runner Up – Best Cheap Eats in the South West 2017 / 2018
• Taste of Gloucestershire Food & Farming Awards – Winner – The People's Choice Award, Best Restaurant 2017/2018