Ten things to do in Oxford this Christmas to get in the festive mood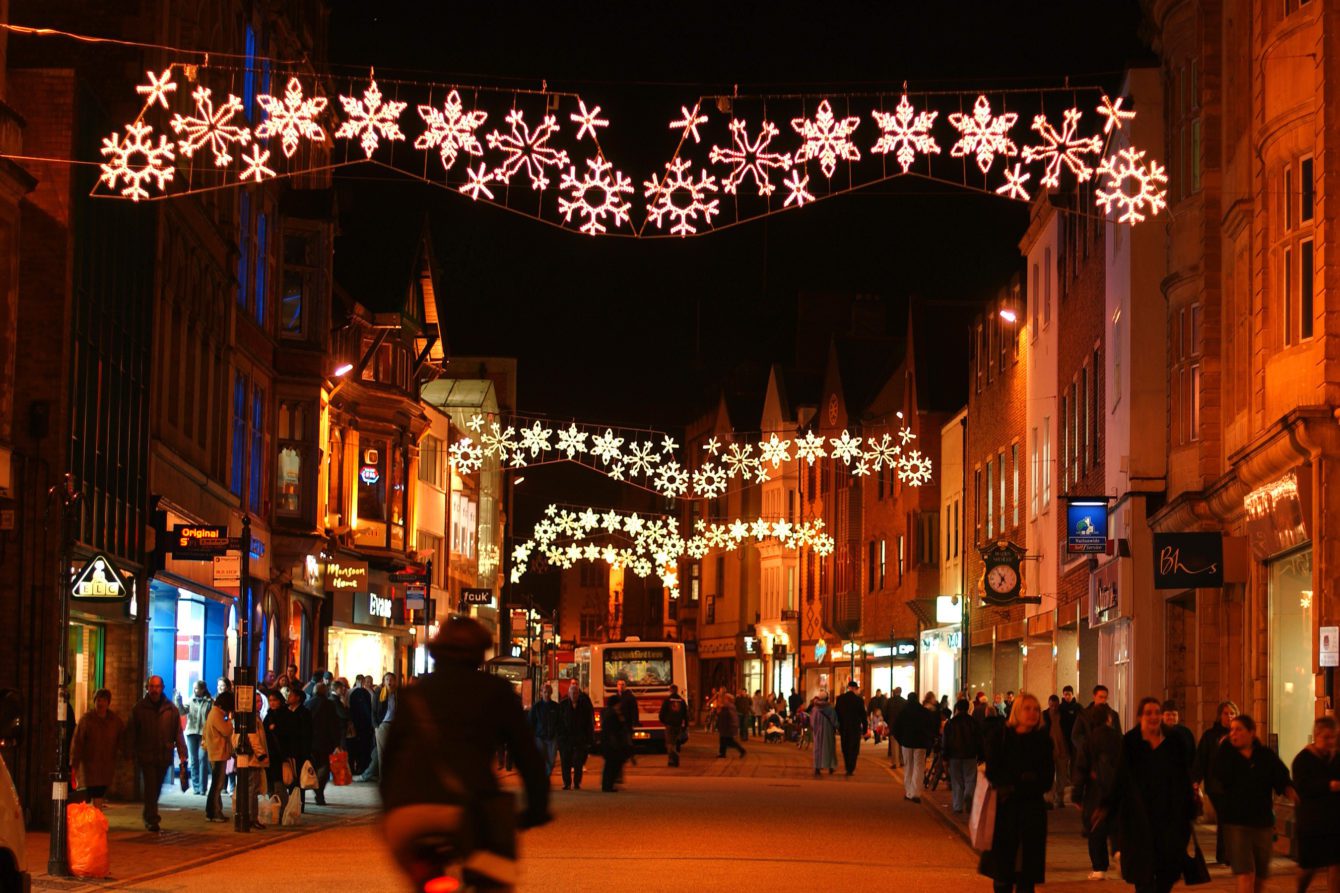 Oxford city centre is hosting an array of activities to help get residents into the Christmas spirit in the coming weeks.
As the nights draw in the city will come alive to family friendly events including Christmas wreath making, pantomimes, story walks, Santa's grotto and sparkling markets.
Oxford City Council has launched an Alice in Wonderland themed campaign to encourage residents to visit the city in the run-up to Christmas. To help residents get the most out of their trips to Oxford it has listed 10 magical things to do and see in the city this year.
"Oxford is particularly wonderful at Christmas and our city really offers something for everyone. We hope the packed programme of activities will encourage people to visit Oxford and support our local economy."
– Councillor Susan Brown, Leader of Oxford City Council
The City Council's 10 things to do in Oxford this Christmas guide:
1. Robin Hood
The Oxford Playhouse Pantomime is back – oh yes it is! From Saturday, 27 November, until Sunday, 9 January, get ready to cheer on Robin Hood and his band of Merry Men and Women as they find a way to outwit the wicked Sheriff of Nottingham.
Tickets are available from £15 and can be purchased via www.oxfordplayhouse.com or by calling 01865 305305.
2. Oxford Christmas Arts Market
Taking place on 4 and 5 December and in the iconic setting of Broad Street. The market will feature many local artists, design-makers and selected guests. The Oxford Arts Market is delivered by Boffy Arts Market in partnership with Oxford City Council and Oxfordshire Arts Partnership. For more information, visit: www.boffyartsandevents.com/events
3. Festive fixtures
We're not short of quality sport in Oxford. And all three of our city's flagship teams will be in action during the festive season.
Oxford United are at home to Wigan Athletic on Saturday, 18 December, at the Kassam Stadium before Oxford City Stars ice hockey club host Invicta Dynamos at Oxpens later that evening. Oxford City Football Club will provide a perfect excuse to get out on Boxing Day when hosting Slough Town.
4. Christmas Wreath making!
What better way to celebrate the spirit of Christmas than creating your own festive wreath to proudly display or share as a gift?
On Wednesday, 8 December, floral designer Lyn Oswin will show you how to create a traditional wreath using foliage, dried flowers, seed pods and fir cones at Oxford Botanic Gardens. Complimentary mulled wine and minced pies will be provided.
Book your spot on the Botanic Gardens' website.
5. Christmas Carols with Oxford Harmonic Choir
Join Oxford Harmonic Choir for a joyful musical celebration of Christmas at the Sheldonian Theatre on Saturday, 27 November, from 7.30pm.
The programme will consist of two uplifting choral compositions with music by Manfredini and Alessandro Scarlatti. A selection of traditional Christmas carols will be weaved into the harmonious sequences in a wonderfully romantic setting.
Tickets for the show are available on the Sheldonian Theatre's website.
6. Oxford Christmas Market
It's not Christmas if you don't visit a festive market, right? Returning in 2021 after last year's restrictions, Oxford Christmas Market is back on Broad Street from Thursday, 9 December.
Our city of dreaming spires will be filled with festive joy with the sound of choirs, market traders offering unique handmade gifts, colourful decorations and an aroma of mulled wine and cinnamon. The market will be open until Sunday, 19 December.
For more information, visit: www.oxfordchristmasmarket.co.uk.
7. Home In Time for Christmas
If you are looking for a festive performance for the little ones, look no further than Oxford Playhouse's Home In Time For Christmas for audiences aged 3+.
This relaxed performance runs from Thursday, 9 December, until Friday, 31 December, and sees Kayla and her teddy bear travel the world on one epic adventure. Tickets are available to book now via www.oxfordplayhouse.com and available from £8.50.
8. Narnia Story Walk
A magical tour of Oxford which tells the story of The Lion, The Witch and The Wardrobe is being hosted by Oxford's Story Museum between 5 December and 19 December.
This friendly story guide is suitable for children aged 3+ and will follow a pathway to the grounds of Oxford Castle, the perfect setting for retelling the dramatic events of the White Witch's palace. If you're lucky, a certain Father Christmas might provide a gift too.
Tickets are priced £5 per person and can be purchased on The Story Museum's website.
9. Believe – Santa's Magical Reindeer Grotto
This is your chance to meet the real Santa Claus and one of his helpful reindeer, named Norbert!
Open from Friday, 26 November, until Christmas Eve at Westgate Shopping Centre, visitors to Santa's Grotto this year will be able to make reindeer food and receive a wrapped gift from Santa before the big day.
Inclusive relaxed sessions are also available for any families with special requirements. Visit Westgate Oxford's website to book your spot and find out more information.
10. Christmas at Christchurch
Celebrate Christmas at Oxford's iconic cathedral with a selection of festive music, carols and readings on Wednesday, 15 December, and Friday, 17 December.
Christ Church's world-renowned choir will sing a range of music centred on the Christmas message under the expert direction of Steven Grahl. Actors Antonia Christophers and Noel Byrne will also deliver some thoughtful readings.
ENDS
Notes to Editor
Contact details
Email: pressoffice@oxford.gov.uk (Please note that any replies directly to this Press Release will go to an unmonitored inbox. Please contact email address provided)
Phone: 01865 252096
About us
Oxford City Council is the democratically-elected local authority for Oxford.
In partnership with others, we provide a wide range of services – including planning, housing, community centres, parks and waste collection – for approximately 152,000 residents, 106,000 people who work in Oxford and the millions of people who visit our world-famous city every year.
We have set four key priorities, all of equal importance and all interconnected:
• to enable an inclusive economy, where everyone has access to sustainable business and employment opportunities
• to deliver more affordable housing, including a new generation of council homes to help meet our acute housing shortage
• to support thriving communities, reducing the stark inequality between our city's richest and poorest residents
• to tackle the climate emergency by pursuing a zero-carbon Oxford
Our vision is to build a world-class city for everyone.
Oxfordshire has a two-tier system of local government, which means services are provided by two different councils. Oxford City Council provides local services for the city, while Oxfordshire County Council is responsible for strategic, countywide services such as roads, schools and social care.