Thames Travel Improve Services at Didcot Parkway Railway Station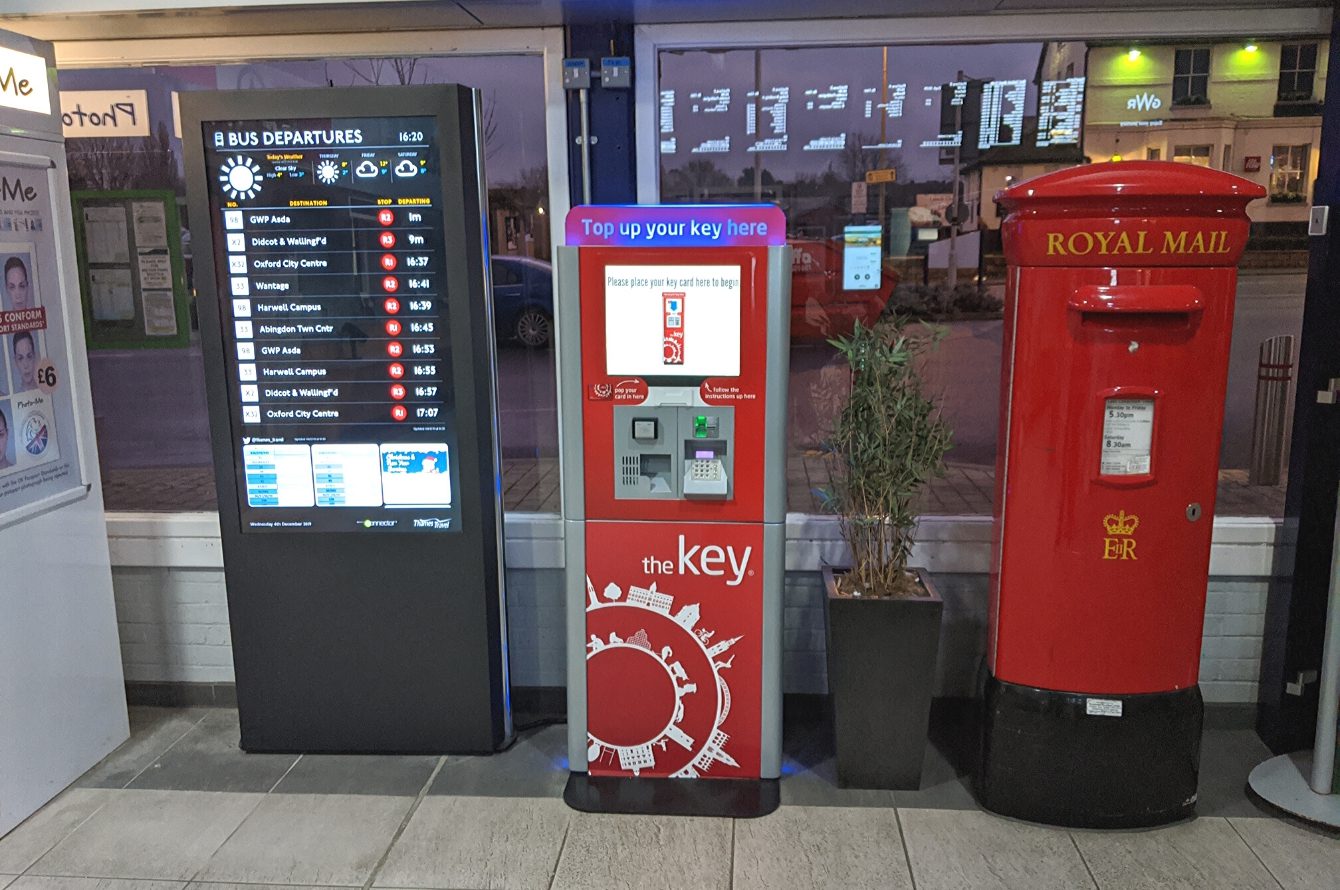 Thames Travel passengers now have access to live bus travel updates and a key card top up machine at Didcot Parkway railway station, thanks to an investment in digital services.
A large digital departure screen and card payment and the Key top-up machine have been installed in the station forecourt. This has been made possible thanks to a joint £51,000 investment by Thames Travel and Great Western Railway, through their Customer and Communities Improvement Fund.
In the past year over 400,000 passengers have travelled to and from Didcot Parkway via a Thames Travel bus. Thames Travel expects the number to double over the coming years as part of the continued growth of Didcot. The investment in the digital services is designed to enhance the customer experience and support this continued growth.
Phil Southall, Thames Travel Managing Director, said: "Didcot is a fast-growing Garden Town and Thames Travel is committed to continuing to support its growth and provide a first-class transport network for the community. This shared investment by Thames Travel and GWR provides improved services for passengers and helps facilitate increasing use of multi-modal public transport.
"Many people use both bus and train to complete their journeys via Didcot Parkway and we're pleased to be working in increased partnership with GWR to provide a more joined up approach to improving services for our mutual customers."
Didcot Station Manager Claire king said: "We at GWR recognise only too well the vital role that rail plays in the local and the national economy. In December last year we transformed our train services in the biggest timetable shake-up since 1976, offering faster and more frequents journeys, and providing better connections for customers travelling from Didcot. We understand the importance of the journey to our station at Didcot and making it easier for passengers to choose a joined up rail and bus journey.
"I am delighted that, alongside our colleagues at Thames Travel, we have been able to further enhance our offering to passengers through our Customer and Communities Improvement Fund, supporting the local communities we serve."
Thames Travel is based in Didcot, Oxfordshire and is the third largest bus operator in the county. It serves South Oxfordshire and into Berkshire, carrying 3M passengers per year.