Thames Travel provide new Oxford United match-day bus service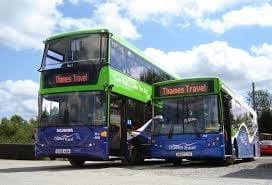 Thames Travel in partnership with Oxford United is launching a new 'Football Special' match-day bus service connecting fans in Didcot and Abingdon to the Kassam Stadium.
 The new OX2 football service will run from Didcot to the Kassam Stadium via Great Western Park, Steventon and Abingdon and return after the match. To launch the service Thames Travel is offering free travel on the OX2 for the opening home game of the season when United host Peterborough United on August 10. 
 The OX2 will run for all weekend and bank holiday league matchdays this season. It is the first time a dedicated bus service has been provided to connect Didcot and Abingdon to the Kassam Stadium.
 The new route strengths Thames Travel's Football Specials service with the OX3 and OX7 confirmed to continue this season. The OX3 and OX7 services bring fans to and from United home games from Carterton, Brize Norton, Witney, Eynsham, Botley, Kidlington, the Banbury Road, Summertown, Marston and Headington.
 Phil Southall, Managing Director of Thames Travel, said: "As partners of Oxford United we are pleased to be able to expand our league match-day Football Special service to help more supporters attend matches and support their local club. Since we stepped in to help the club with match-day bus services the relationship has developed and we're looking forward to the new season. We are offering fans free travel to and from the Kassam Stadium for the opening league game to provide them with an opportunity to try the service."
 Mick Brown, Oxford United Football Club Secretary, said: "This is great news for supporters in Didcot and Abingdon and surrounding villages. We have a lot of supporters in these areas and it is great that they now have a means to attend home league games via public transport.
 "We are grateful to Thames Travel for its support, they stepped in three years ago when we were struggling to make match-day bus services financially viable to continue after a previous operator withdrew. The club underwrites the cost of the buses in case passenger numbers are lower than required and is able to do this as a result of generous donations made to the club by many supporters who use the bus service.
Since then the relationship has gone from strength to strength. Thames Travel have been flexible and proactive, and it means better services for supporters. We need supporters to use the service to make it work and I'd encourage people to get behind it as much as possible."
The OX2 fares are:
 Didcot Centre / Parkway / Great Western Park – Adult Single £5.00 / Adult Return £7.50
Steventon – Adult Single £4.50 / Adult Return £7.00
Drayton – Adult Single £4.30 / Adult Return £6.50
Abingdon – Adult Single £4.00 / Adult Return £6.00
 Child fares will be half the adult fares and concessionary pass holders can use the buses free of charge by presenting their pass to travel.