West Oxfordshire MP meets with Experience Oxfordshire to Discuss Sector Performance and Future Plans for Recovery at the Macdonald Bear Hotel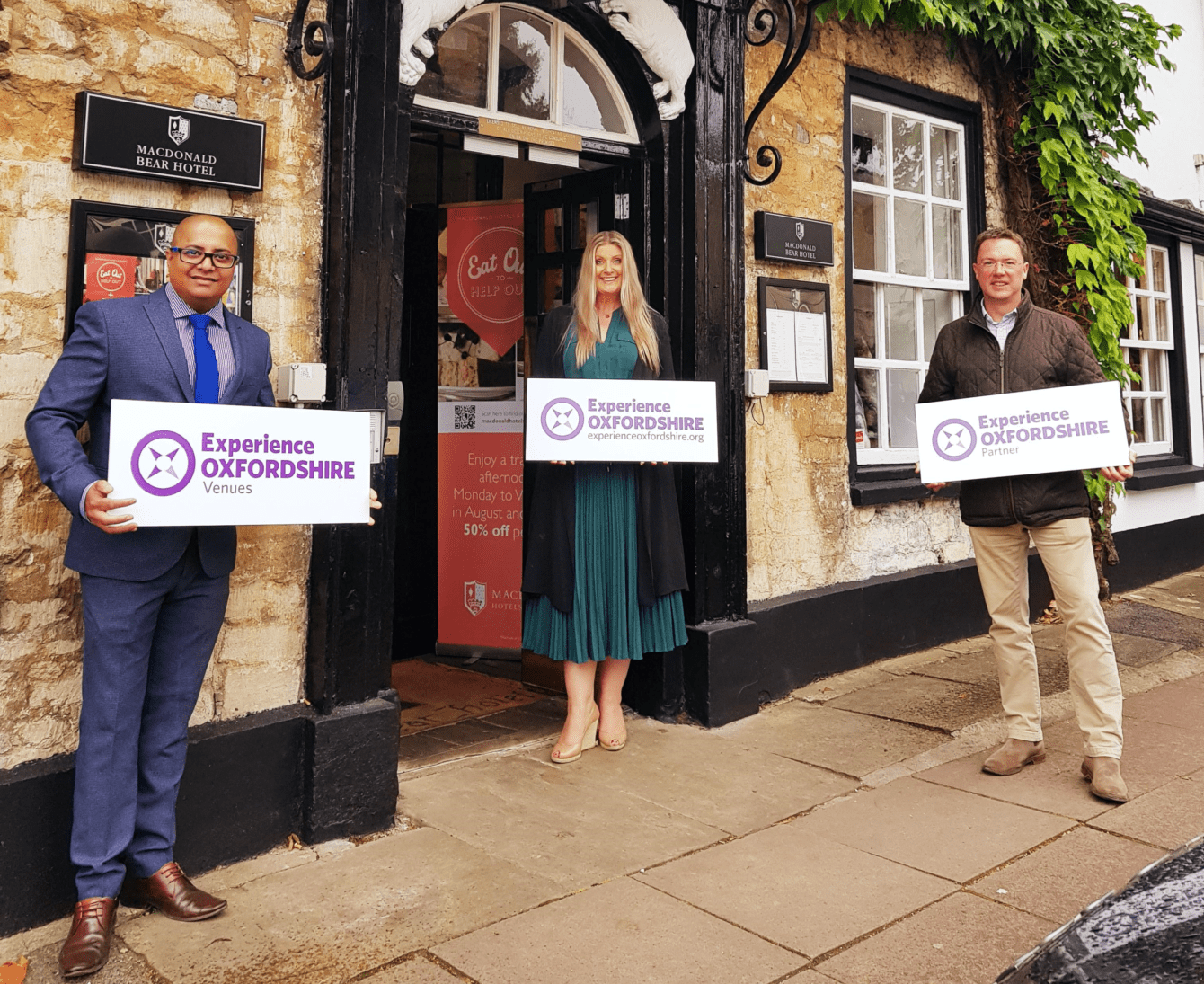 Experience Oxfordshire Press Release
For immediate release: 28/08/2020
www.experienceoxfordshire.org/partner
This week Experience Oxfordshire, the Destination Management Organisation (DMO) for Oxfordshire, arranged for Robert Courts MP to visit The Macdonald Bear Hotel in Woodstock ,in his constituency of West Oxfordshire, to discuss how business has been since re-opening post lockdown and the impact of the Governments 'Eat Out to Help Out Scheme'.
The Oxfordshire MP was given a tour of the hotel by General Manager Raj Chakraborty where the fascinating history and heritage of the building was discussed along with its charm that attracts so many visitors to not only Woodstock, but also Oxfordshire.
It was an opportunity to discuss how business had been and how businesses were adapting to welcome visitors back, alongside feedback on government initiatives to date and hopes for the future. Experience Oxfordshire also used this as an opportunity to feedback how businesses locally from across the sector were performing and stress the importance of DMO leadership in visitor economy recovery and planning.
Speaking about the visit Robert Courts MP stated: "I was delighted to be able to visit another hospitality business in my constituency and see the great work that the Macdonald Bear Hotel has undertaken to reopen safely. The energy and enthusiasm from Raj was infectious and we all want to see businesses in this sector thrive again. I was also pleased to hear that government initiatives had been helping. During the visit I welcomed the opportunity to discuss wider visitor economy issues, both locally and nationally, with Experience Oxfordshire. The expertise, knowledge and insight from the DMO is vital to help plan and inform future recovery for this important sector."
Raj Chakraborty welcomed Robert Courts MP to the hotel and hosted the visit, he commented: "It was a pleasure to welcome our local MP to the Macdonald Bear Hotel and have the opportunity to discuss how business has been since re-opening and the adjustments we have made to welcome visitors back safely. It has been a challenging time for the industry and the government support has been appreciated, the 'Eat Out to Help Out' scheme has worked particularly well for us in boosting our restaurant business​​. I would like to thank the team at Experience Oxfordshire for arranging this visit and for all their help and support during this pandemic."
Experience Oxfordshire continue to work hard on behalf of Oxfordshire's visitor economy to ensure that the importance of the sector is not forgotten and Chief Executive of the organisation Hayley Beer-Gamage commented: "It is important that we continue to raise the profile of our visitor economy – one that is worth £2.3billion a year to the county and supports 40,000 jobs locally. With the impact of Covid-19 stretching far and wide and signs of a slow recovery we must continue to lobby our government to recognise its value. It was another welcome visit from the West Oxfordshire MP and opportunity to fly the flag for our industry and our partners. The team at Experience Oxfordshire will continue to do all that we can to support businesses at this time".
Experience Oxfordshire are continuing to gain insight locally on the impact of Covid-19 across the visitor economy and feed it back locally and nationally as all areas of tourism, hospitality, retail, arts culture, transport and events need to be supported so the sector can recover and thrive again. The DMO is also undertaking a range of proactive and sensitive marketing and promotion activity to encourage residents and visitors back to Oxfordshire. The organisation is keen to work with as many businesses as possible across Oxfordshire and for information on becoming a partner, please emailpartnership@experienceoxfordshire.org  or visit www.experienceoxfordshire.org/partner
***ENDS***
For more information contact:
Email: press@experienceoxfordshire.org  / james.knowles@experienceoxfordshire.org
NOTES TO THE EDITOR:
Experience Oxfordshire is the official Destination Management Organisation (DMO) for Oxfordshire. We are the trading arm of the parent charity, Experience Oxfordshire Charitable Trust, and are a not-for-profit partnership organisation that is committed to the promotion, management and development of Oxfordshire as a great destination to live, work, visit and do business and improving growth and productivity across the visitor economy. The DMO provides essential business advice and support to visitor economy businesses across Oxfordshire.
www.experienceoxfordshire.org/partner
The results of the Experience Oxfordshire Covid-19 business impact study can be found here https://www.experienceoxfordshire.org/partner/partner-benefits/research-and-insights/ 
Robert Courts MP is the Conservative MP for Witney and has been an MP continuously since 20 October 2016. He has always shown an interest in the visitor economy locally and used this opportunity during summer recess to engage with businesses.
https://www.robertcourts.co.uk/
The Macdonald Bear Hotel is one of the finest 4-star hotels in Oxfordshire and offers a beautiful slice of luxury in the heart of the countryside. Set in Woodstock, in what was once a 13th century coaching inn, our hotel combines history and culture with exceptional facilities. With direct access to the historic city of Oxford, our hotel is a popular choice for leisure breaks, business and weddings.
https://www.macdonaldhotels.co.uk/our-hotels/south-england/woodstock/macdonald-bear-hotel