A Fabric Focus for February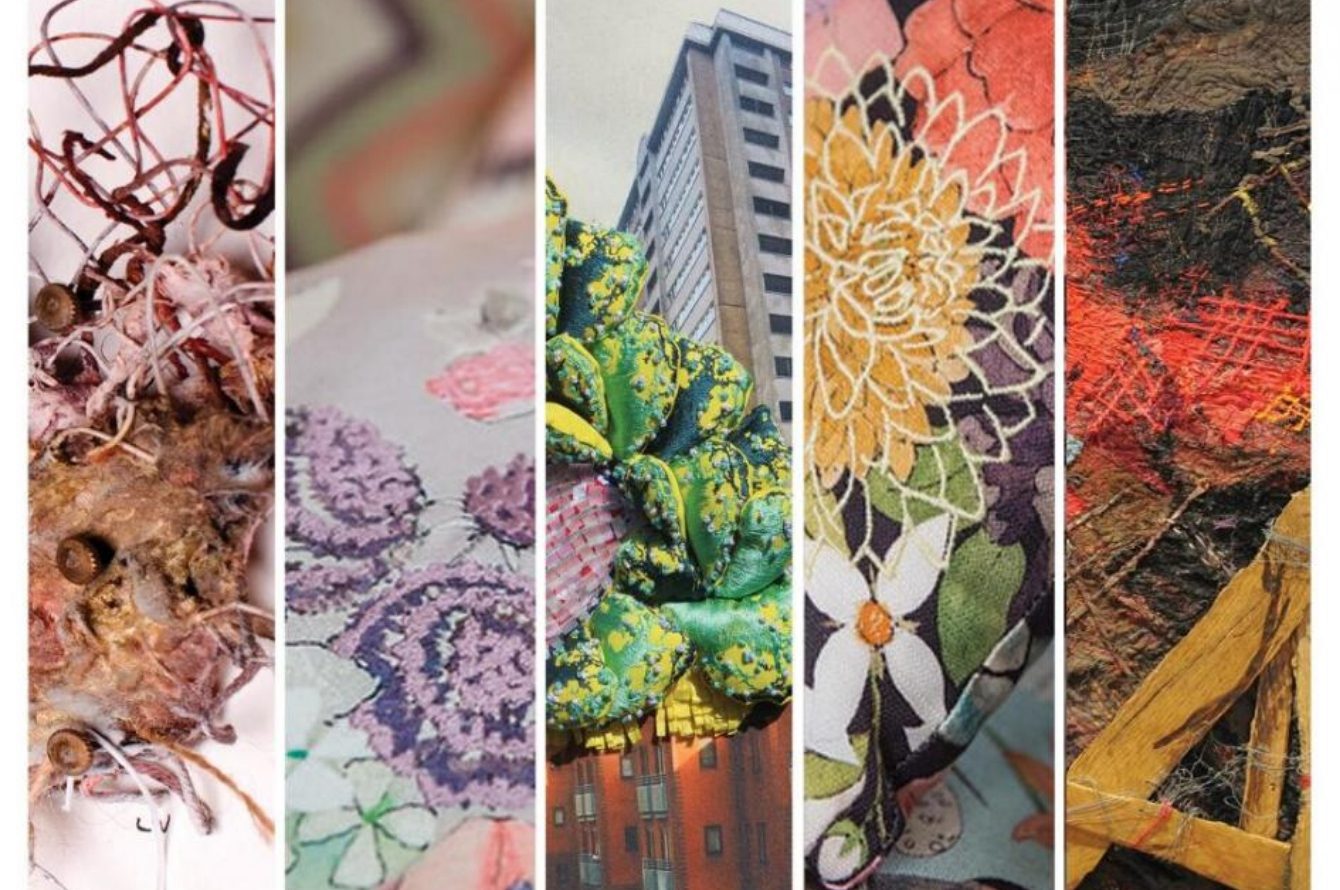 The art in Oxfordshire encompasses The Natural World and human endeavour within it as Oxfordshire Artweeks' Esther Lafferty picks five places to be wowed, inspired and provoked this month, and finds a fabric-focus for February.
In the Cotswold Town of Witney, the SOTA Gallery is presenting a collective exhibition of British Wildlife by SOTA artists in a range of media – from paint and textiles, to ceramics and sculpture. There are majestic owls, and a perky puffin, fish spilling from a metalwork beak, spirited mice, hens, and a sleeping fox, curled with created from earthenware clay by Kate Ellis who gives each unique 'talking-point' textures are created with lace, icing cutters and other objects, that add an interesting pattern to the creatures fur. A second fox sits bright-eyed in fabric, one of twelve characters from squirrel and badger to hedgehog and hare, by textile artist Barbara Shaw who gathers many scraps of fabric together in layers to produce unique textured collages that are all are gloriously coloured and look like impressionist paintings from a distance. "The range of fabric I use includes patchwork cotton, silk, chiffon, lace and sparkly pieces, which give life to my work and for the viewer a fascinating palette of marks and shapes when seen close up,' she explains. 'I stitch using a grey or beige thread: the randomness of the lines and knots are visible and become part of the picture; frayed edges add the softness and subtle shading of the natural world."
Local countryside, flora, fauna and the water are on show in a second Oxfordshire exhibition this month which draws on the rich collections of the Ashmolean Museum. In Henley's River and Rowing Museum, Art of the Wild: Gertrude Hermes and the Natural World features innovative prints influenced by Hermes' enduring fascination with the natural world. Her love of nature is evident in all of the works displayed – from Jazz Age wood engravings of birds, fish and flowers to her monumental coloured linocuts of the 1950s.
In Oxford, The North Wall celebrates the human form through the photography of Colin Jones, a British photojournalist who he began his creative career dancing with The Royal Ballet. This dancer-turned-photographer focused his lens on fellow dancers as his subject matter, capturing hardworking bodies and backstage drama. The rarely-seen backstage images show not just the emotional intensity and beauty of ballet but also reveal the sustained physical exertion and discipline of a dancer's life. The exhibition includes photographs of Britain's iconic ballerina, Margot Fonteyn in the 1960s and 1990s English National Ballet star Tamara Rojo.
It is the human hand that New York-based Chilean artist Johanna Unzueta, sees as tools in Modern Art Oxford, as she explores labour's technological, historical and social impact on the human condition and its relationship to nature. She combines elements from Chilean craft techniques, natural tinting processes and repetitive mechanised movement to explore the human dimension of tool-making and industrial manufacturing processes, highlighting the humanity in the industrial. This exhibition, Tools for Life, features a large-scale felt sculpture of interlocking cogs based upon her own body dimensions, a collection of simple hand-made garments, a film shot at a textile factory in Chile, a wall mural and a series of brightly-coloured geometric drawings inspired by naturally occurring oval an circular patterns. It serves as a prompt to consider the unseen human actions and the exploitation used to produce the objects and technologies in our everyday lives.


In the village of Middleton Cheney near Banbury, regional artists present Tactile Fusion, an exhibition in which the varied pieces in show draw on both traditional and contemporary textile methods in an eclectic range of mixed media (runs only until 12th). They include fabric designs for interiors; hand stitched embroidery and mixed media inspired by history and archaeology and is interpreted through; eco printing and felt making; and striking sculptural pieces combining ceramics and metalwork with a raw natural quality.
British Wildlife: various artists (From 8th – 29th February)
SOTA Gallery, 11 Langdale Court, Witney OX28 6FG
Art of the Wild: Gertrude Hermes and the Natural World (From 7th Feb – 4th May)
River and Rowing Museum, Mill Meadows, Henley-on-Thames RG9 1BF
Backstage at the Ballet (From 11 Feb – 7 March)
The North Wall Arts Centre, South Parade, Oxford OX2 7JN
Johanna Unzueta: Tools for Life (From 8 Feb – 10th May)
Modern Art Oxford 30 Pembroke St, Oxford OX1 1BP
Tactile Fusion: various artists (Runs until 12th Feb)
Heseltine Gallery @Chenderit, Archery Road, Middleton Cheney, Banbury OX17 2QR
The Art Blog is written by Esther Lafferty of Oxfordshire Artweeks.