Unique Oxfordshire Art in December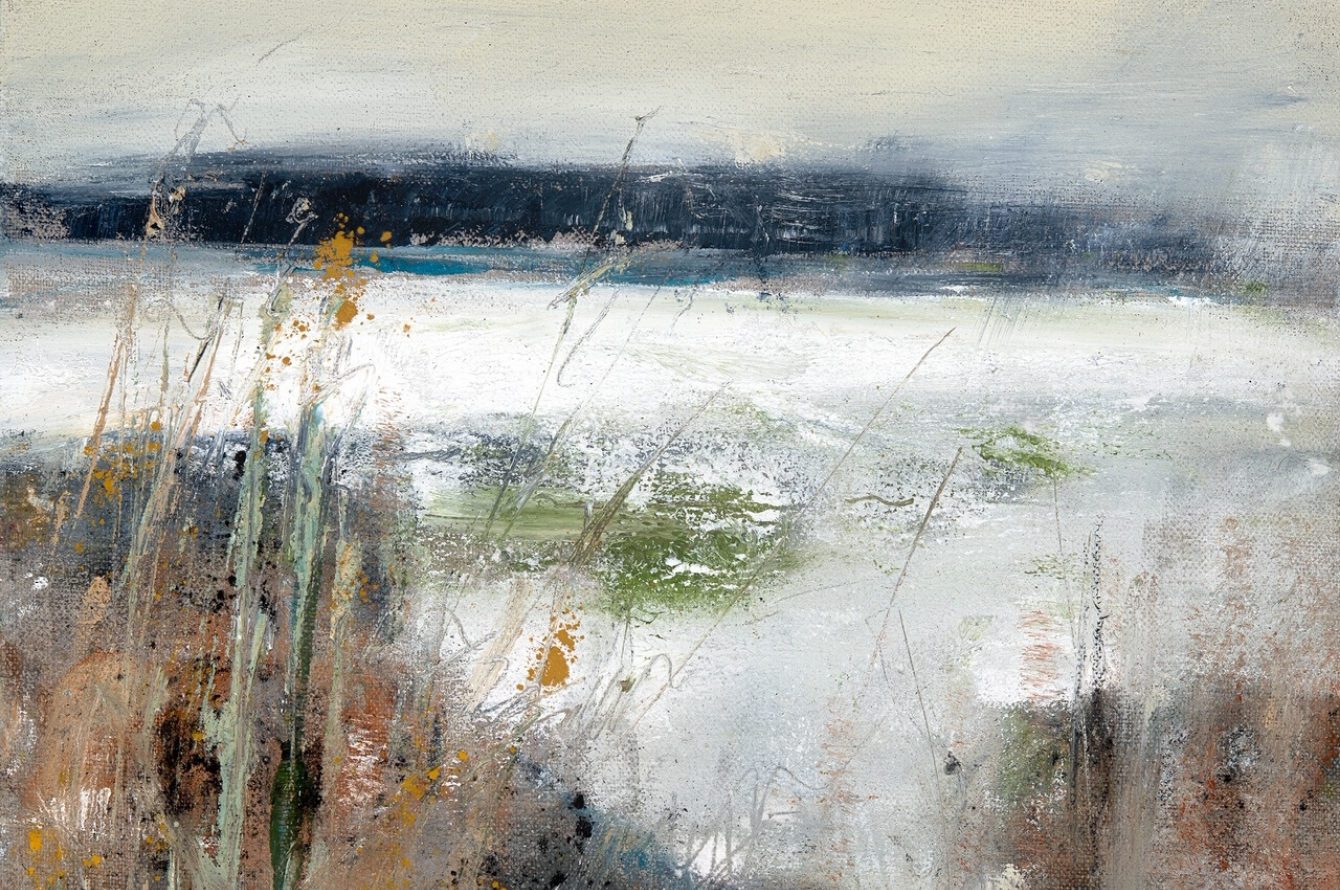 As Christmas draws closer, there's great art to see across Oxfordshire and, away from the High Street, Artweeks artists' venues offer both peaceful sanctuary and unique gifts created locally. And there's something special about an original piece of art, jewellery, pottery or wood which is truly one of a kind, hand-crafted with a rare imagination and skill. You will never see another just like it and not only does the piece personify the individuality of artist, your own character shines through your choice too.
A number of artists are holding their own open studio/pop-up exhibitions this coming weekend and throughout December. Head to Lower Heyford for a pop-up sale by Fleur Enser, for example, whose striking pots put the party on any table or visit ceramicist Laura Murphy in her new Ayres House studio in Wallingford. In Oxford Sophie Basilevitch is hosting a small exhibition of her enchanting bold linoprints in South Oxford. "I take inspiration from the Oxfordshire countryside and beyond, and in most of my images include traditional stories, fairy tales and beliefs about animals that people have created to make sense of the world around them. I want to remember the links we have with nature, and show the importance of animals to us now," she explains.
It is the natural world that has inspired the paintings in The North Wall on show throughout December as Jane Duff presents Wildsong. Originally a linguist, Jane's love of the world around her and an interest in geography had led her to study Environmental Conservation: she teamed this passion for the natural world with artistic talent and a painting style that is relaxed, intuitive and expressive: the results speaks volumes about the wildness she finds in the places she visits, whether far flung or at our feet, the ecological value of these special places and the emotions that visiting them evoke. This exhibition includes several large seascapes, the abandon of the waves below the rugged cliffs of Devon, Cornwall and Pembrokeshire, and a series showing the Welsh moors and the Rhinog ranges, one of the 'wildest' areas in Britain.
"You can also discover a sense of wildness in Oxfordshire," she continues. "Oxfordshire has a gentle yet complex landscape with a wide variety of habitats  – from the Chilterns beech woods to heathlands, chalk downlands , fens and wildflower meadows abutting our rivers; the Cherwell, Thames, Evenlode and others. It's a fantastic county to live in, as we have great well-protected nature reserves and Sites of Scientific Interest with good biodiversity and that wonderful a sense of  wildness. The exhibition is called Wildsong to reflect the cry of nature. Art has a part to play not only in reminding people of the beauty of the landscape but highlighting the importance of protecting our habitats and their  biodiversity." She explains.
Just a few hundred metres away, the Sarah Wiseman Gallery, also on South Parade, Summertown, presents "Winter Lights", an array of wintry landscapes and atmospheric skies, a seasonal exhibition with an emphasis on the romance of the winter countryside and the beauty in a winter walk.
Dawn Stacey's textile-inspired paintings are layered with various techniques to achieve a beautifully softly-lit atmosphere while Daniel Ablitt's atmospheric landscapes are influenced by travel experiences and childhood with dreamlike qualities that evoke his love of wandering through the woods. The light brushwork of Daniel's misty scenes seems to glow with diffused light, suggesting the magic of getting lost in nature. Alongside, visitors can enjoy contemporary watercolours by Kate Evans which depict remote farm-buildings, mountains and snow-scenes and, the craft highlights, a new collection of work by Janine Partington in which the atmosphere of a walk through the British countryside delicately carved into leather paneland glass art by Helen Slater.
In the city centre, in the new contemporary art gallery Carey Blyth on Woodstock Road, an exhibition in a wintry palette showcases fresh fractal landscapes by Rosie Caldecott and Andrew Walton's latest series of Otmoor-inspired paintings whilst Oxford University's Harris Manchester College, are hosting a Christmas show of woodfired ceramics and linocut prints. On Ship Street, the pop-up Ronapainting gallery  features work on paper by surrealist painter Desmond Morris, author of The Naked Ape,  alongside his young protegé Chase Marsden whose detailed colourful art contrasts with that of portrait artist Rona. The exhibition moves seamlessly from monochrome – and the infamous oil painting of the Bullingdon Club class of '87 featuring both David Cameron and Boris Johnson, available as a teatowel for that unusual political Christmas gift – to Morris's colourful and expressive characters.
This month too the Oxfordshire Craft Guild (OCG) brings together their array of extraordinary talent in a glittering exhibition in The Oxfordshire Museum in Woodstock (free admission). The selection of pieces on show have been created from all manner of materials – elemental iron and clay, silver and sumptuous textiles, wood and glass in the joyful bold colours of Christmas decorations. Each piece – whether a necklace or a treasure box, a bowl or a clock picked from the cheerful scattering of stars The exhibition includes jewellery by new OCG member, Loretta Dwane, whose stunning collection of silver jewellery is constructed with intersecting orbits and tiny accents of gold that are evocative of planets. Whether you are sophisticated and elegant with a preference for classy organic hues or an unashamed colourist with a magpie's delight in a touch of sparkle there'll be something to tempt you. The colourful selection by Graham Lester is a perennial favourite, the vibrancy of the plastics he uses to create crisp modern bowls and vessel set against wood to great effect. Above, a second string to his bow of many talents, the 'station poster' paper sculpture has an undeniable wow factor for anyone who hasn't yet discovered his wall art.
Other pieces to catch the eye include a peach-pink vase flecked with gold by glass artist Anne Arlidge that oozes glamour on a plinth, proud above the rest of the display like a million-dollar film-star sashaying along a red carpet, the lip of the vase a stylised collar from a vintage catwalk. There are also animals and birds aplenty, in media from delicate embroidery to a veritable menagerie in clay by ceramicist-sculptor Jill Collier and giant jugs by Jeanne Jackson and Andrew Hazelden of Yarnton Pottery, their respective toucans and bold orange octopus offering a touch of the rainforest or Atlantis for your living room.
Where to enjoy great art this month:
Jane Duff: Wildsong (runs until 7th January)
The North Wall, South Parade OX2 7JN
Winter Lights (runs until 31st December)
Sarah Wiseman Gallery, 40-41 South Parade, Summertown, Oxford OX2 7JL
Wintry landscapes by Andew Walton  (curated by Jenny Blyth; runs until 24th December)
Carey Blyth, 8 Woodstock Road
Desmond Morris, Chase Marsden and RONA (runs until 24th December)
RonaPainting Gallery, Ship Street, Oxford
Christmas exhibition: woodfired ceramics and linocut prints (runs until 19th December)
Harris Manchester College, Mansfield Road, Oxford OX1 3TD
The OCG Christmas exhibition (runs until 29 December)
The Oxfordshire Museum, Park Street, Woodstock OX20 1SN
You can find out more about Artweeks artists and where they are exhibiting at www.artweeks.org
The Art Blog is written by Esther Lafferty of Oxfordshire Artweeks.