3 Top Spots For Enjoying Summer Art in Oxfordshire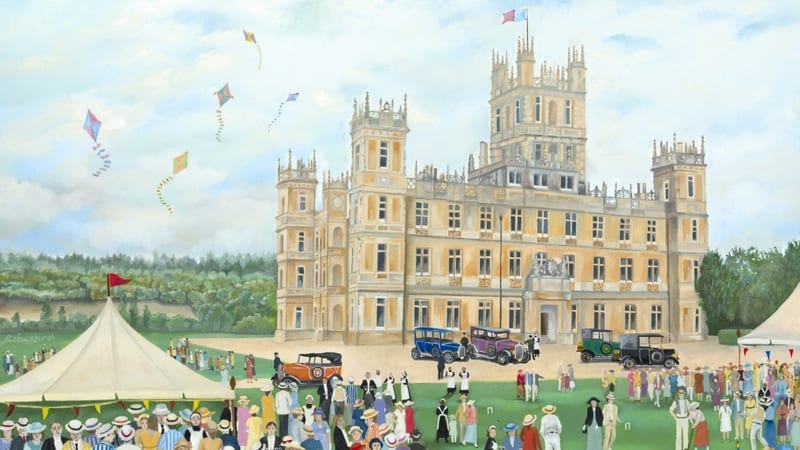 As the sun beams down on Oxfordshire, there's nothing more pleasurable than a stroll through a county garden – and you can visit the grounds of stately homes in Bampton's West Ox Arts Gallery (until 21st July) where painter Pip Shuckburgh presents her exhibition 'Beyond Downton'. Well-known for her scenes of setting from TV series Downton Abbey, this is a chance to explore her other work.
Pip's paintings also include colourful circus scenes. "I always wanted to be a theatre designer, and spent many happy hours as a child making sets for a theatre my Father had made for me," she explains. "I think this way of seeing the world comes through in my oil paintings where I choose a striking backdrop and then add life, people and activity at the front." Interestingly, Pip alternates between painting these richly populated paintings and others that contrast entirely and convey a flavour of solitude. These might be a single house in a bleak landscape, a line of repeating topiary, or an oil refinery that has become almost abstract. "When I have finished a busy scene, it's almost as if I need to retreat from the people in my painting just as you do in real life after a party or a trip to London," Pip muses.
Over in Oxford's North Wall Arts Centre, in an exhibition Storytelling Revisited (runs from 20th July until 16th August), painter Alan Kestner also sees his detailed works almost as theatre productions pinned in a moment of time, each rich with imagination, narrative and humour. Each picture tells a thousand words, a tale that appears only once he has put paintbrush to the palette. 'I start off with a great big sheet of paper, and add blobs of colour and indistinct lines at the beginning,' he explains, 'and then it's almost as if I look into it like a crystal ball, and piece by piece the picture appears, grabbing my imagination and taking it further, and over the few months it takes to complete the painting, the story emerges.'
As a child, Alan loved myths, legends and fairy stories, the German Struwwelpeter cautionary rhymes and traditional tales from Russia and Eastern Europe which were harsher than the softened versions that children hear today. 'I've always loved children's books,' says Alan, 'because I love the combination of illustrations and story.' His pictures are surreal, captivating and fun at first glance, but look again and you see that despite their apparent peace and restful palette there's often a hint of disaster hanging over the characters, just as there might be like the real world or a message to discover. It's up to the viewer to allow their own thoughts to develop from the picture in front of them and complete the narrative, and with the array of suggestions and themes in this exhibition, there's a whole world to explore.
Childhood is a theme that appears down the road in the Sarah Wiseman Gallery in this month's exhibition 'The Garden' (runs until 28th July) in which artist Sarah Lacey, seeing the world through her young daughter's eyes, has sought to depict the garden as a place of play and discovery. In every garden is a slightly abandoned patch – behind the shed or underneath a hedge, where there's chance of glimpsing the mythical things that adults can no longer see or understand.
Sarah's work is largely influenced by natural and rural history and literature, and a childhood spent holidaying in the Scottish western highlands instilled in her a life-long love of nature, reading and myth. In each of her small pen and ink drawings, she documents motherhood, early childhood or small things that have caught her imagination.
These charming pictures are a perfect counterpoint to the jewel-like simplicity of Sarah Spackman's still life paintings which often feature allotment produce celebrating the symbiotic relationship between grower and artist. 'Making a garden has been almost the first thing I have done when I have moved to a new place. It is like painting with plants I suppose,' she explains. 'They all create different forms and colours throughout the year and the spaces in the garden develop as things grow. Sometimes the planting doesn't work and you have to dig things up and move them around. It's a slow organic process!'
Some place to see good art this month:
Pip Shuckkburgh: Beyond Downton (until 21st July)
West Ox Arts Gallery, Town Hall, Market Square, Bampton OX18 2JH
Alan Kestner: Storytelling revisited (until 16th August)
The North Wall Arts Centre, South Parade, Summertown, Oxford OX2 7JN
The Garden: various artists (runs until 28th July)
Sarah Wiseman Gallery, 40-41 South Parade, Summertown, Oxford OX2 7JL