Art in Oxfordshire this October – the cool & the quirky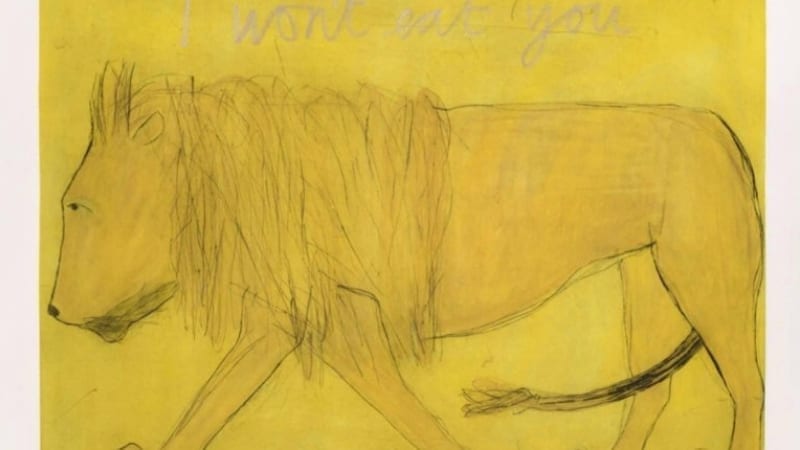 As the nights draw in and inclement weather can make the great outdoors less inviting, there is an absolute abundance of great art to discover in cool and quirky art spaces – from buildings on stilts to hidden cloisters – across Oxfordshire this month.
In the Town Hall Gallery above the arches in Deddington's historic town hall, Wychwood Art are hosting a new Autumn Exhibition including contemporary landscape with touches of gold by Lorraine Thorne, and art by Sabina Pieper along with the popular Kate Boxer. Sabina works on paper, a medium well suited to capture a fleeting idea and, as if in an exquisite game of hide and seek, she creates pieces that immediately draw you in, yet keep you looking. The central figures are powerful women, keenly wrought, who share the frame with creatures and objects from the exotic to the ordinary. Whilst these pictures hold your eye steady and draw you in, the etchings of people and animals by popular printmaker, Kate Boxer has a vitality and immediacy and you feel that if you look away and look back they'll have altered their pose. Look out for her limited edition lion who promises 'I Won't Eat You'!
In an equally historic town hall to the west of the county in Bampton, where Oxfordshire countryside rolls towards the Cotswolds Area of National Beauty, West Ox Arts presents Curvilinear (until 13th), a curveball of an exhibition that combines by Ceramics by sally Dorrity and photography by Tracy Florance, the two very different bodies of work complementing one another with surprising effect. This is followed by an exhibition by Artweeks artist Andrew Forkner whose illustrations of birds and animals, from local wildlife to big cats, that hang upon the walls are reproduced in natural history books for the coffee table.
In the city of Oxford, the Oxford Art Society's large September exhibition runs until 18th October in the magnificent cloisters of St John the Evangelist Church on the Iffley Road. Around the four sides of this striking Oxford quadrangle, a hidden space into which it is a privilege to be invited, you can enjoy the work of dozens of local artists, many of whom have been inspired by Oxfordshire life and countryside.
There's another very exciting mixed artist exhibition that shouldn't be missed this October – 'The Great Divide' – Oxford's First Celebration of International Street Art. Work from urban artists from around the world is on show in OVADAs cavernous warehouse gallery, with an accompanying series of events featuring visual art, film, music and performance. Curator Tommy Watkins notes that in a city famous for educating the elite political classes better known for making, rather than breaking the law, the ever-evolving, current nature of street art directly challenges the status quo and the exhibition addresses current political issues that are dividing people globally and creates a narrative around how we can come back together in the face of division.
The exhibition features work from over 60 artists including 'Ferizuku', of Columbia, who references how violence against the poor is silenced by corrupt politicians in his home country; 'Subdude', of the London street art scene, delivers an unapologetic view on Brexit; and 'JDK' of Chicago conveys the atrocity of children being separated from parents through strict policies on asylum seekers crossing the US border. Pressing environmental issues are also addressed by artists such as 'Stelleconfuse' of Italy, who encourages his audience to be mindful of the importance of taking care of Mother Earth, while 'Polar bear' of Paris cautions the world that elephants are getting closer to making the endangered species list with a visual wake up call.
In North Oxford, the Sarah Wiseman Gallery in stylish Summertown is hosting 'Flux', a solo exhibition of work by figurative painter Clare Bonnet's exhibition 'Flux' from the 13th October, a series of paintings that are alive with energy, keyed into powerful ideas that explore Clare's relationship with femininity. Clare is best known for her figurative paintings, semi-abstract female forms with mostly broad, simplified brushstrokes, placing the figure in ambiguous, sparse interiors and juxtaposing fine details with strong, clearly defined lines and large areas of solid, vibrant colour. In light of the current re-charged feminist discourse, Clare has sought to explore and interpret women's constantly evolving roles in society. With this new focus, alongside refining her painterly technique, her new work has reached exciting new developments. 'We [as women] have learnt to adopt a wide range of personas to manage and advance our personal development in response to an outmoded social framework,' she explains, 'whether it's a sexual persona or a 'female' friendly persona, or a career version of ourselves, we flex and morph on a daily basis – at times completely unconsciously. I am inspired by historical painting and contemporary themes', she says. 'Although I don't consider myself a portrait artist, portraiture interests me because it is uncompromising – there is a self-possession to it that gifts the viewer with an insight rather than offer a range of interpretations. I paint women because authenticity is important and I experience the world through a female body – therefore my paintings are speaking on my behalf of my experience.'
And across the road – in another quirky space accessed through an archetypal 1960s library which is sheltered enough to brave whatever the weather – the Turrill Sculpture Garden presents 'I See' Sculpture by Rolf Hook (from 6th Oct). It seems counter-intuitive but some of the glorious features of wood cannot be enjoyed outside without a risk of deterioration. Rolf's connection with wood and the wood he uses, however, is indefatigable. He sees the precious beauty of the living tree and will never fell one for his art; instead, he uses wood from trees that have naturally fallen. He explores the aesthetics of shape, form, texture and colour and his work reflects nature's innermost beauty. He works in hardwoods such as ancient oak, yew and sweet chestnut to produce tranquil stylised heads and portraits that look as if they belong in the landscape – or are they Lord of the Rings or Groot from Guardians of the Galaxy? – and will endure the elements as well as sculptures with rustic, featherlike carving to evoke wings that collect rainwater and become natural birdbaths.
Head over the road to the white square gallery of The North Wall where wood is a key element for The Society of Wood Engravers who are opening their national touring exhibition here in Oxford with a selection over one hundred wood engravings, woodcuts and linocuts made by artists as near as Summertown to as far away as Russia and America showcasing an amazingly diverse range of styles and interpretations, and whether traditional or experimental in approach, these prints all have one thing in common: an all show and astonishing level of virtuosity and intensity, exquisitely rendered.
Back out and about around the county, the Thame Art Crawl offers a mini art trail in the style of Artweeks from the 18th-20th October and includes wonderful contemporary graphics by James Taylor, and windswept landscapes by Janine Philips, striking ceramics by Fleur Ensur and so much more in pop-up art spaces throughout this Oxfordshire town. And there will be more open studios and pop-up art spaces across the whole county next month as Oxfordshire Artweeks artists present their Christmas Season.
Great places to see art in Oxfordshire this month:
Wychwood Art's Autumn Exhibition (until 24th Nov)
Upstairs Gallery, The Town Hall, Market Place, Deddington OX15 0SE
Tracy Florance and Sally Dorrity: Curvilinear (until 13th Oct)
Andrew Forkner: Wildlife portraits (20th Oct until 10th Nov)
West Ox Arts Gallery, Town Hall, Market Square, Bampton OX18 2JH
Oxford Art Society (until 14th September)
The Cloister Gallery, St John th Evangelist Church, Iffley Road, Oxfor4 1EHd OX
The Great Divide – International Street Art (runs until 28th Oct; Thu-Sun only)
OVADA, 14A Osney Lane, Oxford, OX1 1NJ, UK
Clare Bonnet: Flux (until 10th Nov)
Sarah Wiseman Gallery, 40-41 South Parade, Summertown, Oxford OX2 7JL
I see: Sculpture by Rolf Hook (until 10th November)
Turrill Sculpture Garden, South Parade, Summertown Oxford, OX2 7JN
The Society of Wood Engravers (until 27th October)
The North Wall Arts Centre, South Parade, Summertown, Oxford OX2 7JN
The Thame Art Crawl (18th-20th October)
Thame town centre – various venues
For more information on nearly five hundred venues taking part in the Oxfordshire Artweeks festival and artist trails in towns and villages, visit www.artweeks.org.