From Far-Flung Landscapes to the Mind's Eye: Art in Oxfordshire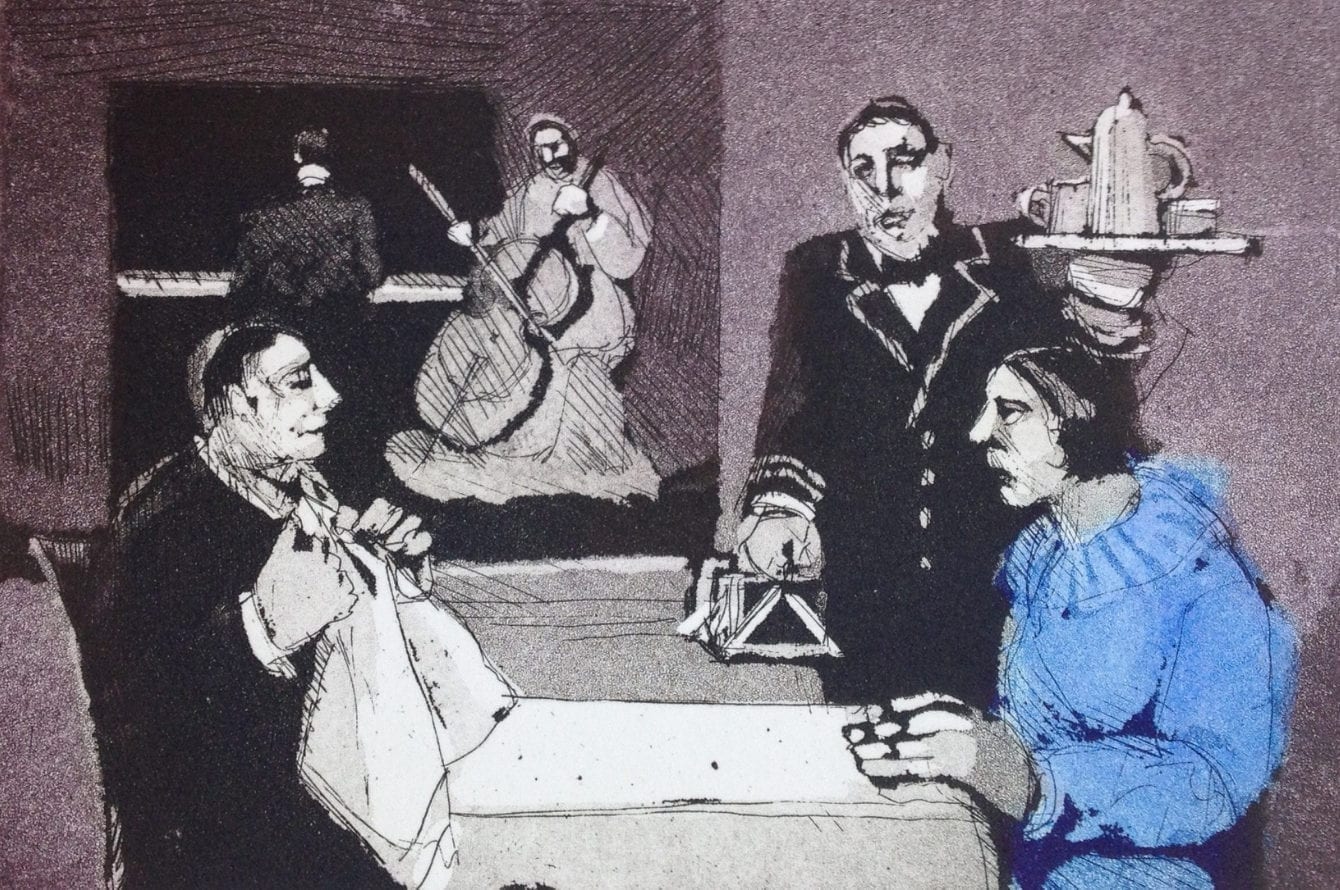 Line and Light is an exhibition of ceramics and life drawings presented by Gaby Guz with  photographs by Rob Farrands, in The Barn Gallery, St John's College, Oxford, the result of a winter time collaboration between two artists using three media (runs from 9th-24th). Gaby uses line and light to capture the fleeting poses she likes to draw to convey the essence and emotion of a subject in the brief time that a dynamic pose allows. Her ceramic vessels are largely monochromatic, with bold black and grey lines spreading across egg-shell like pale surfaces. Rob's photographs honour the soft, reduced light of the winter solstice. He has shot directly into the light (often including the sun) and dealt with the resulting technical challenges to produce work with strong monochrome tones. His compositions are intended to arouse both a memory of winter's darkness and the promise of the coming spring.
There's photography too in Radley College's Sewell Gallery where you can take a contemporary  photographic and film journey, Contemplating Arabia, curated by Lizzie Collins of Zuleika Gallery which pairs a Save The Children artistic initiative 'Hotel Zaatari' with mid-twentieth century photography by Wilfred Thesiger (1910-2003).  Thesiger is considered one of the most renowned travellers and photographers of all time and the photographs in the exhibition are on loan from the permanent collection of Oxford's Saïd Business School.  In the 1950s, Thesiger lived in southern Iraq among the Marsh Arabs, sharing their traditional way of life, their arched reed buildings and travelling fearlessly from village to village by canoe: his historic pictures give an engaging picture of an independent people untouched by the modern world in stark contrast to those of award-winning contemporary photographers Anthony Dawton and Jim Mcfarlane which show the refugees of the now infamous Zaatari camp on the Syrian/Jordanian border.
Also taking you on a journey into past, this month Summertown's Sarah Wiseman Gallery presents work by Karólína Larusdottir, who sadly passed away in her native Iceland last month. Her prints and paintings are evocative of a childhood in the 1940s and 50s, filled with native customs and the characters who populated the first grand hotel in Reykjavik. The chefs and chambermaids or heavy-set people taking tea or soup are unsmiling, yet expressive and intense, and never dour, relating to one another as if in quiet understanding. It is as if the viewer is privy to a strange ceremony or gathering, where angels are occasionally present, scenes that are part of the mysterious world of adults and their subtle exchanges and inscrutable conversations as witnessed by a child.
Down the road, also on North Parade, visit the Turrill Sculpture Garden for Head First – an exhibition of sculptural pieces of the head in multiple styles and with many interpretations of the human face. During the first half of the twentieth century, realist portrait sculpture began to decline in popularity because of its reference to classical busts, to be superseded by modernist art trends and there was a movement towards non-realist, non-portrait works. Rodin taught that you don't need to show the exact likeness of a face but to convey the intensity and vitality of character, the multiplicity of faces in one face and this is the trend in the group of heads on show by The Lifers Sculpture Group, all students of the Sunningwell School of Art, from a tiny cellist lost in his own art to the beautiful 'Kanchen' bedecked with jewelry and a terrifying medusa-like creation. Other plaques and busts reveal not only the variety of human expression but of techniques and artistic imagination.
And for two-dimensional figurative paintings, head to Burford where Brian Sinfield Gallery opens a new exhibition, '10 Artists', on 23rd March (runs until 30th April) with an eclectic mix of art as they welcome new artists to their walls: these include Endre Röder whose stylized figurative painting add imagination to striking female faces and figures, dark-haired against colourful decorative interiors or the flowers of beautiful landscape, each looking sidewise with a sultry straight-face that makes you wonder what they are thinking and the untold story.
There's also a rich vein of artistic imagination In Oxford's Jam Factory Boiler Room Gallery, where Frank Cooper boiled the marmalade that made him famous. Here the LiterArties, a group of Oxfordshire writer-artists all of whom are passionate about are capturing creativity through different mediums, showcase many flavours of art – as varied as their writing genre.
Amongst their number, for example, artist Kay Jamieson, inspired initially by the landscape of her native New Zealand, hopes to capture some of the visual and spiritual beauty of the natural world in her harmonious landscapes, while  Karen French as both a mathematician and artist has always been fascinated by the patterns underlying life. Why are they there? What are they for? What do they mean? In her art Karen uses numbers, shapes, colours and even materials, considering their purpose as symbols in artwork, spirituality and the development of human consciousness, aiming to convey the magic of Alchemical Art to elicit various sub-conscious responses from the viewer.
Over in Cornerstone's Gallery, enjoy Mike England's world of visual enquiry, looking into abstraction, colour and texture in an inspiringly large scale (runs until 31st March) is also designed to evoke an emotionall response in the viewer. Drawing on his experiences of travelling and living in vibrant and inspiring places such as the Andalusian hills in Spain and the realism of London's Shoreditch, Mike has developed a style of large scale and abstract works that challenge the everyday way of seeing.
For landscapes that simply celebrate the natural world in rich colours and welcome the spring, over in The Gallery at The Theatre, Chipping Norton, painter Maureen Gillespie presents a  selection of art from her Vibrant, Serenity and Coastal collections. Inspired by nature, she captured the places she comes across on walks in the countryside or by the coast with a bold colour palette. Using a variety of methods & techniques, her gloriously uplifting vistas border realism and abstraction, each passionate and windswept, or rich and harmonious.
And last but not least, also in Oxfordshire's Cotswolds, the West Ox Arts Gallery in Bampton invites you to step into spring and enjoy an exhibition all about glass to add glow to a room or garden (runs until 30th): seven contemporary glass artists brings to light the diverse aspects of the medium ranging from stained to painted glass, fused and 3D as the artists show their tools, sketchbooks and processes alongside their pieces, a window into this fascinating art form.
Gabi Guz & Rob Farrands: Line and Light (runs from 9th-24th March)
The Barn Gallery, Kendrew Quad, St John's College, St Giles, Oxford OX1 3JP
Contemplating Arabia (runs from 8th-29th March)
Sewell Centre Gallery, Radley College OX14 2HR
Karólína Larusdottir (runs until 30th March)
Sarah Wiseman Gallery, 40-41 South Parade, Summertown, Oxford OX2 7JL
Head First (runs until 30th April)
Turrill Sculpture Garden, South Parade, Summertown Oxford, OX2 7JN
10 Artists (from 23rd March until 30th April)
Brian Sinfield Gallery, 127 The Hill, Burford OX18 4RE
LiterArties (runs until 16 April)
The Jam Factory, 4 Hollybush Row, Oxford OX1 1HU
Mike England (runs from 5 March – 31 March)
Cornerstone Arts Centre, 25 Station Road, Didcot OX11 7NE
Maureen Gillespie: Vibrant, Serenity and Coastal collections (runs until 18th March)
The Gallery at The Theatre, 2 Spring St, Chipping Norton OX7 5NL
Seven Contemporary Glass Artists (runs until 30th March)
West Ox Arts Gallery, Town Hall, Market Square, Bampton OX18 2JH
The Art Blog is written by Esther Lafferty of Oxfordshire Artweeks.
Oxfordshire Artweeks 2019 is set to be the UK's biggest ever open studios event.