From Local Woodlands to Game of Thrones with Oxfordshire Artweeks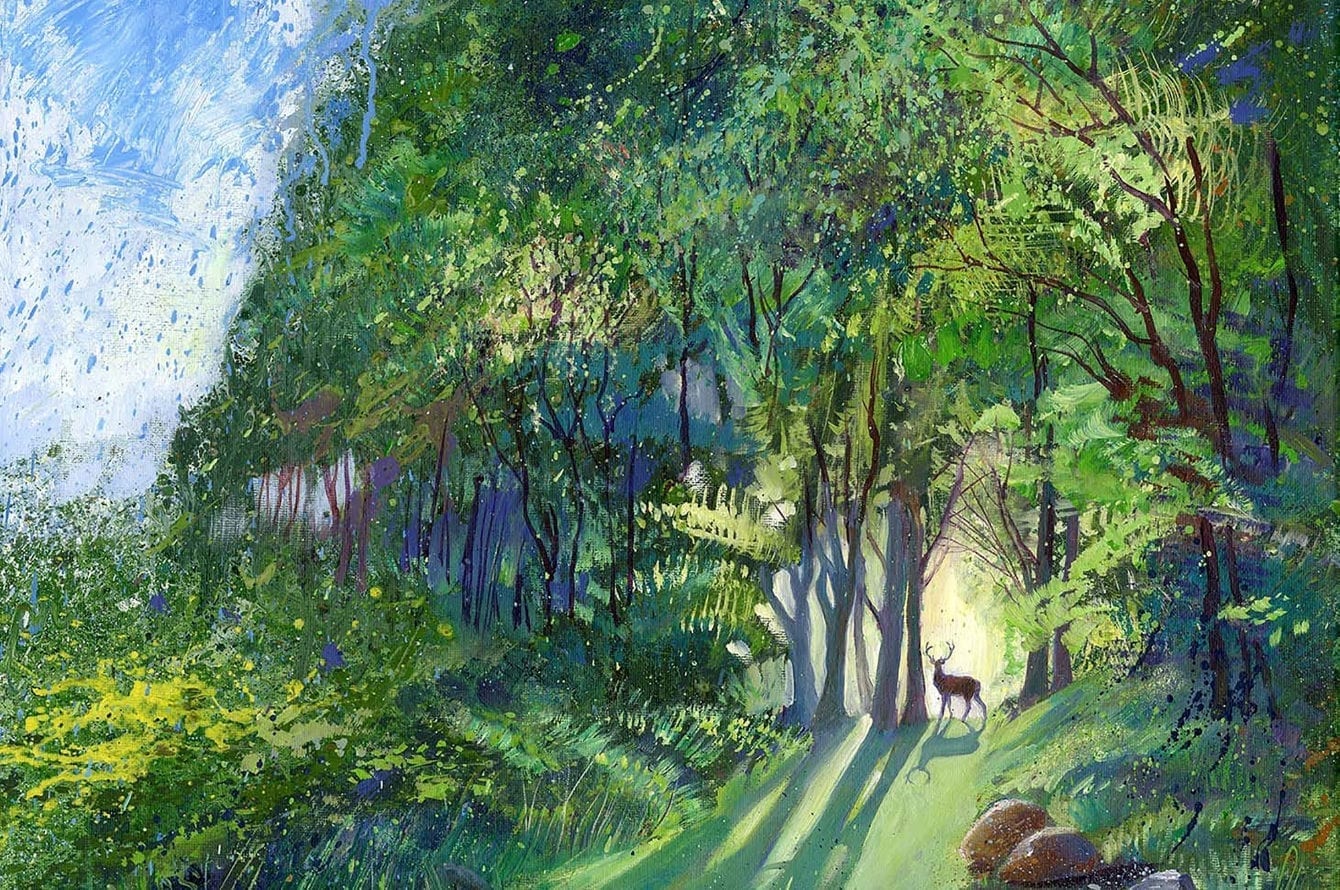 Oxfordshire is fortunate to be the home of the UK's oldest and biggest open studio, art trail and pop-up exhibition event, Oxfordshire Artweeks, described last year by the BBC Arts Editor Will Gompertz as 'a celebration of Oxfordshire's soul, heralding the summer in a burst of human creativity and talent.'
Over the next month visitors and locals alike, can enjoy art, craft and design at nearly 500 friendly venues in every nook and cranny of the county, and they are all free to visit. These art spaces include city studios and Oxford colleges, Cotswolds cottages, museums and manor houses, and galleries too.
During the first week of the festival (4th-12th May) 200 art spaces across the city of Oxford welcome you in. The second week (11th-19th May) takes place in South Oxfordshire with venues along the Thames from Faringdon to Henley and the Ridgeway from Wantage to Thame, and during the third 18th-27th May) you can visit beautiful North and West Oxfordshire where art can be found nestled from Burford and Chipping Norton in the Cotswolds across to the historic market towns of Bicester and Banbury.
With so much on offer there's a wealth of opportunities, and here we make suggestions for Oxford city, North and South Oxfordshire to get you started – each place has lots of other Artweeks venues to explore nearby.
Firstly, in Oxford itself, Summertown's Sarah Wiseman Gallery presents 'Meadow and Shore' a solo exhibition of new wood engravings, linocuts and screen-prints of the native wildflowers of England and Scotland by internationally-acclaimed textile designer and print-maker Angie Lewin whose keen eye for detail and bold yet delicate style is utterly distinct.
Angie is particularly drawn to plants with strong, architectural shapes and lines, choosing the prickly head of a thistle or a crown of agapanthus. A trained horticulturalist, her eagle eye for the detail in plant life and nature is at the heart of her work, and the pattern and rhythm of natural forms are observed in intimate detail.  Her palette is soft, even muted in tone, but with punches of strong colour, such as with the glossy red berries Places from the Outer Hebrides to the North Norfolk coast and places have inspired pictures of plants against the backdrop of shore, sea and sky and studio still-life compositions of gathered shoreline finds, wild and garden seed-heads and her own collection of often chipped and cracked ceramics.
Along the same street, South Parade, The North Wall presents Touching the Earth an exhibition that brings together the work of a painter, Addy Gardner, and a sculptor, Martin Smith. It is described by curator Jenny Blythe as a point of balance where the intangible meets substance.  Both artists delight in the earthiness of an organic sense of form whilst celebrating an ethereal ambivalence.
The beauty of Martin Smith's chosen stone is in the degree of opacity and tone, ranging from the deep brown agate alabasters of Touching the Earth, to the rare and translucent Volterra ivories of Lock Stones that are soft to the touch and warm when lit from behind.  In each piece he adds life and music, highlighting 'the breath of stone'. On the walls around them Addy Gardner's abstracted landscapes reflect an experiential journey through the scene before her, entwined with memories and thoughts evoked by the beauty she finds there, and for this exhibition she draws inspiration from the landscape of Oxfordshire's Windrush Valley and local woodlands adding a spirit of adventure.
It's wood and woodlands, too, that have inspired two further exhibitions. In South Oxfordshire, the airy Cornerstone gallery, their joyful and inclusive celebration of all things woodland includes two dozen of Bee Thomas's striking paintings which bring contemporary colour and style; a wall of intriguing fine art photographs capturing moments in the leaves and a section of work rich with surprisingly bright turquoise, purples and pinks, given the woodland underpinning. For wood itself, the Sylva Wood Foundation in the lee of the Wittenham clumps is also throwing open its door for an immersive and tactile exploration of the material itself.
And in the Cotswolds, 'Into The Woods' is hosted by The Theatre, Chipping Norton,and here you'll find paintings and prints, ceramics and textiles by fourteen professional artists from Chipping Norton Arts, all of whom find inspiration from their natural surroundings.
The flavour of this exhibition has been summed up perfectly by artist Carol Harvey,
'The wonderful thing about a walk in the woods is that it is universal, it bonds humans worldwide'.
The artists include painter Cathryn Jeff who loves the sounds of the trees rustling and the way the light bursts through the tall silver birches provides inspiration for her paintings. Alongside, Andrew Wildman who, having spent many years working on drawing for TV, comics and computer games, now finds the freedom and pure joy of drawing landscapes and trees from the imagination allowing his mind to wander through its own intuitive landscape. The twisting shapes reveal their own path whilst the hand and pencil create the scene. Here too, ceramicist Laura Murphy who works with parian clay presents her designs of hand painted trees, petals and leaves on this the perfect translucent background. And jeweller Lucy Sylvester is showing pieces that reflect her  childhood love of collecting woodland finds –  each is cast in intricate moulds made directly from her finds so that no detail is lost. Lucy has exhibited around the world and a Hawkmoth ring she made was worn by the character Sansa Stark in the hit TV series Game of Thrones.
Where to enjoy great art this month, as part of the Artweeks festival:
Cornerstone Arts Centre, 25 Station Road, Didcot OX11 7NE
Sarah Wiseman Gallery, 40-41 South Parade, Summertown, Oxford OX2 7JL
The Gallery at The Theatre, 2 Spring St, Chipping Norton OX7 5NL
The North Wall, South Parade OX2 7JN
And 476 more venues! Pick up a festival guide at tourist information offices, library and other local information points or see what's near you at www.artweeks.org.
The Art Blog is written by Esther Lafferty of Oxfordshire Artweeks.
Oxfordshire Artweeks 2019 is set to be the UK's biggest ever open studios event.