A Journey Through Broad Street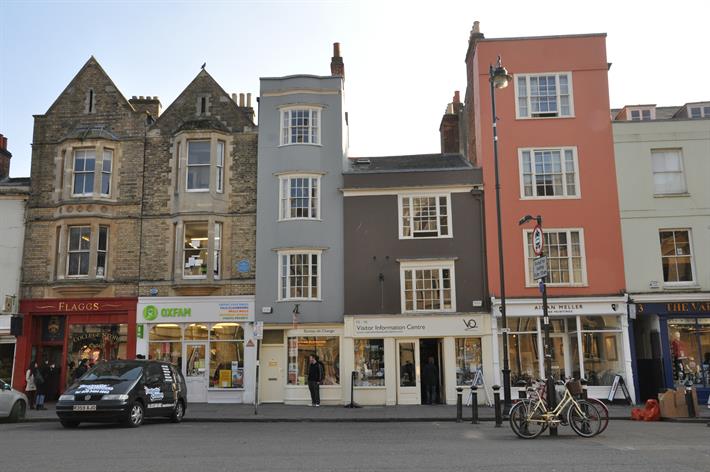 For our second blog of the year, we thought it only right to start off exactly where our story began – on the beautiful, historical Broad Street. Home to two University colleges, the Sheldonian theatre, the original Blackwell's bookstore, the first ever Oxfam shop, and us!
Experience Oxfordshire; Broad Street is a little gem just waiting to be explored. Adorned with listed buildings and steeped in rich history, this charming street is everything that you would imagine Oxford's quirky streets to be like, so let us take you on a short journey…
In Oxford, one of the most frequently asked questions that you might find yourself being asked is, "Where is the University?" – A simple one, you might think! Well actually, Oxford University is not one campus but instead comprised of independent Colleges and buildings that are dotted all over the city! It is said that the University owned buildings that line Broad Street, including Balliol College, Trinity College, the Sheldonian Theatre, the Weston Library and the Museum of the History of Science, all form to make the closest equivalent to the centre of the University. So what better place to spend time learning about the city than here!? You can learn more about these buildings on our City and University tour, where expert guides will lead you through Broad Street and beyond, explaining the city's fascinating history, stunning architecture and our weird and wonderful traditions!
Amongst the most visited places in Oxford, you won't be disappointed by the views and experiences that you get in the stunning buildings mentioned above. If you have time, take a tour of the Bodleian Library which allows visitors to explore its historic rooms including the 15th-century Divinity School (featured in Harry Potter!), medieval Duke Humfrey's Library, and the impressive Radcliffe Camera. Built in 1683, The Museum of the History of Science also offers a great experience to visitors; the first museum in the world to open its doors to the public, it is home to a vast collection of early scientific instruments (including Einstein's blackboard!) that will be sure to spark your curiosities! Or if you love getting yourself stuck into a good book, you should definitely visit Blackwell's bookshop – a family-run business, Blackwell's first opened their doors on Broad Street in 1879, and are still going strong to this day!
Whilst you're wandering the streets, visit the first ever Oxfam charity shop which opened in 1942, and find a cobbled cross in the middle of Broad Street that marks the site where the 3 Oxford Martyr's, Hugh Latimer, Nicholas Radley and Thomas Crammer were burnt at the stake in the 1500s!
When it's time for lunch, Broad Street's cobbled pavements are the perfect place to wander up and down to find something tasty, with several wonderful independent shops and cafes enticing you in with their mouth-watering aromas! Pop into The Buttery (also a B&B for those looking for Oxford accommodation) and The Fudge Kitchen for delicious food and sweet treats. If you're a Morse fan, head to the famously featured White Horse pub; you may even like to book onto one of our Morse, Endeavour and Lewis walking tours whilst you are in the city! And if you'd like to kick off and take a break from the hustle and bustle – sneak off into a world of calm at one of Inner Space's free meditation classes!
Now that we've convinced you of how great Broad Street is, we hope that you'll experience it for yourself soon! If you're looking for more information whilst you're here, please come and see us at the Visitor Information Centre, and one of our team would be happy to help you.
Keep your eyes peeled on social media over the next week, and let us take you on a digital journey of tweets, posts and pictures all relating to Broad Street and what else you can find here; use the hashtag #BroadStreet to join in!
For more information, come in to see us at the Visitor Information Centre located at 15-16 Broad Street, Oxford OX1 3AS, or email info@experienceoxfordshire.org.