New views for a New Year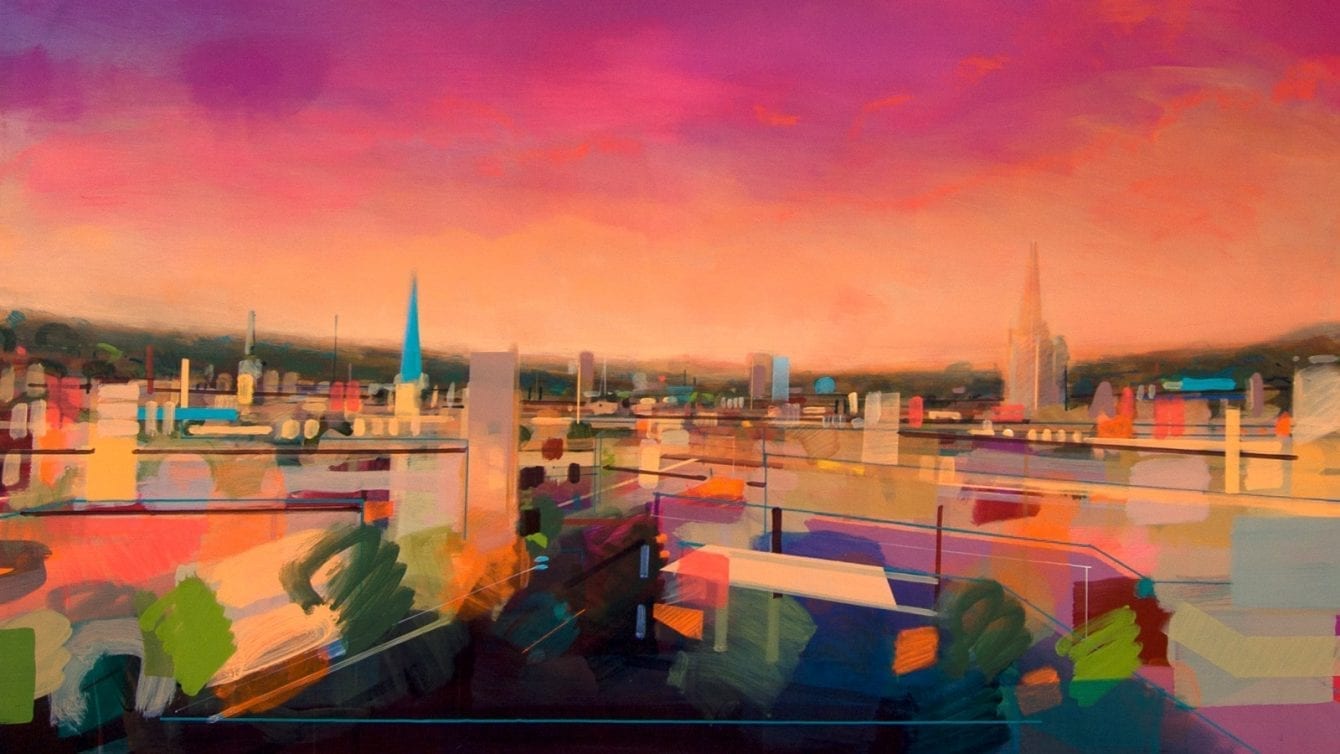 In a new exhibition to kick start 2018, Summertown's Sarah Wiseman Gallery shows artist Christopher Farrell's Vantage Point of Oxford, interpreting not just its iconic skyline but also the real and rapidly changing face of the city today. The city of Oxford is at a moment in time where rapid development and building in a city long associated with ancient tradition and academia has brought a glittering new shopping centre, new housing, alongside manufacturing and transport links to London. Christopher Farrell's paintings echo these new facets whilst referencing the city's renowned history in detailed combinations of drawn marks and gestural and abstract forms. Christopher combines the methods of traditional painters using red chalk, silver and gold point, for example, with state of the art digital imaging software, photographing his paintings at key moments and using Photoshop to rework the image; the use of technology is very much a part of his painting process.
In a smaller exhibition alongside, there's just as much detail in a very different body of work. 'A Journey in Pictures to 68 degrees North' is a colourful exhibition by local artist Emmie van Biervliet, a mixed media artist whose inspiration comes from journeys, mystical stories and the bizarre sights she has encountered on her travels. This month she brings to Oxford paintings that explore a world of waves, ice and whales; wherein the summer, the sun never sets, following her own journey last spring, the sights seen and experience of living at sea for four months and returning 3500 miles later to tell the tale.
'We scrambled to finish final preparations as conditions suddenly aligned themselves to set sail in late March bound for the Lofoten Islands in the Norwegian Arctic circle' she explains. 'At 68 degrees North and at a rough speed of 5 knots we had a long journey ahead that would take many months. During my time on board, I documented the dramatic changing landscape and ensuing journey. Sketching every day as England turned to Ireland, to Scotland, the Shetland islands and then the big push over to Norway riding on the back end of gale which pushed us over to the pristine landscape and meticulously cared for 'huts' on islands and inlets of the Norwegian coastline.'
'Travelling so slowly meant that I was often able to paint and sketch while sailing, being careful to listen out for changing weather when your whole world would suddenly tip sideways with paints, pens, water and half made work scattering in all directions unless fast enough to secure them! The wind and chopping seas would also lend themselves to capturing an atmosphere as you were sometimes buffeted from all sides and unplanned wave spray merging the colours on paper in interesting ways!'
Also inspired by the places to which he has travelled, whether between the covers of a book or in person, up-and-coming illustrator Jessamy Hawke is presenting The Tree and The Spire, works in ink, gouache, watercolour, and linocut-printmaking, in The Jam Factory's Restaurant Gallery. His work draws on both literature and landscape,  often using novels and poems as the starting points to create visually striking interpretations of the writer's narrative. By visualising the characters, landscape, and storyline set out by the author, he aims to convey the atmosphere, and give the viewer a sense of the story. He also uses illustration and hand-drawn maps to document his experience of a landscape he has walked through.
In The Jam Factory this month you can also see Milk and Marmalade a mixed exhibition in The Jam factory's Small and Large Gallery  and 'Visual Conversations!' with art around the theme of conversation and dialogue, whilst in Oxford's North Wall, Jessica Copping presents Cataclysms, a view of a post apocalyptic world through the eyes of the artist as bursts of detail, colour and abstract forms emerge from the distant past and reach into faraway future capturing the complexities of time, nature and culture in the Anthropocene age, a proposed epoch that runs into the future from the commencement of significant human impact on the Earth's geology and ecosystems. ''I create constellations of small jewel-like paintings constructed from layers of oil, egg tempera and graphite on gesso primed boards which are partially eroded through the use of sandpaper and engraving tools. This process is a combination of spontaneous mark making and considered detail which within the context of my subject signifies the excavation of layers of earth and time' she explains.
In Modern Art Oxford, where monumental tapestries by the acclaimed twentieth-century Norwegian artist Hannah Ryggen illustrate moments from recent European history,  you can also see a new commission by Swiss artist Nicolas Party (who has transformed Modern Art Oxford's Piper Gallery into a 'theatrical set' complete with soundscape inhabited by a cast of five female heads, each as tall as a person. These are a reaction to what the artist considers the heavily masculine energy of Oxford's architecture and academic histories: this is a contemporary monument to the diverse achievements of pioneering women in the city and its universities across the centuries, and is perhaps a colourful twenty-first century counterbalance to the set of carved stone busts that crown the railings of Oxford's Sheldonian Theatre, known colloquially as the heads of the emperors.
For more art with a theatrical twist, The Mill Arts Centre presents a new exhibition by Ryan Laight, a designer for performance, specializing in set and costume for theatre, opera, cabaret and dance. His delicate style is a joy to see in this white-walled theatre space alongside Banbury's canal.
Some places to see good art this month
Christopher Farrell:  Vantage Point: A Contemporary View Of Oxford (13th January – 10th Feb)
Emmie van Biervliet: A Journey In Pictures To 68 Degrees North (13th January – 10th Feb)
Sarah Wiseman Gallery, 40-41 South Parade, Summertown, Oxford OX2 7JL
Jessamy Hawke: The Tree and The Spire (10th Jan – 13th March)
Milk and Marmalade (until 23rd Jan); & Visual Conversations (9th Jan – 6th March)
The Jam Factory Arts Centre, Hollybush Row, Oxford OX1 1HU
Jessica Copping: Cataclysms (10th– 26th January)
The North Wall Arts Centre, Oxford
Hannah Ryggen: Woven Histories runs until 18th February
Nicholas Party: Speakers runs until 18th February
Modern Art Oxford 30 Pembroke St, Oxford OX1 1BP
Ryan Laight  runs until 29th January 2018
The Mill Arts Centre, Spiceball Park, Banbury OX16 5QE