The Remnants of Summer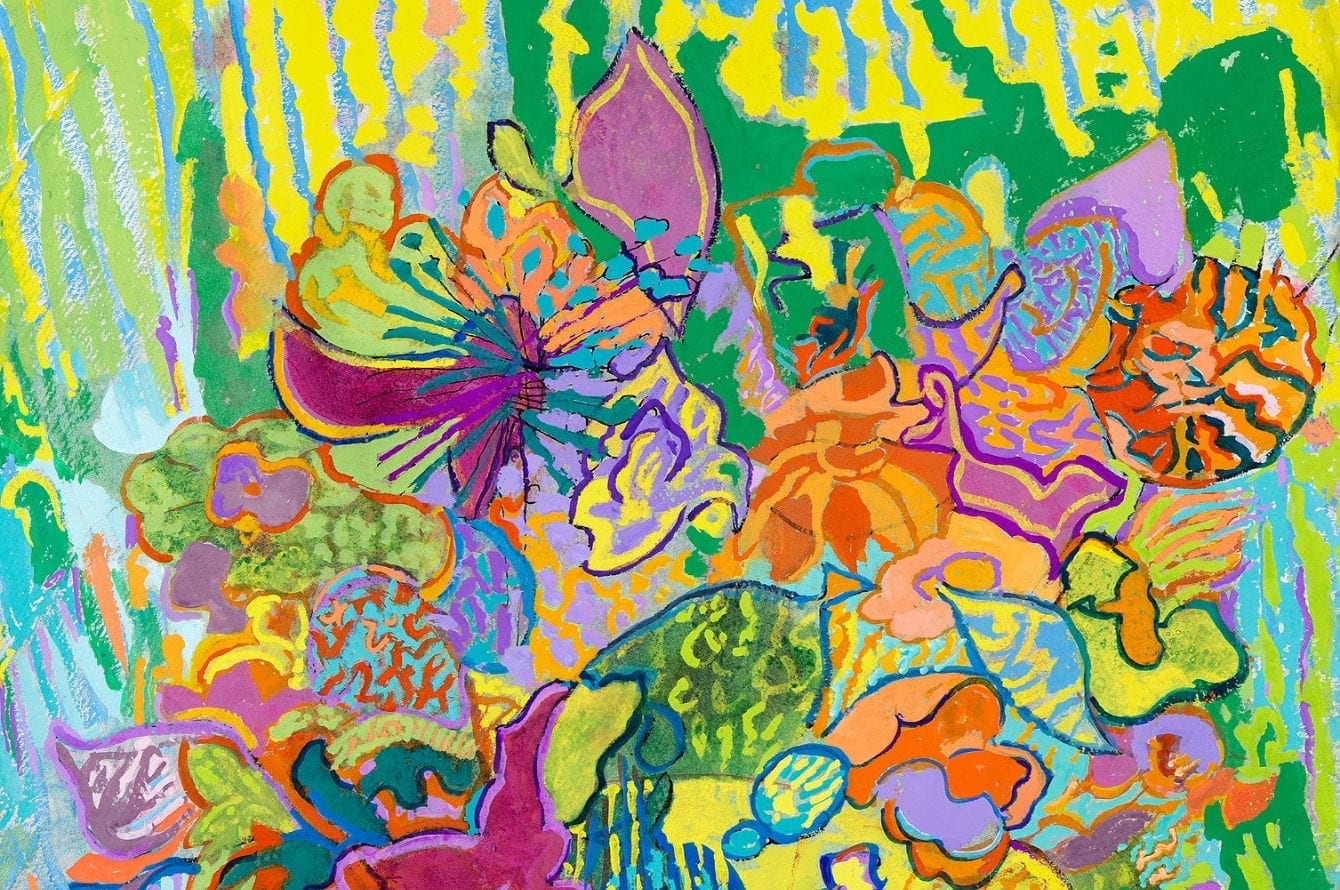 This September we recommend a perambulation through Oxford's art spaces where you'll find gardens of gentle charm and bold colour as summer draws to a close, a surprising throwback to a rural past and a look ahead to what the future may hold.
Explore first, perhaps, the hidden gardens and artist studio of Kieran Stiles, artist-in-residence at Merton College. 'The flower beds are an array of joyous colour, vermillion, pinks and oranges one day and then it'll suddenly be different. There's a constantly rolling botanical rainbow: as one plant dies back another bursts forth so every day is a surprise,' he enthuses. When Kieran looks at the landscape in front of him he notices each flash of colour in his peripheral vision – whether botanical, a colourful vehicle driving by that catches his eye as his head turns and he overlays what the eye picks up and that which we subconsciously ignore, incorporating both elements into his expressive paintings. Using colour imaginatively and experimentally, Kieran captures the feelings a place evokes, stimulating emotions and sensations.
There's botanical glory too in The Jam Factory in Where the Wild Thyme Grows featuring Elaine Kazimierczuk, Julie-Ann Simson and Rosie Phipps whose dreamy botanical scenes of a Midsummer Night's Dream are bright and fanciful, in very different styles. United by their summery colour palettes and playful experiments with perspective, the works are full of energy yet calm, otherworldly yet vivid, and harmonious yet striking. Each work embodies the sheer joy of a beautiful summer's day drawing to a close.
From here, pop through into their back gallery The Boiler Room (where Frank Cooper used to make his famous Oxford marmalade) for The Art of Cuts by Salvador Lavado of Cinema Under the Stairs, the Oxford punk cinema club, and the club's most iconic posters. Salvador Lavado is an iIllustrator and graphic designer who digitally illustrates each film with a fresh, fun and honest approach with atrong and vibrant palette.
There's a new art space in the centre of Oxford (Carey Blyth, 8 Woodstock Road) lyrically described as under the wisteria, and here too the pleasure of the passing season, are prolonged in an exhibition 'Summer Nights' with paintings, sculpture and printmaking from four artists. Carolyn Horton creates an intimate world of paper rich with theatre and dance that springs from her surroundings and imagination. Alongside, Paul Amey's palette is stunning and unexpected: light and colour ignite his paintings whether refracted highlights in the Swimming Pool Series or backlit bars on hot summer nights.  His daughter Florence Amey's abstracts are a celebration of  the vitality and rigour of Spanish culture whilst sculptor Martin Smith who is passionate about jazz describes how the phenomenon of synaesthesia, for him, is expressed through sculpture, 'the breath of stone'. (The exhibition is curated by Jenny Blyth.)
In Summertown, this month The Turrill Sculpture Garden presents twenty six pieces for 'Hidden in Stone' by talented contemporary sculptors Piotr Gargas and Martin Cash, two stone sculptors who work both separately and together. Piotr came to the UK as an architectural stonemason to work on Oxford's gargoyles and grotesques and fell in love with the city's skyline: these shapes are reflected in much of his work. Martin Cash moved from working with wood to sculpt from stone, bringing to the mix his ideas and organic curves. 'Nothing,' he says' beats the simple delight, texture or temperature of stone.'
In Summertown, Sarah Wiseman Gallery presents From Where I Stand: Sarah Spackman (7th- 28th September). As Paul Cezanne was once quoted as saying, 'painting from nature is not copying the object…it is realising one's sensations.' And so a still life is a view onto the private world of the artist, seeing objects considered by them to have personal, or even cultural significance. Sarah Spackman carefully selects pieces for her paintings because of colour intensity, shape or whatever catches her eye. 'The subjects of my paintings are mainly organic, things grown on the allotment or in the garden, or simply things I find beautiful,' she explains, and in her paintings, we share her pleasure in seeing the soft gleam of fruit piled in a dish or stems of flowers propped up in a piece of pottery; all bathed in the clear light that floods her studio.'
On the same street, at the North Wall, take in either Robin Stewart: The Inner Life (runs 6 – 19 September) an exhibition which asks questions about who we are and creates the feeling of an alternative world into which any of us might easily slip and the viewer is suspended in a sense of timelessness. Or, from 23rd Sept-5th Oct, John Newberry: New Colour Compositions, an exhibition of figurative oil paintings which demonstrate John's search for an alternative to perspective in large paintings – the use of Parallel Projection – and of colour to construct forms and space without shadows. The flat colour shapes, for the subject matter of everyday life and for the diptychs where movement springs from the changes between one panel and the next are inspired by Japanese prints whilst the animated scenes include contemporary subjects from football, crowds (such as the "Westgate" diptych), to world event as time passes.
And just to the south of Oxford, Transformer: Sculpture by Robert Jones at the Sewell Gallery, Radley College offers a reminder of a more rural and industrial landscape. Jones started working life helping on a farm in the north of the island and became a carpenter and joiner before specialising in the conservation and restoration of old buildings using traditional techniques.
Using fragments of both natural and man-made pasts, he has created sculptures informed by human and material life histories. Derelict machinery and abandoned materials are resurrected in new forms as monuments to their history and the shapes in many of the works are heavily influenced by human anatomy. His work is about transformation and by upcycling scraps of leftover steel and other industrial by products, he creates positive and meaningful pieces from materials which have held little economic value since the collapse of the British steel industry.
Seven places to see great art this month:
The Art of Kieran Stiles (as part of Oxford Open Doors; Thurs-Sat 14-28th or by appt)
The Garden Studio, Merton College, Merton St, Oxford OX1 4JD
Where the Wild Thyme Grows: various artists (runs until 23rd September)
The Jam Factory, 4 Hollybush Row, Oxford OX1 1HU in
Summer Nights  (curated by Jenny Blyth; runs until end Sept)
Carey Blyth, 8 Woodstock Road
Hidden in Stone: Piotr Gargas and Martin Cash (runs until 28th September)
The Turrill Sculpture Garden, behind Summertown Library, South Parade OX2 7JN
Sarah Spackman: From Where I Stand (runs until 28th September)
Sarah Wiseman Gallery, 40-41 South Parade, Summertown, Oxford OX2 7JL
Robin Stewart: The Inner Life (runs from 6th-19th Sept) &
John Newberry: New Colour Compositions (runs from 23rd-5th October)
The North Wall, South Parade OX2 7JN
Transformer: Sculpture by Robert Jones (runs from 7th-29th September)
Sewell Centre Gallery, Radley College OX14 2HR
The Art Blog is written by Esther Lafferty of Oxfordshire Artweeks.