Our Suggestions For An Artsy August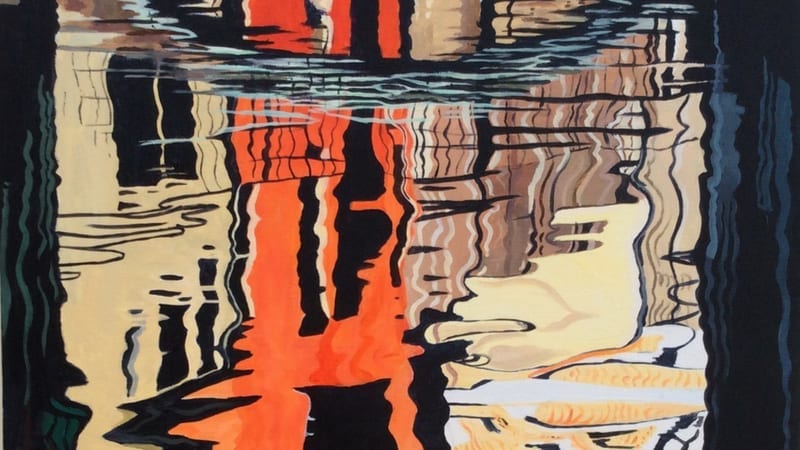 You can travel the world in Oxfordshire art in the Oxfordshire art spaces this month as Sarah Wiseman Gallery presents 'Mediterranean Journeys' from 1st August with new works by artists Andrew Hood and Peter Kettle.
By working from drawings made on site, both Andrew Hood and Peter Kettle's paintings evoke the energy and detail of a particular location that's only conveyed through the power of observational drawing. For August both turn their attention to the charms and intense colour and light of the Mediterranean. Andrew Hood's unique style has evolved from an interest in combining both abstract and figurative mark-making. By working from a store of observational drawings made on location, Andrew's technique is to pour, scratch and flick paint across a prepared surface, often working from a height onto the floor to build a sense of aerial perspective. He is adept at capturing movement, whether it's storm-clouds gathering across a remote field or bustling crowds at the souks of Marrakech.
Peter Kettle, with a strong reputation for ambitiously scaled landscape paintings, often paints 'en plein air', finding himself drawn to atmosphere and light, frequently using mixed media and harnessing its unpredictability on the canvas. His new collection on display in August is inspired by a recent trip to Sicily, capturing the sun-soaked hill-sides and dramatic coast in his unique, unsentimental style.
Or, take a step back in time and travel East through the galleries of the Ashmolean Museum where a selection of Burmese and Sri Lankan drawings, paintings on delicate paper fans and wonderfully-delicate woodcarvings tell the tale of Prince Vessantara in Gallery 29. This is the most popular story in the Buddhist world in which a compassionate prince, Vessantara, gave away everything he had to help others, showing himself to possess the virtue of perfect generosity. And over in the Chinese Painting Gallery (gallery 11) features a diverse selection of representations of women in Chinese art over the past 100 years and includes ornate kimonos in sumptuously colourful embroidery.
Over in the West Ox Arts Gallery in Bampton, August sees an equally sumptuous range of colours in contemporary arts and crafts. Painter Caroline Ritson, for example, is inspired by water. Her watery reflections that depict only the surface of the water are both photorealistic and almost abstract and have an intriguing allure. 'It fascinates me,' says Caroline, 'that if you take just part of a reflection and paint it true to what you see, the end result appears such an abstraction.'
Caroline's passion for capturing reflections began in Amsterdam. 'I spent hours sitting by the canals watching the world go by and sketching the changing light. I was fascinated by the way the reflections seemed to capture the essence of the city and the time of day, and then I was looking for the perfect reflection on the surface of the water, to paint,' she explains. 'Reflections vary as much as the vistas above – with different shapes and striking colours distorted by the ripples. Venice was golden peaches and orange-gold with pinks and purples against the bright blue of sky; Amsterdam had a whiter light, with greys and touches of primary colours framed by the black shadows and inky water where the sun didn't reach. Buildings are the most striking on the water: their edges have softened the movement of slow flowing water and they reflect, even reimagine, the soul of a city, and its dynamism.'Here to look out for glass pieces by Anna Gillespie, with painted illustrations and printed text adding a story to the striking colours.
Over in the gallery in Chipping Norton Theatre, from 8th August, Lesley Wildman, a Royal College of Art graduate specialising in glass, revisits painting, sculpture, photography and textiles alongside her showcase of glass art. 'I am bringing my fascination with the representation of people and their stories through painting with a series of portraits of people I find interesting both visually and personally. By collecting together photos, sketches, personal recollections and memories I create a portrait that goes beyond representation to a meaning and an understanding of the person behind the portrait,' she explains.
The Gallery at the Old Fire Station, meanwhile, hosts A Purely Selfish Act, a series of pieces from designer Stacey Mead in which she explores the use of pattern in hard materials. The collection includes laser cut and engraved panels that are designed to be used as large-scale interior and exterior wall cladding. Using layering Mead combines surface treatments to conceal some areas of design and reveal others. The collection is inspired by Mead's need to make: when starting a project she finds that to spur her creativity she needs to be playful. Taking everyday things, Mead creates objects that she can then draw and photograph to produce imagery for her design work before moving into digital design to allow her to add surface treatments to a range of hard materials.
Sculptor Richard Cresswell also uses hard materials to showcase the art of movement, a series of kinetic sculpture in Summertown's newly revamped Turrill Sculpure Garden inspired by the Kinetic exhibition at Tate Modern where very little was allowed to move – here his elegant sculptures, including those of sails, parasols and murmurations, alter with the wind. As you watch both the light falling on them and their movement shows contrasting lines and angles. Richard started his working life as a mechanical engineer designing all manner of things and creating beautiful prototypes and his background is evident in the stunningly beautiful and graceful forms, inspired by nature and by fine engineering design.
Some place to see good art this month:
Mediterranean Journeys (until 1st September)
Sarah Wiseman Gallery, 40-41 South Parade, Summertown, Oxford OX2 7JL
The Tale of Prince Vessantara (Gallery 29 until 9th September)
A Century of Women in Chinese Art (Gallery 11 until 7th October)
The Ashmolean Museum, Beaumont Street, Oxford OX1 2PH
Caroline Ritson & others; contemporary arts and crafts (until 18th August)
West Ox Arts Gallery, Town Hall, Market Square, Bampton OX18 2JH
Lesley Wildman: glasswork & portraiture (until 3rd September)
The Gallery, Chipping Norton Theatre, 2 Spring Street, Chipping Norton OX7 5NL
Stacey Mead: A Purely Selfish Act (until 1st September)
The Gallery at the Old Fire Station, Gloucester Green, Oxford OX1 2AQ
Richard Cresswell: The Art of Movement (until 29th September)
Turrill Sculpture Garden, South Parade, Summertown Oxford, OX2 7JN