Celebrate Alice's Day in Oxford on 7 July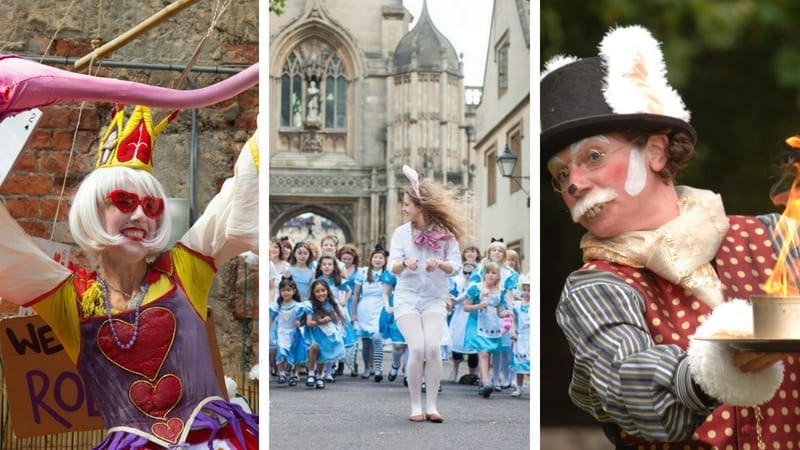 Take the leap and go 'down the rabbit hole' as you experience the magic, madness and mayhem of Alice's Day in Oxford on 7 July 2018.
The annual festival, which is supported by the Oxford City Council and The Story Museum, brings the beloved story to life with a series of festive events throughout the city. This year's theme is 'Journeys and Adventures' and includes a crafting workshop at the Bodleian Libraries, enchanting Alice in Wonderland walking tours, a picnic held in at the University of Oxford Botanic Garden, the Grand Indian Circus and more!
Here are our top picks to make your Alice Day one to remember:
1. Curious Cabinets & Curiouser Craft Workshop – 10 am
Begin the day's fun at the Bodleian Library with their Curious Cabinets & Curiouser Craft Workshop where you will discover the tiny libraries created for Victorian children and craft your own little book, complete with stamps, stickers and beautiful decorated papers.
2. Alice's Park & Pleasure Walk – 10.30 am 
Take this 90-minute journey with local historian and author Mark Davies, through some of the less visited, quieter parts of the city where you will discover the resting place of two Hatters, University Parks (for Pleasure and Delight!) with a grand finish at the 'loveliest building of the plain', the University Museum of Natural History – home to the most complete remains of a dodo in the world!
Find Out More & Book Your Ticket Here 
3. The Story Cafe Wonderland Sundae – 12 pm 
Drop by The Story Café at The Story Museum to enjoy a delicious 'Wonderland Sundae' – the perfect story themed treat to help you cool off this summer. They have also got a great range of freshly prepared locally sourced food to suit all appetites and ages including gluten-free and vegan options.
3. Alice's Picnic at the University of Oxford Botanic Garden – 1 pm 
Bring your picnic to Oxford Botanic Garden and discover the real grounds upon which Lewis Carroll was inspired to create Wonderland! Delve deeper into the quirky and exciting world that is Wonderland, with opera performances from Alice and interactive storytelling by her friends.
Visitors can also follow the curious trail around the Garden, enjoy live music, plant crazy vegetable seeds and have their face painted with a big Cheshire Cat smile.
4. Oxford Castle River Installation – 1 pm
Step inside over 1,000 years of time at the Oxford Castle and join a river journey with a difference. Create your own Wonderland characters and add them to this unique public art installation
5. Alice Day Ashventure Special at Ashmolean Museum – 2 pm
Enjoy stories, gallery hunts, games and crafts for all ages at the Ashmolean Museum during this free family-friendly event at the Ashmolean Museum – just drop in! Children must be accompanied by an adult.
6. Alice Day in Waterland Walk – 3 pm
Wander to and around the beautiful Christ Church Meadow and follow waterside paths familiar to the real Alice and Lewis Carroll as you learn the all-important role of the River Thames in the creation of Alice's Adventures. There will also be references to other Oxford literary classics and the many important aspects of Oxford history and geography. The tour will end at Alice's Shop in St Aldate's.
Find Out More & Book Your Ticket Here
7. The Original and Authentic Alice's Shop – 4.30 pm
Discover a fundamental part of the Alice in Wonderland tales and the place where the real Alice bought her sweets 150 years ago. The shop was even written into one of the Alice books, Through the Looking-Glass! Alice's Shop is a treasure trove of Alice in Wonderland gifts and memorabilia.
8. Grand Indian Circus – 5 pm
Celebrating the 250th anniversary of Circus, Alice's Day welcomes back this elite group of Indian circus performers. Be prepared for drama, daring, music and laughter!
Looking for more Alice's Day fun? Discover the full list of events, demonstrations and stories on the Story Museum website!